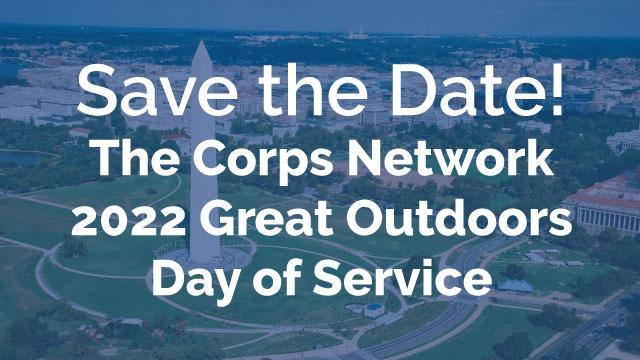 Save the Date

: The Great Outdoors Day of Service is back in 2022!

Stay tuned! After pausing The Corps Network's annual Great Outdoors Day of Service in 2020 and 2021 to promote COVID-19 safety practices, we are excited to once again bring together the national service and public lands communities. The event will take place June 9 in Washington, DC. More details to come soon.
About The Corps Network Great Outdoors Day of Service
June is Great Outdoors Month: a nationally-recognized celebration of America's public lands and waters and the many ways to enjoy them. The Corps Network celebrates Great Outdoors Month with our National Great Outdoors Day of Service. Young adults from Corps across the country, as well as many friends and partners of the Corps movement, come to Washington, DC, to participate in service projects at iconic parks throughout the Nation's Capital. The purpose of of this event is to:
Inspire people to get outside and contribute to the preservation of America's natural spaces. Hiking, biking, camping, fishing – so many outdoor activities would not be possible without proper stewardship of our park infrastructure and resources. All of us can pitch in to maintain the places and habitats that support our favorite activities.
Raise awareness about the role of service and stewardship in protecting and improving public lands.
Celebrate the service of the stewards who protect our natural treasures.
Make a Difference. We hope to make a dent in the backlog of maintenance projects at parks in the nation's capital, helping our resource management partners focus on other priority projects.