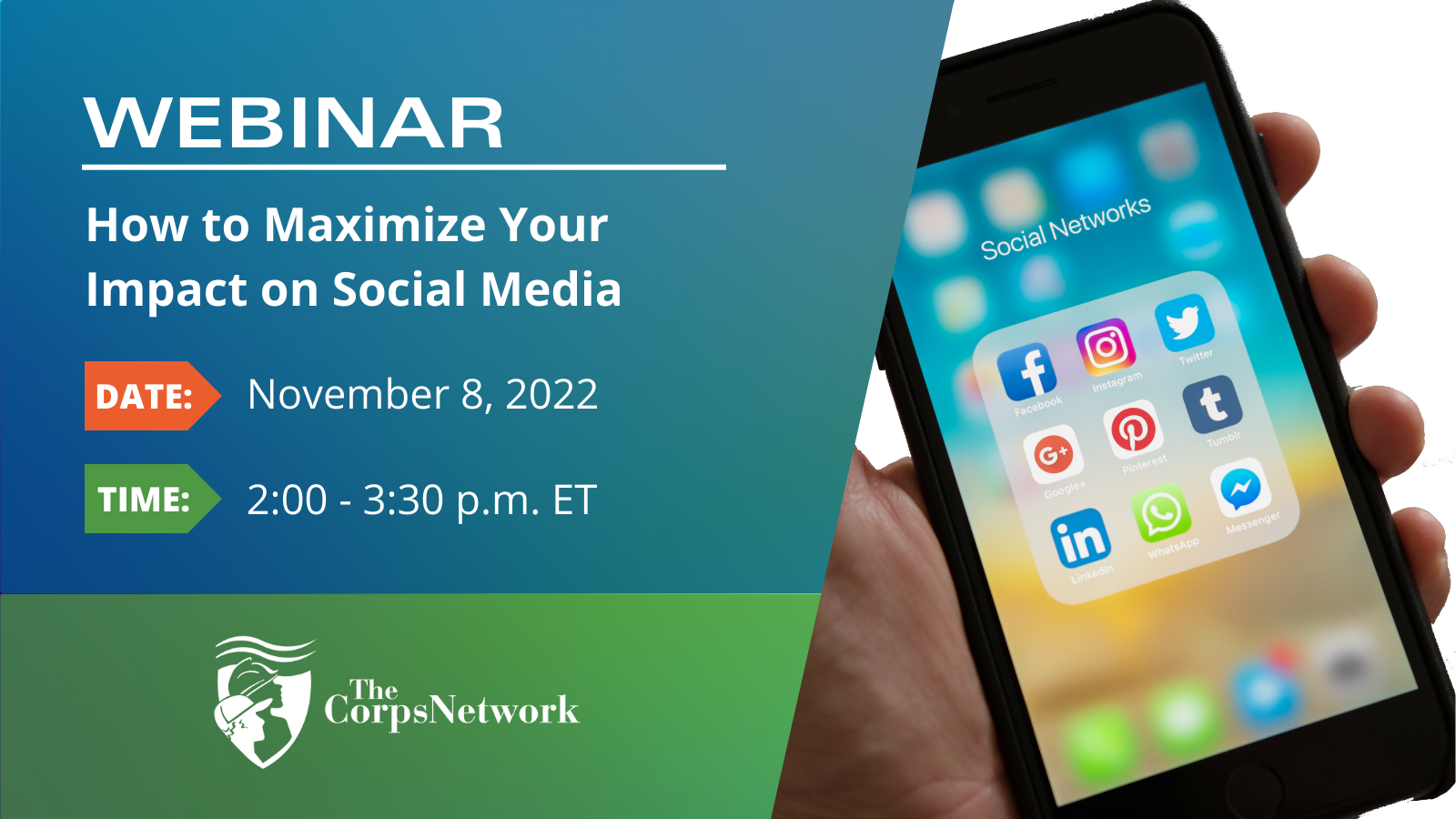 SESSION DESCRIPTION:
How to Maximize Your Impact on Social Media
As part of The Corps Network's ongoing Recruitment Webinar Series, this webinar will focus on social media resources and skills. With social media, it can be difficult to know where to start and how to adjust your strategy. Join this webinar to learn how to build your social media know-how and maximize your impact on social media with any capacity. Receive resources to schedule and create content, measure your success via analytics, and reach your target brand audience. Opportunity to engage in a Q&A with presenters.
Speaker Bios:
Emily Hill is a communication strategist and lead trainer at MediaDesk. Emily has been a journalist and marketer for 11 years, as well as an outdoor educator and teacher. Emily lives and works in Albuquerque, New Mexico where she's also an avid cyclist and group fitness instructor. Learn more at mediadesknm.com; check out some of MediaDesk's work for the Rocky Mountain Youth Corps here.
Zoe Clemmons (she/her/hers) is a passionate communicator who strives to incorporate heart and diverse voices into her work. Her energy for engaging with people online was sparked in high school when a teacher predicted the rise in social media would mean paid positions for digital engagement. Today Zoe is living that dream as Barefoot PR's Strategy Associate. A Meyers-Briggs INFJ known as "The Advocate," Zoe is driven to create content that motivates people to take action and helps organizations increase impact. She is inspired by creators who stretch the boundaries of storytelling – from documentary filmmakers to food bloggers, Zoe is always keeping an eye out for new ways to tell a story. In her free time, you can find Zoe hiking in the mountains, watching the latest Netflix doc series or cooking up a new recipe. She recommends having Lou Malnati's pizza at least once in your life and watching The Punk Singer about feminist icon Kathleen Hanna.
Laura Schwinkendorf (she/her/hers) is Barefoot PR's strategy guide, leading the work we do to build Communications Roadmaps for clients. Laura has an eye for opportunity and a mastery of tactics that work. As she learns about a client's audiences and the outcomes they hope to achieve, Laura builds Editorial Calendars, Story Banks, Big Ideas and Tactical Plans to guide clients through the actions they need to take to infuse purpose into their communications. Her approach to communications planning was shaped by a desire to seek out new ideas, experience different ways of living and stretch her comfort zone while traveling to Maui, Paris, Uganda and the neighborhoods of Denver. She brings skillful exploration to her work with clients – balancing proven recommendations with opportunities to stray from the path and try something new. When she is not at work, Laura volunteers her time as a board member for Youth on Record, dotes on Dez the cat, and cheers on the Texas A&M Aggies alongside her partner, Michael. If you ever need a restaurant or happy hour recommendation, Laura will have one ready and she suggests walking along Cherry Creek Trail or through the Jefferson Park neighborhood to soak up the best Denver vibes.
Learning Objectives:
What are the best social media platforms for your organization?

Tools for getting organized and maximizing your impact with small social teams. 

Metrics matter: what do the numbers mean and why?
Session Materials: