Congratulations to Louisiana Green Corps on winning a 2023 Project of the Year Award! All awardees will be recognized at #CorpsCon23 – The Corps Network National Conference. This hybrid event will take place March 7 – 9 in Washington, DC, and online. Click here to learn more. Click here to learn about The Corps Network's awards. Click here to learn about 2023 Project of the Year finalists.
---
Louisiana Green Corps
Louisiana loses approximately 24 square miles of coastal wetland each year; this is one of the fastest rates of wetland loss in the world. This loss effects critical ecosystems and creates social and economic inequalities that not only impact Louisiana, but all areas of the United States that depend on the health of the Mississippi Delta and river system for flood control, navigation, energy production, and seafood production. Louisiana Green Corps (LAGC), in partnership with the Tierra Foundation and Common Ground Relief (CGR), has taken initiative to help mitigate the problem through the creation of the Louisiana Coastal Restoration Workforce.
In early 2022, LAGC partnered with the Tierra Foundation and CGR with the goal of addressing their common concerns around climate mitigation, conservation, environmental justice, and more. This resulted in developing a training program to build a "climate mitigation workforce."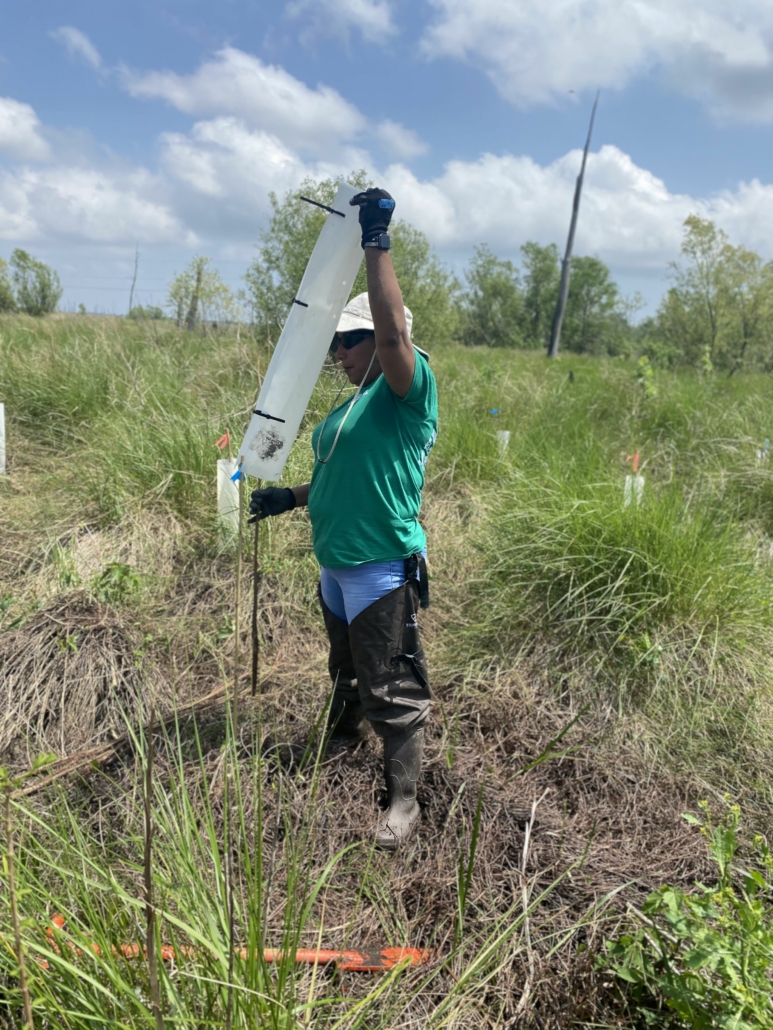 A major barrier to implementing carbon sequestration projects in the region is the lack of plant  nurseries and the lack of a trained workforce to conduct plantings and carbon monitoring. Due to sea level rise and subsidence, cypress trees are no longer able to naturally regenerate; cypress seeds must be planted by hand. Through this initiative, LAGC Corpsmembers are gaining climate mitigation job skills through planting bald cypress seedlings and performing carbon sequestration monitoring within the Greater New Orleans region.
This project is the first attempt by LAGC to provide career development in coastal restoration. It is also the largest coastal restoration project the Corps has undertaken; typically Corpsmembers learn on residential projects serving individual households. Additionally, the project focuses on investing in underserved communities and empowering local youth to make a real difference right where they live. The Corpsmembers are learning valuable skills for potential future employment while also earning a living wage. For many Corpsmembers, conducting these projects offered them their first experience with the natural wetland habitats that both surround and protect their homes.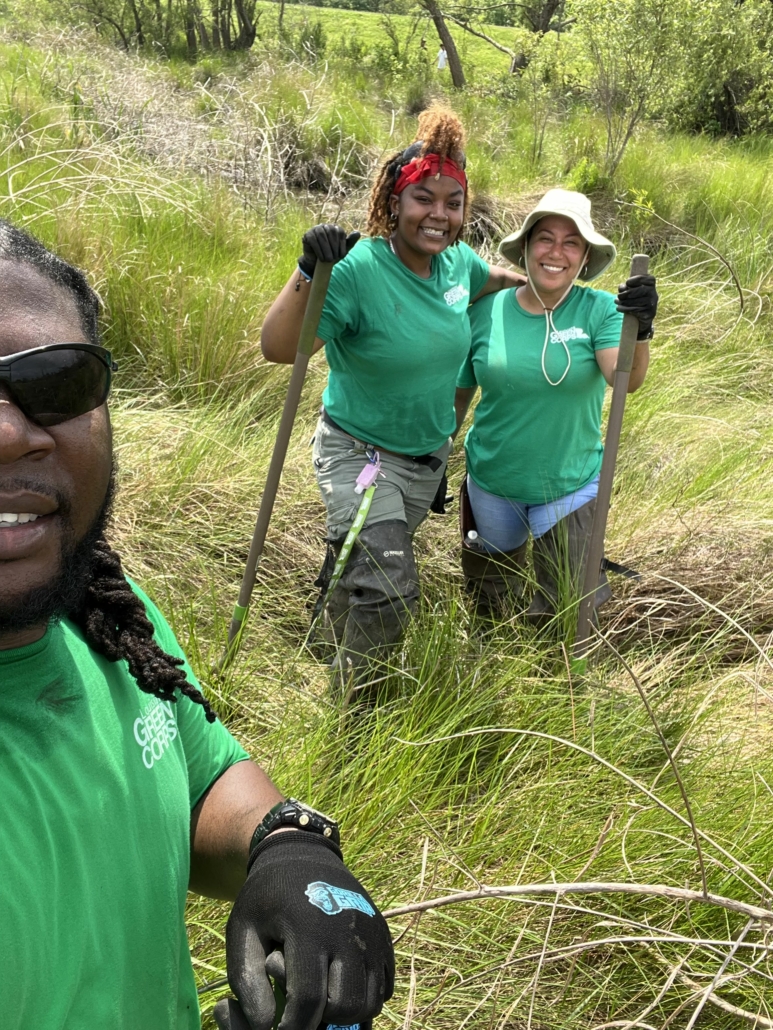 Through this initiative, 135,000 acres of wetland have been identified for cypress plantings, an undertaking that will help to protect the Greater New Orleans region and the Mississippi River Industrial Corridor from hurricanes. Corpsmembers have planted more than 600 seedlings. The project has been extended into 2023, already showing great success. The 45 participating Corpsmembers earned certifications in construction (NCCER CORE), construction safety (OSHA 10 for construction), clean water certifications and more. Several Corpsmembers have gone on to be employed by the Tierra Foundation doing everything from urban green infrastructure installation to wetland conservation.
This project partnership has also allowed LAGC to help the Tierra Foundation rebuild 3.3 miles of wetland boardwalk in the town of Jean Lafitte, which was devastated by the storm surge following Hurricane Ida. This boardwalk allows for greater access to Lafitte's Wetland Trace, an important focal point of this bayou community.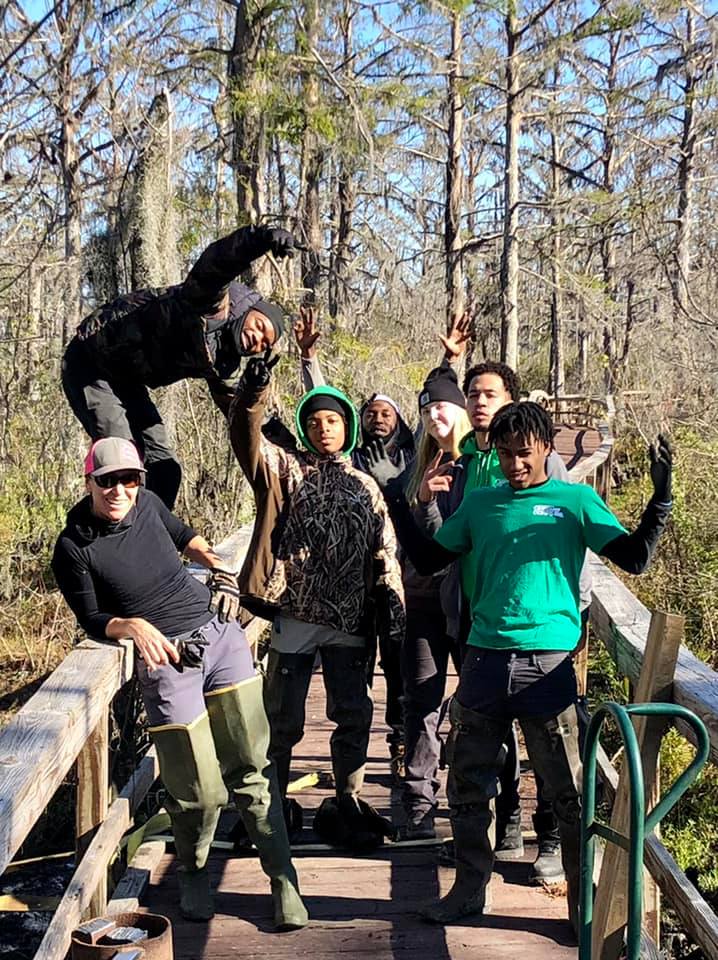 The Corps notes that the project exposed the struggle that many of the Corpsmembers have had in securing a job in the expanding blue economy: lack of reliable transportation. LAGC is working on a creative solution to the problem, such as a van service.
LAGC believes, "This project represents a modern Corps, one deeply rooted in and serving the communities most impacted by climate change, degradation, and coastal land loss." The Corps believes that their model is a replicable and critical method of addressing wetland loss, climate change, and environmental injustice.