Congratulations to AmeriCorps St. Louis on winning a 2023 Project of the Year Award! All awardees will be recognized at #CorpsCon23 – The Corps Network National Conference. This hybrid event will take place March 7 – 9 in Washington, DC, and online. Click here to learn more. Click here to learn about The Corps Network's awards. Click here to learn about 2023 Project of the Year finalists.
---
AmeriCorps St. Louis + AmeriCorps NCCC
The Greenwood Cemetery Restoration Initiative is an effort to not only reclaim green space, but, more importantly, help a community reclaim its history.
Greenwood Cemetery was established in 1874 to serve the needs of the growing Black population of post-Civil War St. Louis and St. Louis County. It was the first commercial, non-sectarian cemetery for African Americans in the St. Louis metropolitan area. Across nearly 32 acres, more than 50,000 people were laid to rest. After the final burial in 1993, however, maintenance of the property became inconsistent, and Greenwood fell into disrepair. Invasive plants soon covered the understory and grapevine choked the mature, native trees.
The cemetery was listed on the National Register of Historic Places in 2004; thankfully, the land was recovered by the Greenwood Cemetery Preservation Association (GCPA) in 2016, setting restoration efforts in motion. Over recent years, volunteers have reclaimed 12 of the 32 acres and restored them to historic land management standards. AmeriCorps St. Louis (ACSTL) started participating in volunteer activities at the cemetery a few years ago and recognized its significance as a place for people to connect with their ancestry, as well as a place for education. Not to mention, it is an important community green space and ecological corridor.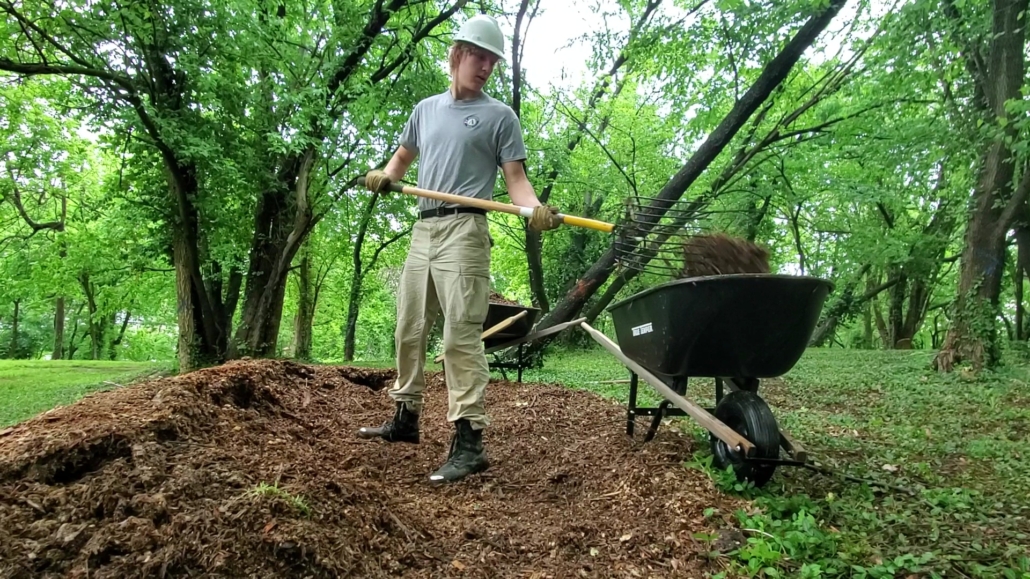 With a Community Conservation Grant from the Missouri Department of Conservation, ACSTL partnered with the Greenwood Cemetery Preservation Association to help strengthen the cemetery's land management plan and support the removal of invasive species and overgrowth. This more formal, consistent partnership would help the GCPA volunteers in achieving their long-term restoration and historical documentation goals.
ACSTL began hosting numerous volunteer events with alumni and partners, helping expand the capacity of GCPA's core group of volunteers. ACSTL also hosted an AmeriCorps NCCC crew from May through August 2022. This collaboration was recognized by the Southwest Region of AmeriCorps NCCC with the "Sponsor of the Round Award."
The Community Conservation Grant helped diversify ACSTL's fee-for-service project slate and allowed the Corps to plan, initiate, and implement an internally-drafted land management plan – a first for ACSTL. The plan is divided into two phases, focused on first clearing the understory and felling hazardous trees, followed by beautifying the property through restoring headstones, installing signs and benches, and improving paths. In addition, this project has allowed the Corps to partner with Washington University to conduct an impact evaluation of their land management practices and study the use of organic herbicides.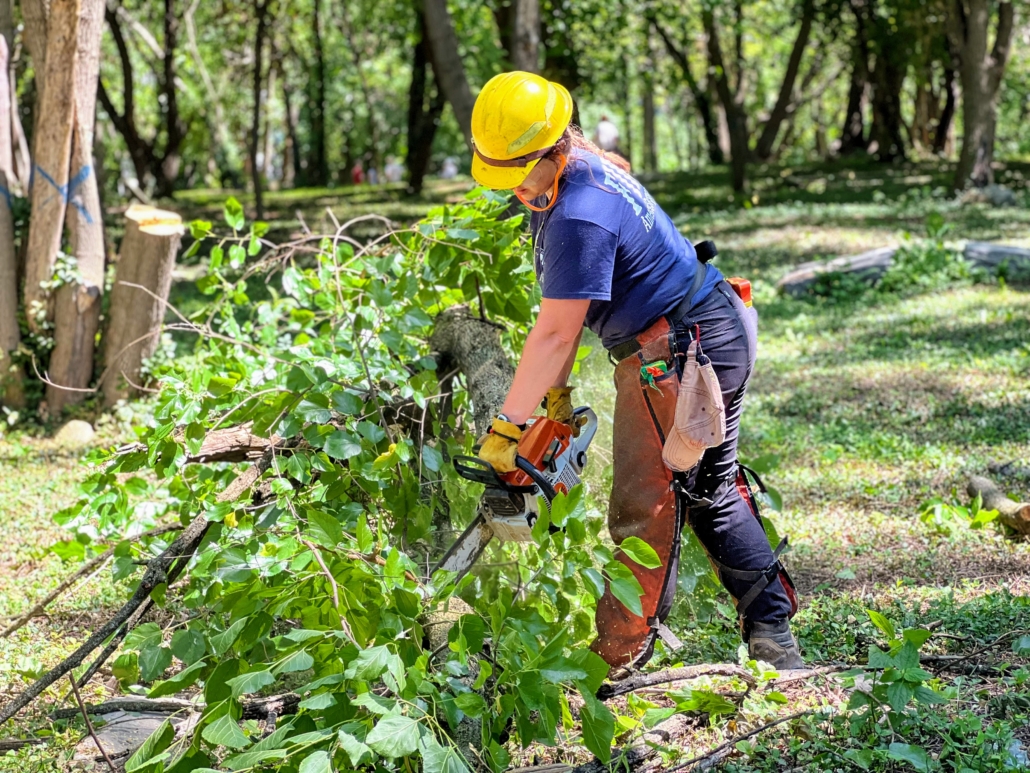 The Greenwood Cemetery Restoration Initiative has also provided Corpsmembers with new leadership and skill development opportunities. AmeriCorps members would pair with inexperienced volunteers to provide oversight and direction.
Throughout this project's tenure, another eight acres of laborious ecological restoration has occurred, allowing for the sustainable management of cleared areas and providing public green space. The newly cleared acreage uncovered hundreds of new headstones, allowing for historical archives to be updated, and providing accessibility for family members to honor their loved ones. From 2021 – 2022, ACSTL and AmeriCorps NCCC members helped fell and remove more over 200 trees, collect over 640 cubic yards of trash, treat more than 600 trees through pruning or stump removal, and archive more than 1,700 historical documents. These efforts will continue until all 32 acres are restored.
"It's such an important site for thousands of people and I am incredibly privileged and honored to have a small part in its restoration," said one AmeriCorps NCCC member.
Restoration efforts have ignited renewed community engagement and volunteer efforts to support ongoing restoration efforts. An ACSTL alum is partnering with the President of GCPA to produce a full-length documentary to highlight the origin and efforts towards preservation of the history of Greenwood Cemetery. This exposure will hopefully amplify the combined efforts and be a source of pride for the community as the public space continues to improve.
Beyond quantifiable measurements, the qualitative impact of this initiative is immeasurable. With every acre cleared, more community members can locate their loved ones and connect with their heritage.