Rosalina Lopez
AmeriCorps Member
Congratulations to Rosalina Lopez on winning a 2023 Corpsmember of the Year Award! All awardees will be recognized at #CorpsCon23 – The Corps Network National Conference. This hybrid event will take place March 7 – 9 in Washington, DC, and online. Click here to learn more. Click here to learn about The Corps Network's awards. Click here to learn about 2023 Corpsmember of the Year finalists.
---
"She has the dedication, technical skills, emotional intelligence, and aspirations to achieve more than she has in the past year. We are looking forward to everything else she will accomplish."
---
Rosalina Lopez is overcoming adversity and making her community a better place through her service with San Jose Conservations Corps. A role model for other Corpsmembers with a can-do attitude, Rosalina's leadership quickly became evident while working on various vegetation management projects in San Jose. She "took the lead in learning every tool possible" and never wavered when operating chainsaws and other power tools, even though it was her first time.
Rosalina's positive mindset also encouraged her team to "be the best version of themselves." As a supervisor said, "She has been able to help her coworkers feel confident in what they pursue and encouraged them to receive help in what they need. Her positivity has radiated beyond herself to the team she's been working with. To add, she has been a staple and influence for other women in the organization by leading by example."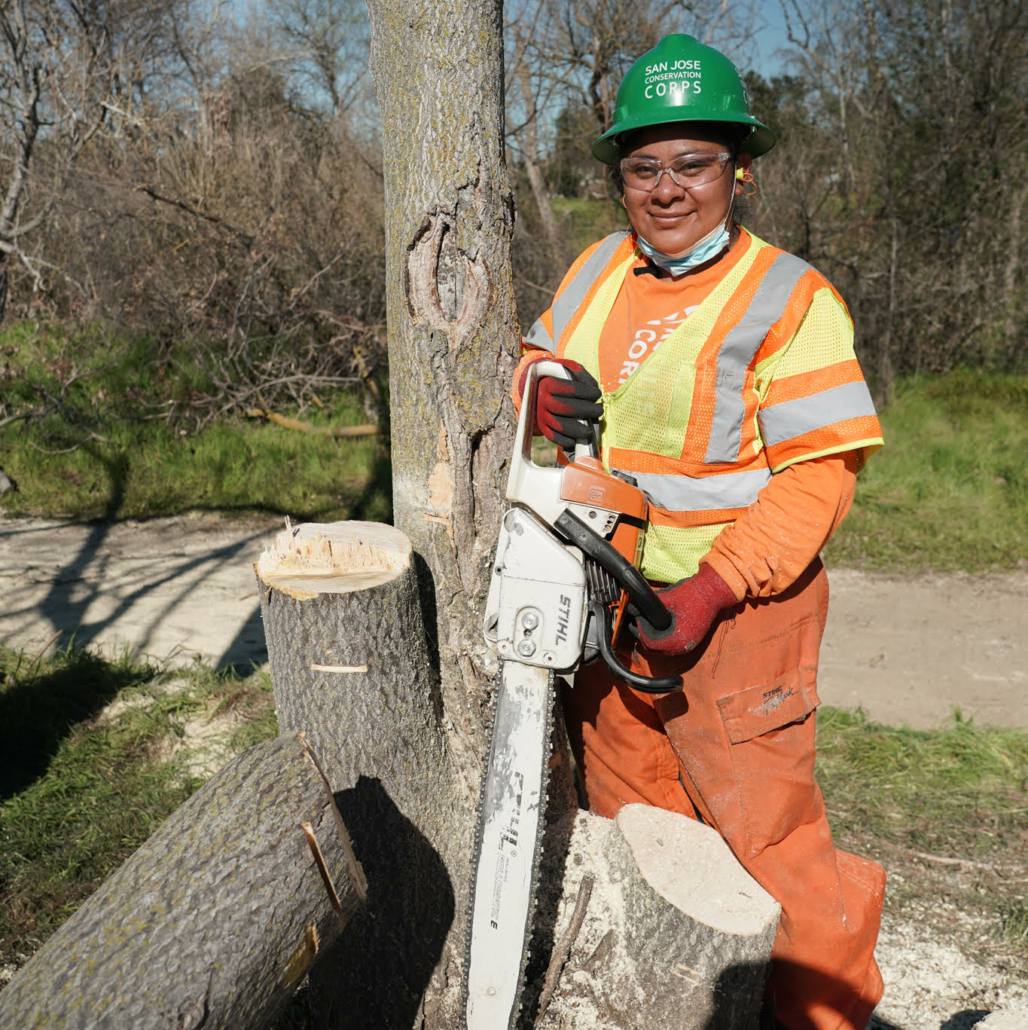 Before joining SJCC, Rosalina was pregnant with her second daughter in 2019 and worked in a supermarket's seafood department with wet floors. One day, she slipped and hurt her back, causing her to quit her job. Rosalina remained at home for the next half-year with her older daughter and newborn baby. Once Rosalina was ready and able to work again, she began working at a fast-food restaurant. A few weeks later, the COVID-19 pandemic forced the shutdown of the restaurant where Rosalina worked and the daycare her daughters attended. Faced with few options as a single mother, she began working at a janitorial company but barely earned enough to support herself and her children. Then, after seeing a Facebook post for SJCC, she decided to apply and was eventually connected with the Resilience Corps program.
In addition to supporting her team, Rosalina was able to leverage several of her Corps opportunities to improve her and her children's lives. She received an AmeriCorps Education Award that she used to pay for college fees and a citizenship class at West Valley College. While improving the city's natural spaces with SJCC, Rosalina was able to earn her driver's license, purchase a car, and become a U.S. citizen. "The need for money to support my family pushed me to become a Corpsmember," said Rosalina. "I have never regretted joining the Corps."
Rosalina is currently serving with SJCC, yet she is still finding ways to help others outside of her Corps service. She works as a translator with a law office and is in the process of becoming a certified translator. Rosalina has several goals for her future, and she plans on using the skills she gained during her time with the Corps to continue achieving them.
"I'm really thankful that I joined the Corps because I got the help that I needed in order to get my citizenship, driver's license, OSHA-10, CPR, and chainsaw certifications," said Rosalina. "These will all help me in my future job opportunities."
Rosalina's sights are on working for the city or county doing park maintenance and then studying to become a medical assistant.
"People believe there are no opportunities in life when in reality, there are many," said Rosalina. "You just need to be open, take chances, and be ready to improve yourself."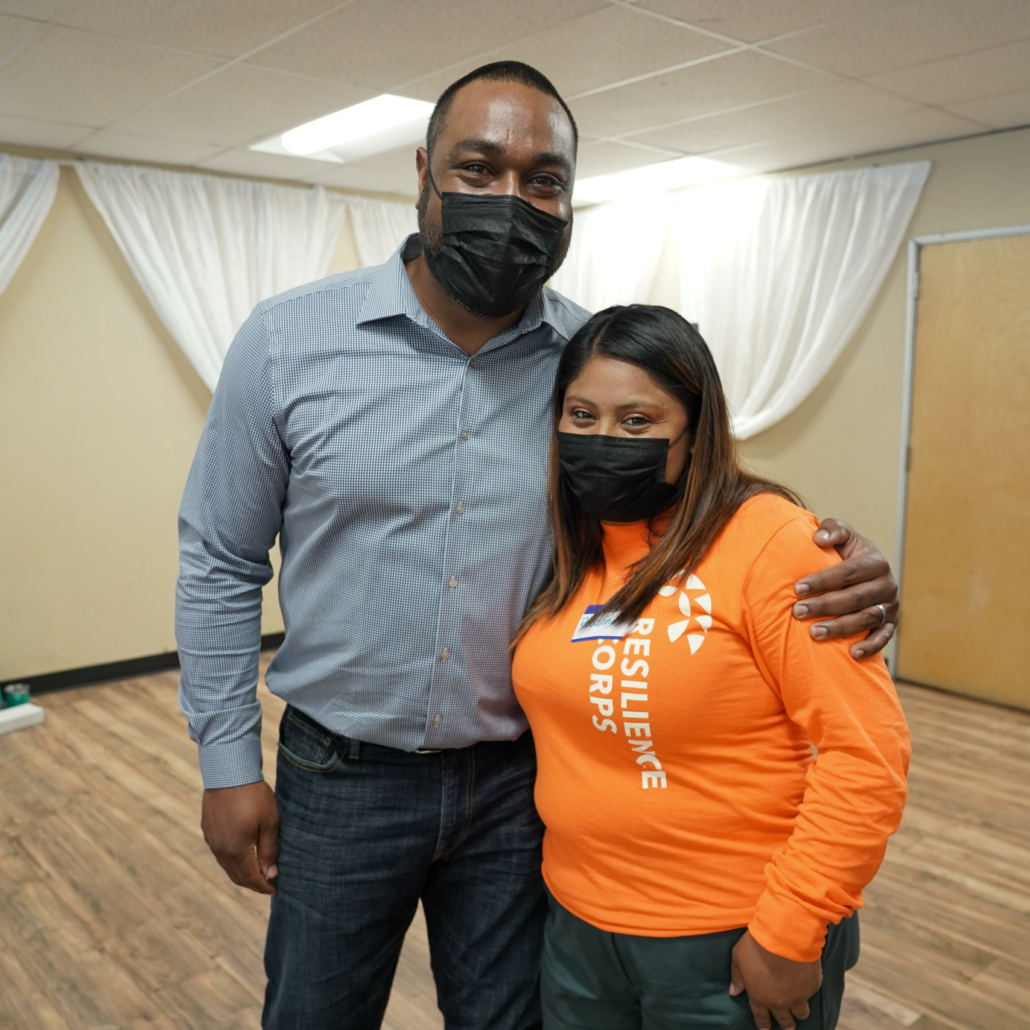 Precious is known as a natural leader by Corps staff who say, "Her voice and passion for sharing her cultural heritage with students and visitors has been invaluable."
Before joining the Corps, Precious took several odd jobs while trying to fulfill cultural obligations and juggling personal issues. She worked as a sales associate, a bartender, a security guard, a package handler – she started college, but was not passionate about her studies. She was searching for a more fulfilling path when she found ACE's internship announcement on Facebook. From there, Precious learned about the importance of conservation in the Indigenous community and began a year filled with opportunity and excitement.
She says that though she loves educating the public about her Indigenous Heritage with NPS. In the future, she would like to go back to school to study archaeology.
Precious strongly believes that "the Corps can revitalize the identity in Indigenous youth." She sees Corps as an outlet for Indigenous youth to heal from generational trauma by helping to conserve natural resources and preserve the land for generations to come.