Precious Vicente
AmeriCorps Member
Congratulations to Precious Vicente on winning a 2023 Corpsmember of the Year Award! All awardees will be recognized at #CorpsCon23 – The Corps Network National Conference. This hybrid event will take place March 7 – 9 in Washington, DC, and online. Click here to learn more. Click here to learn about The Corps Network's awards. Click here to learn about 2023 Corpsmember of the Year finalists.
---
"Through the Corps, Indigenous youth are able to find their own self-identity by preserving sacred sites, learning how to be stewards of the land, while also maintaining employment and setting themselves up for future success."
---
Precious Vicente joined the National Park Service Traditional Trades Apprenticeship Program (TTAP) through American Conservation Experience (ACE) in search of new opportunities and with a passion for learning about her Hopi and Akimel O'odham heritage. Her Corps experience allowed her to explore her culture and to create connections within the National Park Service (NPS). Today, Precious serves as an NPS Park Ranger at Casa Grande Ruins National Monument, where she is a cultural resource to guests as well as staff.
During her time with TTAP, Precious served at Casa Grande Ruins National Monument where she helped to preserve 4,200 feet of prehistoric earthen walls and 25 feet of 1930's historic adobe walls. Precious went on to a second internship with Conservation Legacy as a cultural education intern. While there, she worked alongside NPS staff giving educational programs to the public and building tribal connections. She received an AmeriCorps Education Award for her efforts.
Corps staff that worked with Precious say that she is a positive influence and a role model to her community. Before joining the Corps, Precious already had a passion for her heritage, serving as the president of the Gila River Youth Council. Her family has lived in the Gila River Indian Community for generations and Casa Grande is an extremely important cultural site. Precious has witnessed how the Gila River Indian Community is facing major losses in ceremonies, language, stories, and culture and she joined the Corps on a personal mission to get as much experience and traditional knowledge as possible while she could. During her time with ACE, she was able to draw on her past experiences to help recruit more Indian Youth Service Corps members from her community. Serving with the Corps gave Precious a platform to speak about, explore,  embrace her heritage, and inspire her community.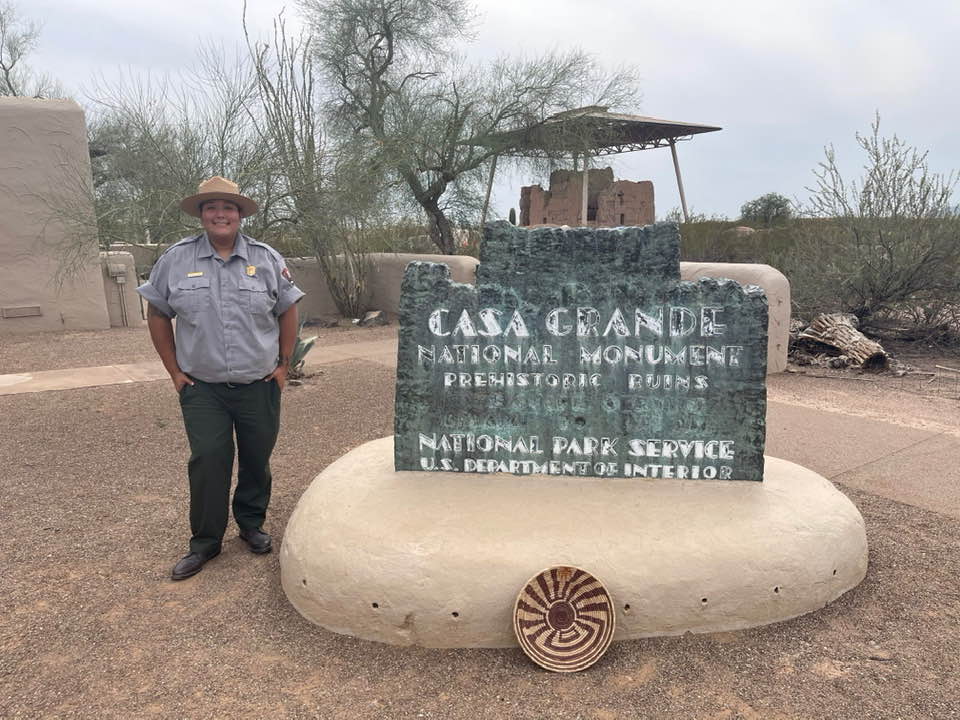 Precious is known as a natural leader by Corps staff who say, "Her voice and passion for sharing her cultural heritage with students and visitors has been invaluable."
Before joining the Corps, Precious took several odd jobs while trying to fulfill cultural obligations and juggling personal issues. She worked as a sales associate, a bartender, a security guard, a package handler – she started college, but was not passionate about her studies. She was searching for a more fulfilling path when she found ACE's internship announcement on Facebook. From there, Precious learned about the importance of conservation in the Indigenous community and began a year filled with opportunity and excitement.
She says that she loves educating the public about her Indigenous Heritage with NPS. In the future, she would like to go back to school to study archaeology.
Precious strongly believes that "the Corps can revitalize the identity in Indigenous youth." She sees Corps as an outlet for Indigenous youth to heal from generational trauma by helping to conserve natural resources and preserve the land for generations to come.