Cory Sheers
Congratulations to Cory Sheers on winning a 2023 Corpsmember of the Year Award! All awardees will be recognized at #CorpsCon23 – The Corps Network National Conference. This hybrid event will take place March 7 – 9 in Washington, DC, and online. Click here to learn more. Click here to learn about The Corps Network's awards. Click here to learn about 2023 Corpsmember of the Year finalists.
---
"Cory established himself, not only as driven, disciplined, and dedicated, but he also demonstrated that he wanted fellow Corpsmembers to succeed."
---
A major component of X-Cel Conservation Corps is preparing Corpsmembers to obtain the MA Grade 3 Municipal Wastewater Operator's license, which is required in Massachusetts to obtain an entry-level wastewater service operator position in treatment plants. This process involves taking a rigorous class comparable to a college-level course. Although this course is filled with various technical terms, real-world applications, and scientific concepts, Cory Sheers excelled tremendously in the classroom by putting in the time and effort. Cory did so well in class that his cohort developed a running activity "to check whether Cory scored 100% on his weekly exam." One of Cory's supervisors adds, "he often did."
Cory consistently scored higher exam results than any other Corpsmember who's ever taken the course, but instead of letting that get to his head or becoming complacent, he began tutoring his fellow classmates by showing them how to solve certain problems, or helping explain a wastewater treatment process they hadn't mastered yet. After exams were over, Corpsmembers would immediately go to Cory to have him explain certain questions and mistakes. Throughout the week, without being asked, Cory would help his classmates by reviewing questions and solving math problems together to ensure they'd pass the exam. Cory's commitment to helping his fellow Corpsmembers was undeniable. As his supervisor states, "Cory's cohort performed better than almost any previous cohort. I believe part of that was because of Cory's help."
Not only did Corry uplift his classmates by offering academic support and tutoring, but he also supplemented his classmate's and instructors' expectations. Even though it had never been done before in the class's three-year history, Cory's cohort, partly because of his leadership, requested to be prepared for a higher-level license immediately after graduation. This led to four out of five Corpsmembers in Cory's cohort earning their Grade 5 license. His class instructor states, "The extra work paid off. Normal graduates start at $21-22/hour. So far, two graduates who obtained their Grade 5 license were hired at $29/hour and $30/hour."
Cory also stepped up as a leader when participating in water conservation work projects. He now has the highest level of wastewater operator license that one can obtain in Massachusetts without having work experience in a wastewater treatment plant. And when one of the X-Cel Corps' instructors had to leave their position in the middle of the fall cycle, Cory stepped up again and began serving as a wastewater class instructor. Not only is Cory still serving as one of X-Cel Corps' course instructors, but Cory is also in the process of getting a full-time job as a wastewater operator in his hometown.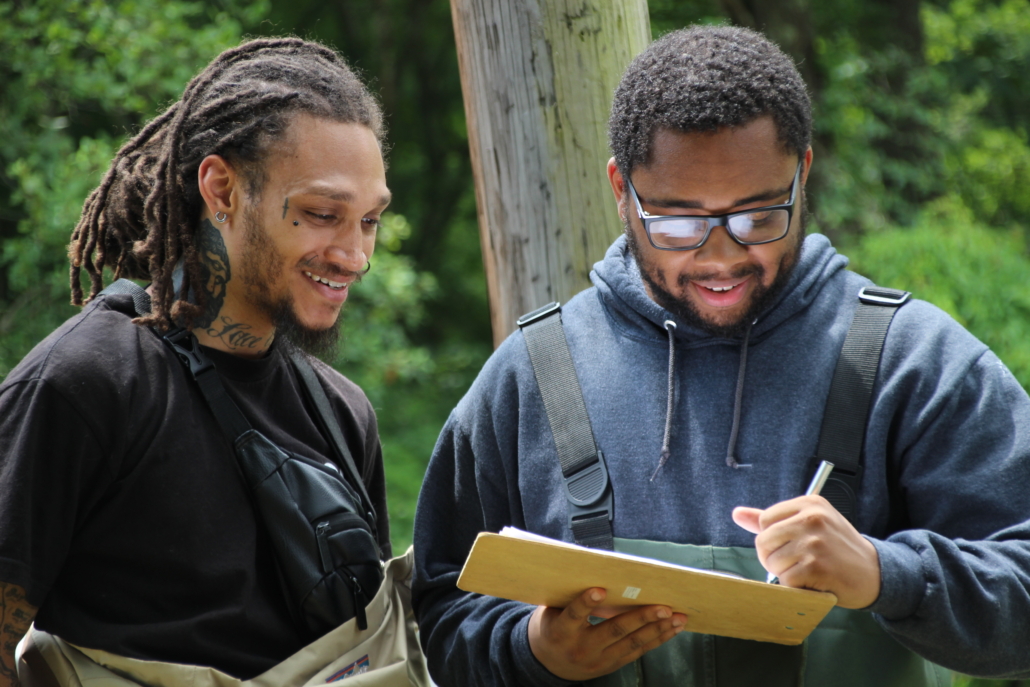 "I am currently teaching at the very same Conservation Corps that helped me get my 3 wastewater operator licenses. I've also recently applied to a municipal wastewater plant in the city where I live," said Cory. "When I go to teach at X-Cel Conservation Corps, I always stay after class to help any Corpsmembers who may need more clarification on the lesson or if they need help studying for a higher-level license."
Cory believes his "generation can have a huge impact on our water quality through programs like X-Cel Conservation Corps." He hopes to continue helping the Corps after he starts working full-time as a wastewater operator.
"I think it'll be great for future Corpsmembers to have a teacher who has experience working in a wastewater plant," said Cory. "That way I'll be able to confidently answer any questions current or future Corpsmembers will have."