Christoper "CJ" Franco
AmeriCorps Member
Congratulations to CJ Franco on winning a 2023 Corpsmember of the Year Award! All awardees will be recognized at #CorpsCon23 – The Corps Network National Conference. This hybrid event will take place March 7 – 9 in Washington, DC, and online. Click here to learn more. Click here to learn about The Corps Network's awards. Click here to learn about 2023 Corpsmember of the Year finalists.
---
"CJ is such a joy to work with! He exudes aloha and brings it to work with him every day! We all hope he can become a more permanent fixture here at Haleakala National Park!"
---
CJ worked in different national parks in various food and beverage positions and volunteered with the National Park Service before joining Conservation Legacy. He wanted to learn to become a steward and follow his dream of handing off beautiful scenery to future generations. He has served terms with Conservation Corps North Carolina (CCNC), as a crew leader with Arizona Conservation Corps (AZCC), and is now serving his third term with the Stewards Individual Placements program as a Historic Preservation Training Center (HPTC) Indian Youth Service Corps  intern at Haleakala National Park on the island of Maui. His focus is on trail maintenance and historic preservation. Most recently, CJ has been assisting with the refurbishment of a historic cabin constructed by the Civilian Conservation Corps in 1936. This cabin has been utilized by generations of local families when they journey into the Haleakala Wilderness.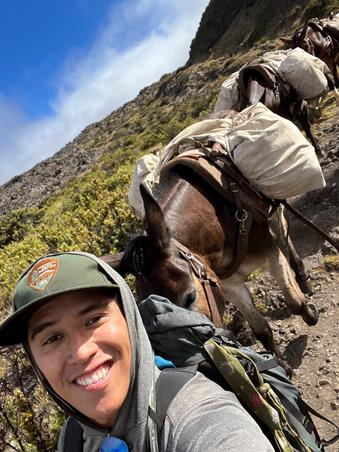 As part of these projects CJ has the opportunity to learn carpentry and masonry skills as well as roughhewn timber building techniques. To access the worksites, which are located inside a crater, CJ and his crew must hike 10-18 miles one way, leading a team of donkeys to transport their supplies. Once on location, the team works for four-day stretches before hiking out to resupply. CJ also completed his A100 flight class and became certified to be a flight crew member to assist with the heli-ops, also transporting project materials. In addition to the outstanding work he is doing in the field, CJ has played an integral part in two rescue operations involving visitors to the park. He received a letter of commendation from the park for his efforts.
CJ has demonstrated a keen interest in showing his appreciation for the native flora and fauna through artwork during his downtime in the backcountry. Through photos CJ has shared from his service, he has also included personal drawings of native plants that are threatened by invasive species because of increasing environmental changes. His positive attitude, work ethic, and environmental mindfulness have had a positive impact on both the crew he works alongside as well as the Stewards staff that nave supported him along this journey.
CJ believes this lifestyle has taught him a lot about being there for others. "I realized that my presence can make a huge difference on an individual's life," he said, "That if I put my all into something good for someone, always, no matter who it is, that nothing will beat that good feeling you get inside knowing you've taken as much weight off of someone's shoulders as you can."
After his term, CJ will continue to work with the park and solidify his career in the National Park Service. He plans on pursuing his education at a university and hopes to learn enough to pursue his interest in becoming an EMT-certified ranger. Haleakala National Park has also expressed that they hope to bring him on as a full-time staff member upon the completion of his current internship. CJ wants to continue being a steward of the land and make progress in his practice of the arts.