---
At The Corps Network's annual National Conference, we celebrate the important services Corps provide to communities and young people across the country. The Project of the Year Award honors Corps that have undertaken especially noteworthy endeavors within the past year. Projects of the Year are innovative and show a Corps' ability to work with partner organizations, give Corpsmembers a positive experience, and provide the community with meaningful improvements. Click to learn about past Projects of the Year.
---

Throughout 2021, three local Conservation Corps – LA Conservation Corps, San Jose Conservation Corps, and Civicorps in Oakland – have engaged in a unique partnership with local government agencies, social service agencies, and the Seattle-based company Pallet to build hundreds of tiny home shelters for people experiencing homelessness.
The story of this project begins in Seattle, where Pallet employees – the majority of whom have experienced homelessness, addiction, or the criminal justice system – manufacture and ship shelter panels to assembly sites. Local groups are then responsible for completing final assembly of the shelters. This is where Corpsmembers assist.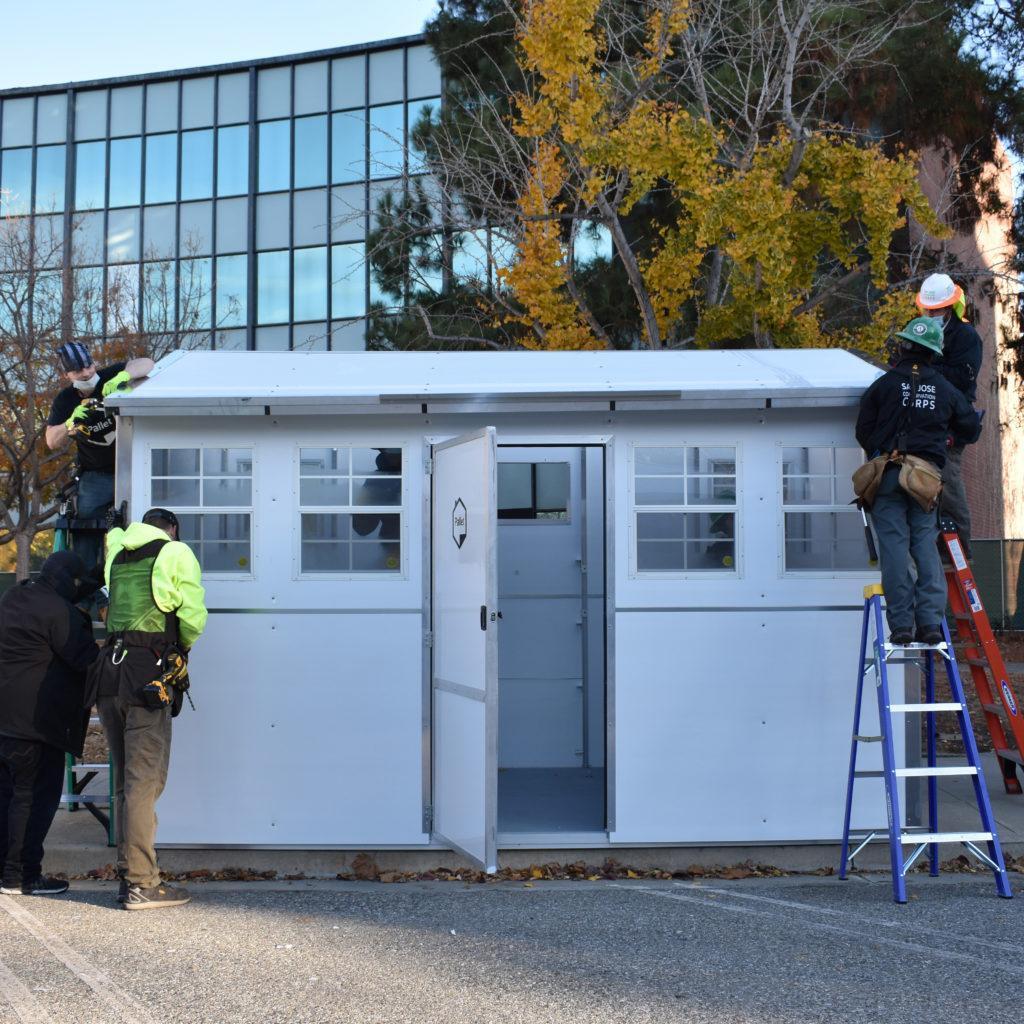 Each shelter is self-contained and outfitted with beds, shelving, climate control, electricity, and safety features. Serving in teams, Corpsmembers can assemble a shelter in less than 30 minutes. The structures offer more security than tents or other improvised shelter alternatives. The design of the shelters also makes them easy to clean when transitioning between occupants, an important consideration during the COVID-19 pandemic.
Last year, 62 Corpsmembers across the three local Corps worked together to build more than 960 Pallet shelters. Each village of shelters that has been constructed by Corpsmembers is now managed by a partner nonprofit that specializes in working with people experiencing homelessness. They provide a variety of case management and barrier removal services to occupants. With an estimated 160,000+ people experiencing homelessness, California is the state with the highest population of unhoused individuals and families. Innovative, public-private partnerships like this effort are critical to help meet the need for support services.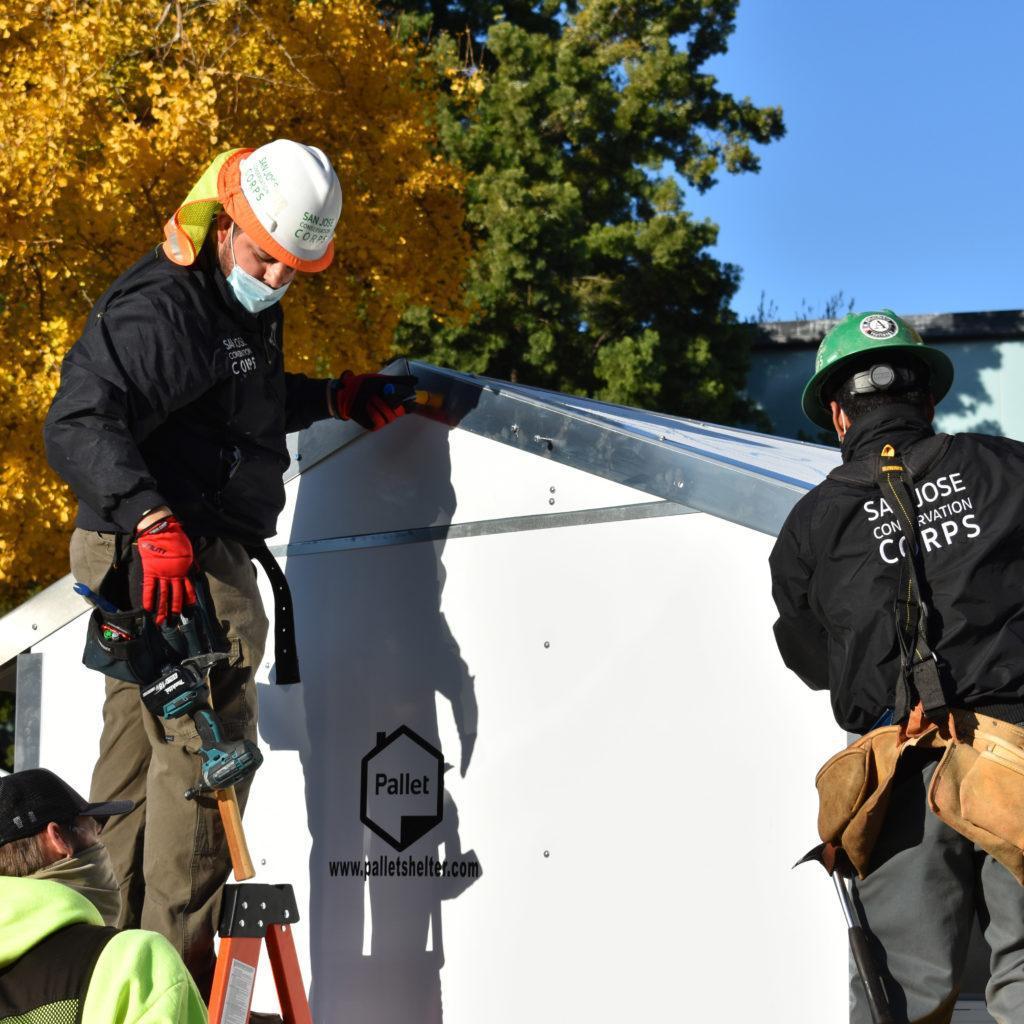 Through this project, Corpsmembers develop skills in construction, time management, and teamwork. Some of the Corpsmembers also accrued hours towards earning an AmeriCorps Education Award. In addition, the project has had a personal impact on many Corpsmembers.
"Working with Pallet and building these shelters for individuals experiencing homelessness resonates with many of our Corpsmembers," said Alex Lopez, Senior Program Director at LA Conservation Corps. "Some of our Corpsmembers have experienced homelessness themselves, so they understand how meaningful a safe space can be for someone. Also, this is fast-paced, team-based work that lets them harness their critical thinking and problem-solving skills…At the end of even one day on the job site they see the difference they are making."
While many Corps are accustomed to collaborating with non-profit and government partners, this project involved working with a social purpose company. The partnership offered the Corps insight into this sector's practices. It also provided a model for how future Corps partnerships with social purpose or for-profit entities can flourish to help meet the needs of Corpsmembers and communities, especially amidst the growing number of B-Corporations and other environmentally and socially conscious companies in the marketplace.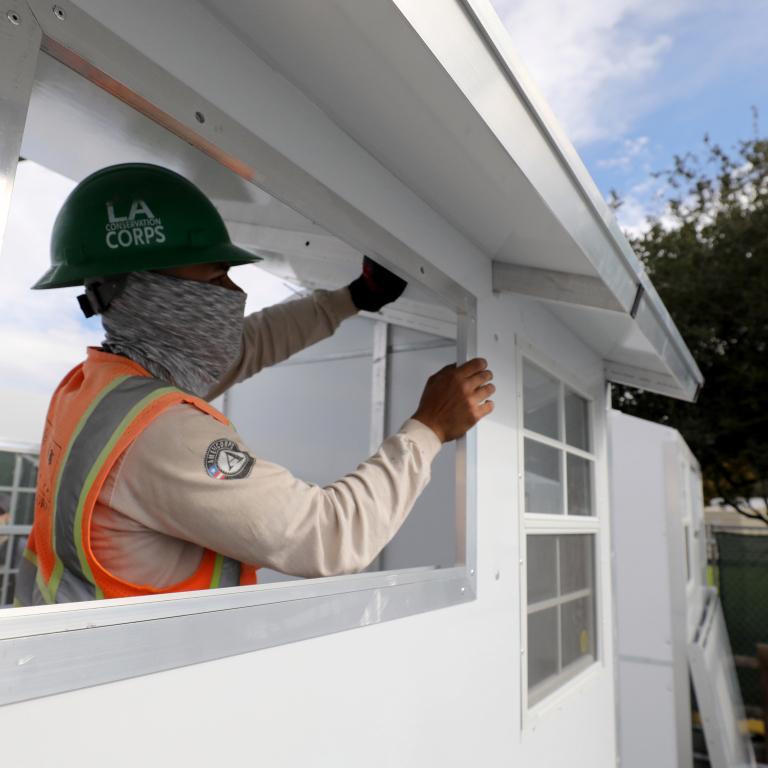 Collaborating with a partner like Pallet wasn't the only new programming element for the Corps. For Civicorps, this work was a change of pace from their primary focus on conservation and recycling projects. For LA Conservation Corps, the work was different from prior housing projects that have been localized to one site; the Pallet projects have sent Corpsmembers across multiple city council districts. San Jose Conservation Corps is already familiar with tiny home construction; they were able to deploy quickly and provide support to their partner Corps.
Housing insecurity is an example of a complex challenge that cannot be addressed with any single solution. From the pandemic to climate change, our young people – and our country –  currently face a multitude of complicated challenges. The Pallet Partnership project offers an example of the support Corps can provide one another to take action on various far-reaching issues. This work highlights how Corps can assist local governments by being nimble and responsive to important needs. As this project demonstrates, Corps are ready to explore creative new approaches to challenges.