---
At The Corps Network's annual National Conference, we celebrate the important services Corps provide to communities and young people across the country. The Project of the Year Award honors Corps that have undertaken especially noteworthy endeavors within the past year. Projects of the Year are innovative and show a Corps' ability to work with partner organizations, give Corpsmembers a positive experience, and provide the community with meaningful improvements. Click to learn about past Projects of the Year.
---

Oysters are a keystone species for estuaries across the planet. A single adult oyster can filter more than 50 gallons of water per day. Oyster reefs also provide critical habitat for other species, like crabs and small fish. In North Florida, however, the oyster population has been in sharp decline since 2012.
Among other reasons, this decline is due to storm damage and increased salinity caused by drought and the upstream diversion of fresh water. There is now a ban on harvesting wild oysters in Apalachicola Bay until 2025, causing economic distress in coastal fishing communities. OysterCorps is a program that opens opportunities for young people in such communities to learn sustainable aquaculture skills while helping build a healthier estuary system.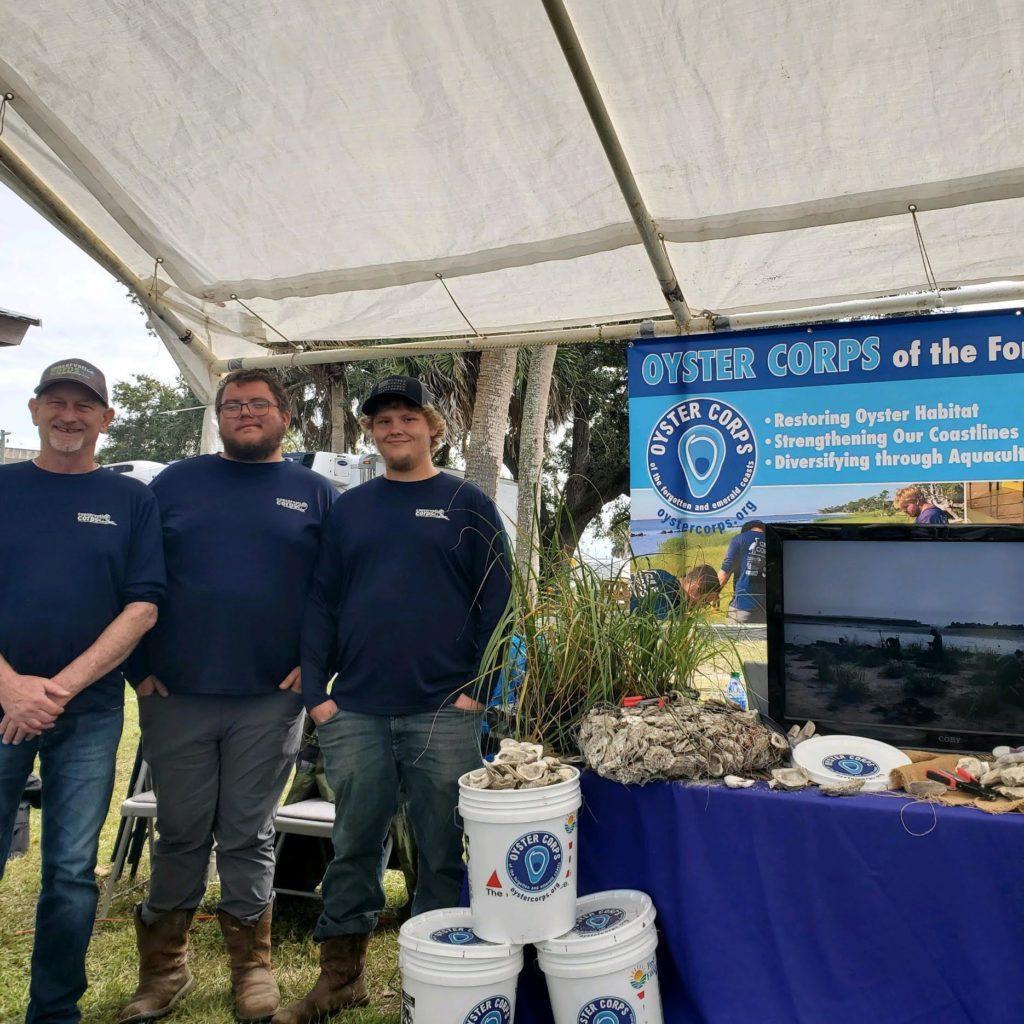 OysterCorps is a training academy based within Conservation Corps of the Forgotten and Emerald Coasts (CCFEC). The program seeks to restore oyster habitats, strengthen coastal resilience in the face of climate change, and drive economic diversification through aquaculture. OysterCorps participants are opportunity youth ages 17 through 25 (and veterans up to age 29) who reside in the Florida Panhandle. The program is supported by The Corps Network's AmeriCorps Opportunity Youth Service Initiative (OYSI). Pariticipants who complete the program earn a series of certifications, over 700 hours of hands-on field experience, and an AmeriCorps education award.
The habitat restoration component of OysterCorps involves a collaboration between the Corps and area restaurants, seafood processors, and the community to recycle oyster shells. The shells are cured and placed into the water to act as substrate for oyster larvae to attach and grow. OysterCorps works with the Panhandle Estuarine Restoration Team (PERT), led by the Apalachicola National Estuarine Research Reserve, to implement industry best practices for coastal ecosystem restoration. In addition to building reefs, Corpsmembers propagate native marsh grasses, which provide habitat for valuable species, help reduce erosion, and will strengthen the ecosystem's ability to recover from storms.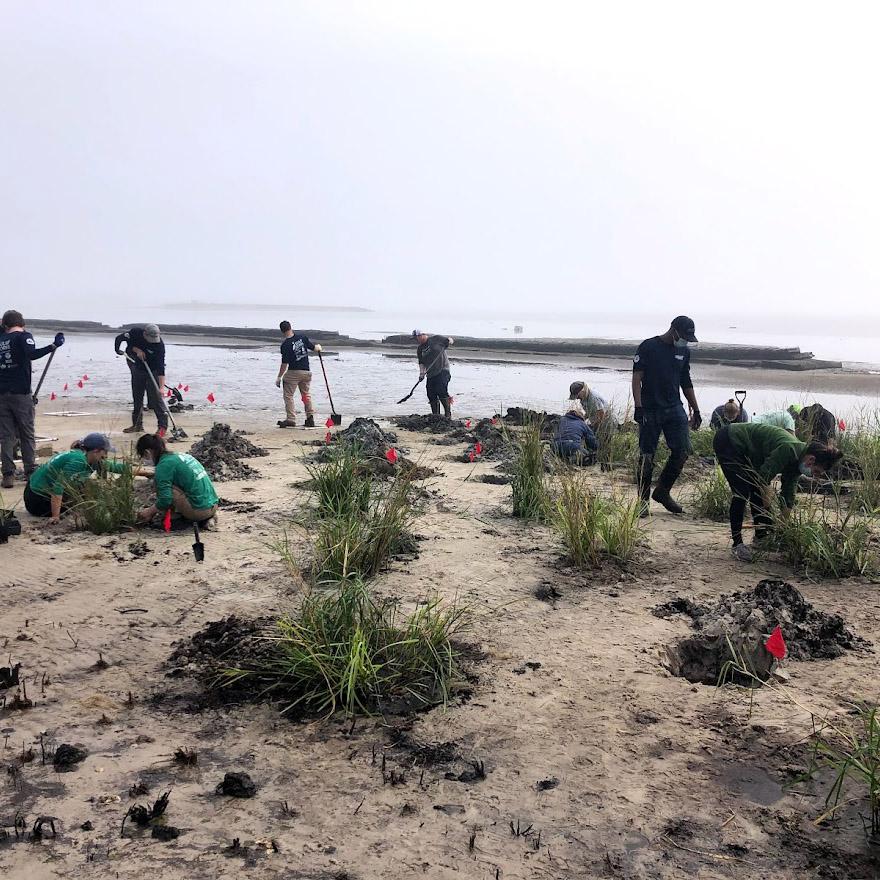 In addition to conducting field work, the OysterCorps members mentor and train high school students and provide community education experiences through social media and hosting exhibits at regional events.
Since the launch of the program in 2020, more than 40 OysterCorps members have received training in the construction of living shorelines and oyster reefs, techniques to propagate native plants, and skills to monitor the health of the shorelines. Corpsmembers have learned to use GIS mapping to support data tracking and project management. As of January 2022, Corpsmembers have collected over 18,886 tons of oyster shells, propagated and planted over 24,108 native plants, and are growing 21,000 farm-raised oysters.
In addition to strengthening Apalachicola Bay, OysterCorps has helped strengthen Conservation Corps of the Forgotten and Emerald Coasts. The program has allowed the Corps to expand relationships with numerous partners, including NOAA, The Nature Conservancy, Apalachicola National Estuarine Research Reserve, the Florida Department of Environmental Protection, the Northwest Florida Water Management District, the Florida Department of Aquaculture and Consumer Services, and the University of Florida Institute of Food and Agricultural Sciences.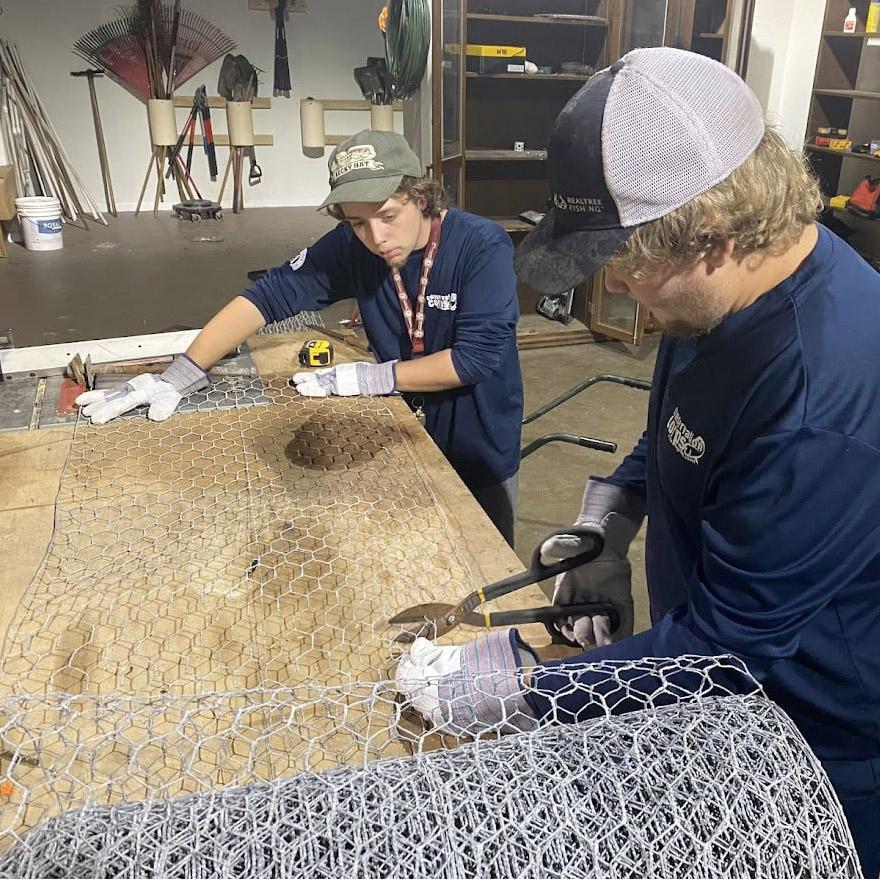 The program has also received press attention and brought in additional funding for the organization.
While CCFEC has been building living shorelines since their launch in 2015, the concept of the multi-component training academy was new to the Corps. CCFEC believes OysterCorps is easily replicable as their curriculum is transferable to any place with coastal resources that feature oyster populations. OysterCorps members are currently developing video blogs to share information, and a toolkit with program reports, best practices, and resources will be published by the Corps by the end of 2022.
OysterCorps is a project rooted in sustainability. Many of the participants are the children  and grandchildren of generations of oyster harvesters and seafood industry workers who have been impacted by the collapse of Northwest Florida's oyster population. These young adults are gaining the skills – and helping train their fellow community members – to be the ecosystem stewards the region needs.