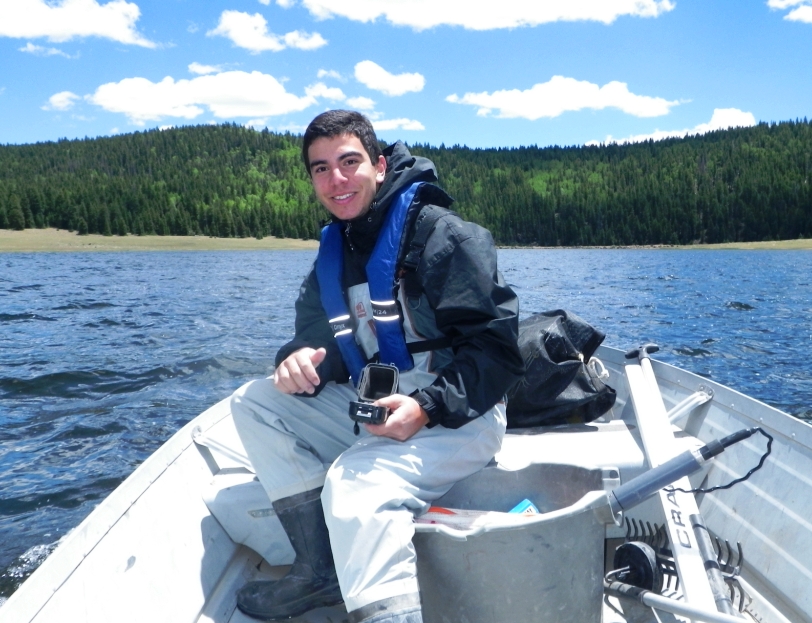 Oscar A. Marquina, a former member of the Utah Conservation Corps, won Corpsmember of the Year in 2011 for his leadership skills and commitment to service. Read below to find out what he's been up to since accepting his award, or find out more about Oscar and his Corps experience by reading his bio from our 2011 National Conference.
Do rivers and lakes need regular health checkups just like people do? Ask Oscar Marquina.
"Basically I am a water doctor," said Oscar. "I travel around doing different examinations making sure my patients – rivers and lakes – recover their health or stay healthy."
Oscar, a former member of the Utah Conservation Corps, is currently interning with the Utah Division of Water Quality. Prior to this internship, he worked as a laboratory technician at the Utah Research Water Lab. Oscar has visited over 40 lakes throughout the state of Utah, collecting water samples and checking various water quality parameters. All this experience and Oscar is still just 23 years old.
Oscar and his family emigrated from Venezuela to the United States in 2001. Seven years later, Oscar was fluent in English and serving as one of two original Crew Leaders for the Utah Conservation Corps' Bilingual Youth Corps (BYC). With his language skills and his ability to relate with the growing Latino population of Northern Utah, Oscar became instrumental in making the Bilingual Youth Corps a success. He translated informational brochures into Spanish, held orientation meetings in Spanish, and conducted interviews for potential Corpsmembers in both English and Spanish. 
"It wasn't until I left [the Corps] that I realized I helped in laying the structure for future BYC programs," said Oscar. "I didn't think all the minute logistical details we discussed would help in future years. It is definitely a pleasant surprise knowing the heart and effort I had given for a summer program was then duplicated every summer after the first."
Before joining the Utah Conservation Corps, Oscar loved the outdoors but he had never considered the amount of work that goes into the conservation projects needed to preserve parks and trails. Oscar joined the Corps simply because it seemed like it would be fun to spend his summer vacation in a setting where he could exercise his bilingual skills. Now, however, Oscar feels that the Corps can offer a lot more than just a fun summer job.
"For those who are new to this country, the Bilingual Youth Corps is ideal for many reasons. First it teaches Corpsmembers ownership of their new community through service and travel. To someone who is learning the language, it will speed up the education process by creating unique opportunities and interactions outside the classroom," said Oscar. "It is also important to allow new immigrants to express themselves in their native tongue which may have been restricted at schools or other jobs simply because of the non-bilingual dynamics of such institutions."
In preparation for when his internship ends in October 2012, Oscar has been networking, filling out applications and going to interviews. He wants to gain work experience before he eventually returns to school. Oscar graduated from Utah State University in 2011 with a bachelor's degree in Environmental Engineering, and he is now interested in pursuing a Master of Business Administration degree.
Oscar's time in the Corps may have ended in 2010, but he is still involved in service opportunities. He recently finished a tutoring position at a Utah high school where he helped students – most of them Latinos or Burmese refugees – with their homework and ACT preparation.
"My goal at the moment is to find a job that allows me to help communities and people," said Oscar. "I would love to work for a company that allows me to travel and use my Spanish skills."
Oscar says one of the things he loved most about his experience with the Corps was getting to meet interesting people from all walks of life. He says he feels like each individual BYC member he worked with stands out in his mind. He is still good friends with many of these members; they follow each other on Facebook and get together to hangout. He also stops by the Utah Conservation Corps offices to say hello to the staff whenever he is nearby.
To young people thinking of joining a service or conservation corps, Oscar says:
"If you have not figured out what exact experience you need in life, but you have the heart and drive to volunteer and provide a service to your community, the corps will be a way to seize the day and gain inspiration and illumination for any future endeavors."