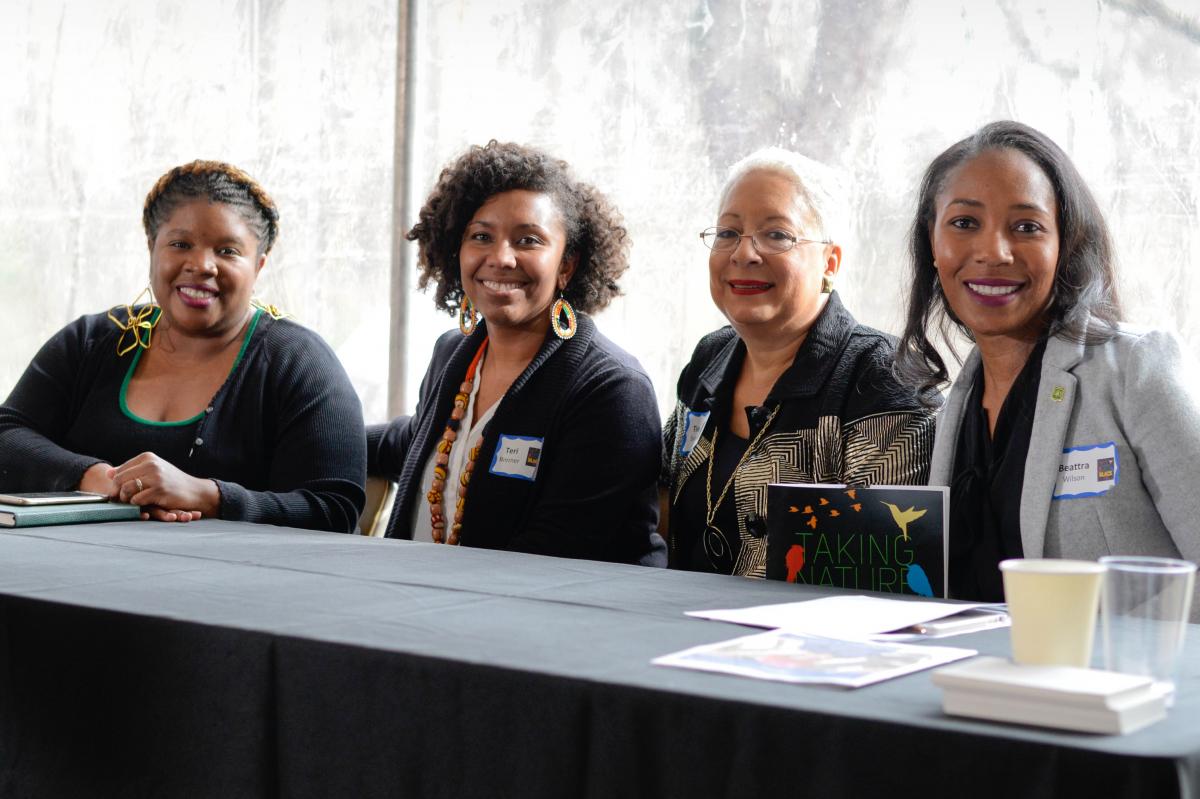 Panelists at second Taking Nature Black conference (Left to Right: Chancee Lundy, Teri Brezner, Tina Smith, Beattra Wilson. Photo courtesy of Audubon Naturalist Society)
The following is part of the Moving Forward Initiative blog series.
By Allison Puglisi
Ph.D. Candidate, American Studies, Harvard University
On February 28, 2018—the last day of Black History Month—Mustafa Santiago Ali took the floor at the Taking Nature Black conference in Maryland. He had an unusual question for the audience: "By a show of hands, in the last sixty seconds, how many folks have taken a breath of air? Hold your hand up if you've taken a breath of air."
The audience, laughing, raised their hands.
"When we breathe in," said Ali, "we expect to be receiving something positive to our bodies." He listed a number of cities with severe air pollution and told the group, "we have far too many communities across our country who are still battling every day for a breath of fresh air."
Ali, Senior Vice President of Climate, Environmental Justice, & Community Revitalization for the Hip Hop Caucus, was one of 21 speakers at Taking Nature Black. The one-day conference, which is in its second year, is hosted by the Audubon Naturalist Society (ANS) at their headquarters in Chevy Chase, MD. This year, the conference filled to capacity just three weeks after registration opened. More than 200 people attended—double the number at the first conference in 2016. https://www.anshome.org/2017/11/taking-nature-black-2016  
The conference featured performers, professors, riverkeepers, engineers, inventors, lawyers, public officials, and consultants—all of whom work on environmental issues. Speakers discussed the environmental problems facing communities of color, and what today's environmentalists can learn from black farmers and conservationists in history. They challenged the idea that urban communities lack nature or wildlife, andencouraged conference-goers to look close to home for interactions with nature.
The conference also addressed environmental activism and careers. Speakers discussed how to make racial justice a more central part of environmentalism, shared experiences from the workforce, and offered strategies to impact the political process—as well as build "green" careers. https://anshome.org/2018/01/tnb-topics-2018/

Kim Lambert of the U.S. Fish and Wildlife Service, a sponsor of the Taking Nature Black event.
Perhaps most importantly, Taking Nature Black brought together a group of people often excluded from the environmental movement. Caroline Brewer, conference chair and Director of Marketing and Communications for the ANS, says Taking Nature Black is an "opportunity to share and celebrate African American contributions to the environment. Rarely do you see African Americans represented, and yet we have this long-standing history."
That history spans farming, conservation, environmental activism, and many other traditions.
After centuries of being forced to cultivate land under slavery, and being exploited as sharecroppers, many African Americans bought land and continued farming on their own terms. To this day, farming remains a tool for African Americans to sustain their communities and preserve their family histories. Over the last several decades, hundreds of thousands of black farmers have lost their land to scams, government discrimination, and development. Farmers who still own land are working to keep it amid rising costs.
This is what "taking nature black" means to Joseph James. James is founder and president of Agri-Tech Producers, a company that remediates polluted soil by growing special biocrops. Preserving black landownership is particularly important to James, whose company is based in South Carolina. As an innovator and entrepreneur, he has been active in political discussions about land, agriculture, and energy. At Taking Nature Black, he spoke on a panel about engaging elected officials.
In addition to farming and agriculture, African Americans have been crucial to environmental activism. In the 1910s, the National Association for Colored Women (NACW) led public awareness campaigns on health issues like garbage disposal and insect-borne diseases. Later on, at the height of the Jim Crow era, black Americans fought to access the parks, beaches, and swimming pools that so many white nature enthusiasts already enjoyed. Many pools did not allow black swimmers at all, but some allowed them on designated days. At the end of the day, they would empty and refill the pool with new water before reopening it to white patrons.
After civil rights activists won integration and ended practices like these, many of them turned their attention to the problem of oil, chemicals, and toxic waste. They demanded, and continue to demand, that waste dumps and other hazards be removed from minority communities.
As these moments show, African Americans have long advocated for the environment: through civil rights organizations, religious institutions, and family farms. On the other hand, mainstream environmental groups did not always address African Americans' needs or include them as full participants. Rather than confront that difficult history, some still assume African Americans have no interest in the outdoors—or concern for the earth.
"Taking Nature Black disrupts that perception," says Karen Driscoll, who spoke at this year's conference. Driscoll is a Senior Associate at the Raben Group and also works with Green 2.0, an initiative to strengthen diversity at environmental NGOs, foundations, and government agencies. At Taking Nature Black this February, Driscoll joined two other panelists for a discussion about diversity, equity, and inclusion in environmentalism. For Driscoll, diversity is about more than filling a room with people: "It means making a commitment to do your work differently," she said.
The ANS and organizations like it are part of this changing landscape. The ANS was originally founded in Washington, D.C. in 1897 for the conservation of birds. Today, it also serves the needs and interests of the Washington, D.C. area by providing environmental education.
As environmental organizations address their pasts and work to increase diversity, their members and partners interrogate the meaning of the word "diversity." Brewer suggests that although people often think of diversity in raw numbers, numbers mean less if minorities are expected to simply "blend in."
This year's conference was not about blending in. It was an opportunity to confront racist histories, reclaim forgotten legacies, and bring together future leaders.
---
For your Consideration:
Do a quick web search for "green jobs," or glance at the short bios of this year's Taking Nature Black speakers (https://anshome.org/taking-nature-black/). What do you find? What do these careers have in common?

On its conference page, the Audubon Naturalist Society writes, "Diversity and inclusion are actually two very different concepts, but their impacts in the workplace and the larger society are more profound when the two are implemented together. In fact, diversity is essentially meaningless without inclusion." What do you think? How are diversity and inclusion different?