Where are they now? – Catching up with 2010 Corpsmember of the Year,
Corey Brown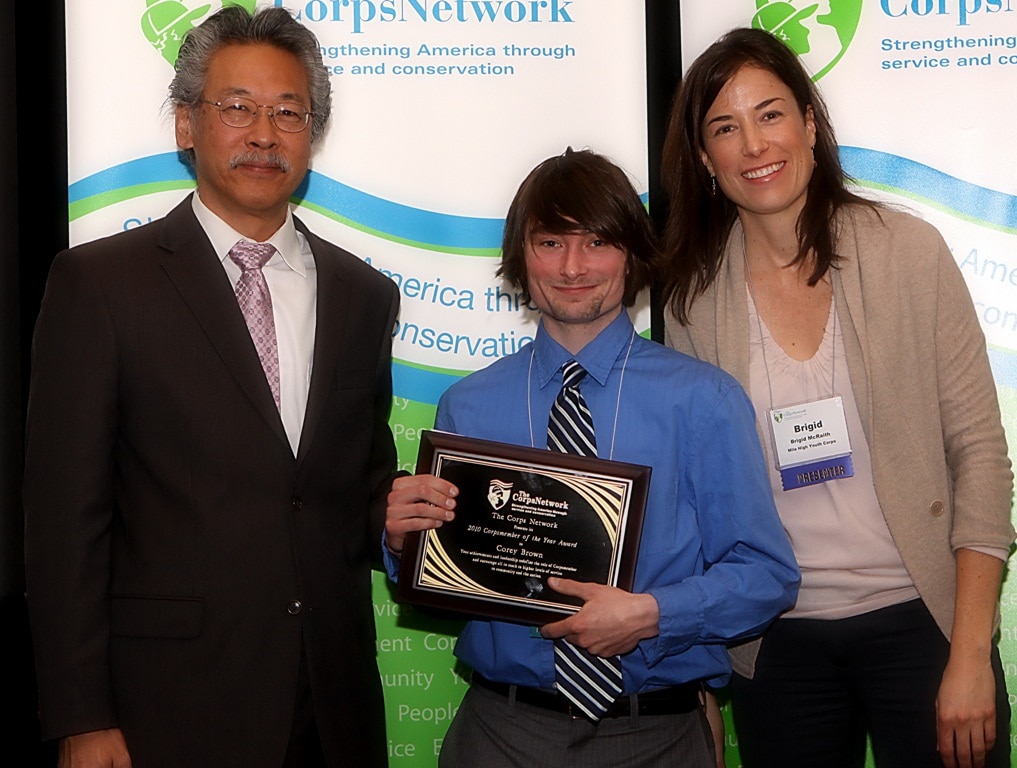 Corey receiving his award at The Corps Network 2010 National Conference in Washington, DC. Pictured with David Muraki, California Conservation Corps, and Brigid McRaith, Mile High Youth Corps

Corey Brown, a former member of Mile High Youth Corps, won Corpsmember of the Year in 2010 for his commitment to service. Read below to find out what he's been up to since accepting his award, or find out more about Corey and his Corps experience by reading his bio from our 2010 National Conference.
Corey Brown has one regret about his service with Mile High Youth Corps of Denver Colorado: he wishes he had joined sooner.
"I wish I'd looked into the Corps a long time ago," said Corey. "…I feel like I could've had a better grasp on who I am as a person and also what I like and what I don't like."
Corey's path to the Youth Corps was not an easy one. With his mother suffering from a severe mental illness and his father dealing with serious physical disabilities, Corey had to assume many responsibilities at a young age. He did the family shopping, cleaned the house, and earned money to pay the bills. Even while he was in college he continued to juggle a full course load, work, and family obligations. As Corey said, he was burnt out, depressed, and worried that he didn't have room to make any mistakes.
Corey realized it wasn't healthy or productive for him to live this way. Fortunately, one of Corey's mentors moved to Colorado and offered him a place to stay in Denver. Corey knew he owed it to himself to at least consider the offer. He eventually decided that the best thing he could do for himself was leave school, leave New Jersey, and head out to Colorado.
"It was a really, really hard decision. I basically just got up and left with the clothes on my back and a few things and a little bit of money in my bank account. It took me probably a good year to really finally make the decision and go all in," said Corey. "I just felt like I was stuck and kind of helpless. I felt like this opportunity, even though it was a pretty huge risk, I only had to gain. I couldn't really go any further down from where I was at."
Not long after arriving in Colorado, Corey was referred to Mile High Youth Corps. During his tenure with the Corps, from May 2009 until November 2010, Corey mainly worked with the Corps's water conservation project. His main job was to install high-efficiency toilets in low-income households throughout Denver. Though Corey admits the work wasn't glamorous, he learned a lot about the importance of water resources.
Corey was eventually promoted to be a Mile High "alumni mentor." Having the responsibility to motivate other Corpsmembers and help them work through their problems left a big impression on Corey. He has considered finishing his bachelor's degree in psychology so he can one day become a licensed counselor.
"I think I look back at my own personal story and see how having mentors and counselors in my life meant a lot. If I didn't have those few people I probably wouldn't be where I am today," said Corey. "I wouldn't have the confidence I now have. I wouldn't be as successful. So knowing that one person can make such a big difference in somebody else's life is what interests me in this work the most."
After leaving Mile High, Corey spent about a year weatherizing homes in Denver and Arapahoe County with the organization Veterans Green Jobs. He then transitioned to his current position as a maintenance tech with a nonprofit that provides housing for single-parent families facing homelessness. Corey is responsible for helping with the upkeep of the organization's 100,000 square feet of property. In his spare time, Corey volunteers his maintenance skills by providing general upkeep services for a local church. He is also looking into volunteering with the Denver rape crisis center – an organization he feels strongly about and has donated to in the past.
Right now, Corey is focused on becoming a wind energy technician. He begins classes with Ecotech Institute in Colorado in January 2013. His goal for now is to get his degree from Ecotech in the next two years and start building his career as a wind tech.
Corey says his decision to pursue a career in the green sector was inspired by his time with the Corps. He was always interested in the environment, but his Corps experience made him more passionate about conservation. However, a career path is not the only thing Corey gained from Mile High, however.
"I think probably the biggest impact was on my confidence level. I feel like before I came out to Colorado I was very passive…I'd been through a lot and didn't have the confidence that I should've had," said Corey. "Going through the Corps and being promoted, just knowing that I could be really good at what I do and be well-liked by my coworkers and peers I think was definitely a huge confidence-builder for me."
To young people thinking about joining a corps, Corey says:
"I would recommend that if you are interested in corps at all you should definitely look into it as soon as possible. It's more than just a job. I would just recommend using it for everything it's worth. I know a lot of Corpsmembers do look at it as just a job and they don't use all the other resources that a corps can offer. There's a lot of networking that's available and a lot of educational opportunities."