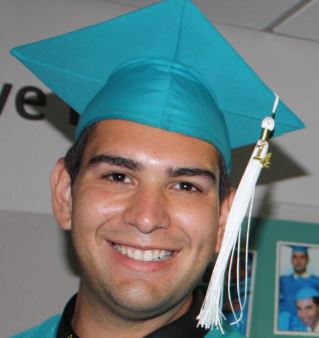 The following story showcases one of The Corps Network's 2015 Award Winners. Jeremiah Ruiz will be recognized as a 2015 Corpsmember of the Year at The Corps Network National Conference in February. 
Following his parents' divorce at age 12, Jeremiah Ruiz began to cope with his disappointment and stress by overeating. Around this time he also came to the realization that he was gay. Coming from a conservative religious family who did not approve of homosexuality only added to his struggle over the coming years. By high school, Jeremiah was 335 pounds. Being bullied because of both his weight and sexuality, Jeremiah's self-esteem eroded. He dropped out of high school during his senior year and contemplated suicide.
Next, Jeremiah started working at a golf course. Jeremiah says that "working at the golf club wasn't easy and the pay rate was minimal. It took me six years to realize that education is actually very important and without it, it can be very hard to succeed in the workforce."
Jeremiah's story took a positive turn when he heard about Urban Corps of San Diego County. He says that his experience while in the Corps improved his self-esteem, helped him gain important work skills and etiquette, and set him on the path to eventually earning his high school diploma. "It wasn't easy, but I have finally learned to accept the person I am, and my Corps experience was a big part of how I did it."
Jeremiah feels that the Corps model and the services the Corps provided were tailored to his needs and significantly contributed to his turn-around. He says that "It had been many years since I was in school so at first I was really nervous that I would fail again. But the classes were different than at my high school; they were smaller and I got a lot more one on one assistance." Jeremiah also notes that the physical training exercises the Corps experience includes on a daily basis and the healthy meal options they provide assisted him in losing weight and reaching his desired size. He says, however, that the "feeling of acceptance" that the Corps staff and his peers provided was by far the biggest positive impact the program had upon him. But while the Corps experience impacted Jeremiah for the better, the impact he has had on others is also tremendous.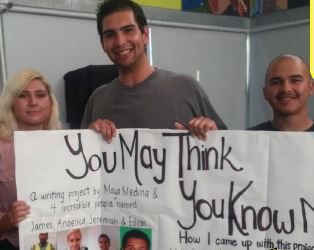 Jeremiah's case manager at Urban Corps explains that "Jeremiah has become the port in the storm for his peers; he freely gives everyone his undivided attention, his wonderful smile, and 'you can sit with me' accepting attitude. Jeremiah seems so confident and proud of the person he is now; it's hard to imagine him as a teenager who was once so tormented that he often thought of suicide. But Jeremiah hasn't forgotten that pain, or the pain of countless other youth who struggle with their identity. He makes a point of noticing students who seem to feel insecure or to lack friends, and he is quick to step in and offer friendship."
Jeremiah graduated from Urban Corps in June of 2014 and earned a scholarship. The staff noticed how he had grown into a leader, and recommended that he interview for a new internship with California State Parks. Jeremiah impressed everyone at his interview and has continued doing so in his role at South Carlsbad and South Elijo State Beaches.
The primary duties of Jeremiah's internship are to assist California State Parks with the development and execution of both environmental education programs and data collection for the 2014 CalRecycle Grant. He helps clean the beaches of trash and recyclables, document the data for these projects, and also proactively engages beach-goers through interpretive programs about recycling. He emphasizes  the important role everyone can play in protecting the beaches and oceans. Jeremiah says that "we ask people to fill out comment cards after each presentation, and I recently got one that I am especially proud of. The camper said, 'Jeremiah made learning about recycling and coastal conservation fun and interesting! His hands on approach and humor made it a really memorable experience. I will absolutely be coming back!'"
Supervising State Park Ranger Lisa Urbach writes that "Mr. Ruiz's willingness to take initiative, execute superb programs and use precise data collection techniques created a successful partnership between California State Parks, the Urban Corps and the local high school. His positive energy, creative spirit and desire to succeed will be seen for years to come due not only what he's already done, but also because of his involvement in the planning of a campfire center mural, development of a recycled plastic bottle wave sculpture and the moments shared and memories created from several annual events including Coastal Clean-up Day and the Halloween Spooktacular Event. Jeremiah Ruiz is an exceptional young man who is a tremendous asset to California State Parks and the Urban Corps."
In addition to his internship, Jeremiah continues his service by volunteering at a center for homeless LGBT youth, and also as an Environmental Educator at Urban Corps' charter school. What's next for Jeremiah? He says that his Corps experience showed him that he is "much stronger than I gave myself credit for… I will continue my education at San Diego City College in the Spring Semester. I know that whatever I do in the future, I absolutely must keep helping others. I need a career that allows me to stay active in the fields I care about: giving back to the community, helping our planet, and mentoring youth. This is why I've decided to become a teacher. I hope to change the lives of youth in my community the way Urban Corps has impacted my own life and the lives of my peers. It's been a long time coming, but I finally found like I've found the right career path and I am so excited to see what the future holds."