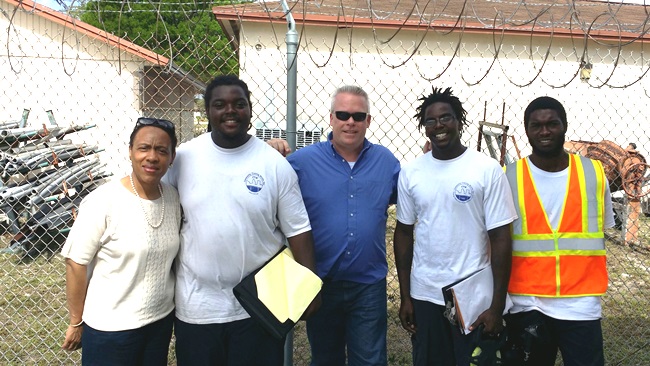 Staff members from The Corps Network, including Vice President Marie Walker and Gulf Coast Restoration Corps Director of Development John Hosey recently had the privilege of visiting two members of The Corps Network in South Florida. Their time with Community Training Works, Inc. and Greater Miami Service Corps was a refreshing reminder about all the great work our network members are doing across the country making a difference in their lives of in the communities where they serve.
Community Training Works, Inc. crews work out of a number of locations across the state of Florida. Our staff members were pleased to get to know Chris Butler and his crew working in the Ft. Lauderdale area.  The crew work for the local Department of Corrections and Department of Transportation repairing and installing security fences as requested. You don't have to be around these young men long to see the difference this program has made in their lives. When asked why he choose this program, Chris said, "I want to provide a good living for my wife and children and I always wanted to find a place I could learn a trade and have a future."
The Greater Miami Service Corps is also making a big difference in the lives of dozens of young adults every day. They have teams that work across the Miami-Dade County area on projects that are as diverse as the members themselves. The teams are made up of intercity youth (18-26) who come from a variety of culturally diverse backgrounds. Many of the members attend classes and earn a high school diploma and/or a degree from the Miami-Dade Community College system.
The Corps Network (TCN) wants to thank these wonderful Corps programs for all their hard work and accomplishments. Their success is based on a number of ingredients that come together to make something special. One of these special ingredients are the program directors and support staff. They dedicate countless hours and energy towards helping young adults succeed and find a productive place in their local communities.
As TCN continues to develop plan for creating the Gulf Coast Restoration Corps, John Hosey is traveling across the region introducing existing corps programs to the GCRC project. This visit to south Florida was such an effort as John and Marie met with the Directors for both programs. "We are always looking for ways to include existing Corps programs in our plans to start the Restoration Corps in the Gulf Region. This visit allowed us to see successful programs in action and identify some of their best practices that may be replicated in the new Corps" commented John Hosey.