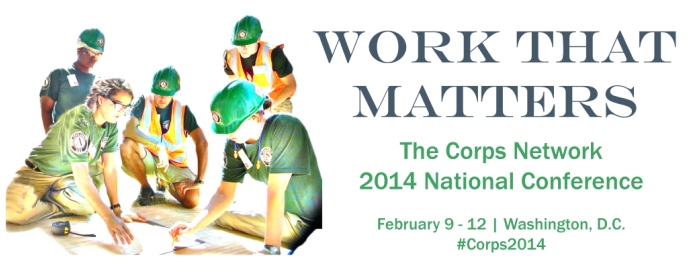 We are very excited to announce our 2014 Award Winners! They will each be honored at our National Conference in February. Please click on the links to read their stories.
---
Projects of the Year



Each year The Corps Network awards several noteworthy endeavors from Corps with Project of the Year Awards. Here are links to stories about this year's winners.
Orange County Conservation Corps Partners with Disneyland on Innovative "Adopt-A-Channel" Program
Fresno Local Conservation Corps Helps Prepare New Home for Veterans
Vermont Youth Conservation Corps Boost Local Economy and Walkability of Vermont's Capital City
---
Legacy Achievement Award
The Corps Network Legacy Achievement Award recognizes leaders with approximately 20 or more years of contribution to the Corps movement, who have served in a senior leadership position of a Service or Conservation Corps or multiple Corps, and who have made a significant contribution to the movement (e.g. founded a corps, brought a corps to scale, served for approximately 15+ years as ED/CEO of a corps, or who have made a significant national contribution through developing a national project). This year's winner's include
David Muraki
Executive Director, California Conservation Corps
Scott Weaver
Senior Vice President, Government & Agency Affairs, Student Conservation Association
Leslie Wilkoff
Director of AmeriCorps Programs, The Corps Network
---
Corpsmembers of the Year / Corps Ambassadors
Each year The Corps Network honors Service and Conservation Corpsmembers whose accomplishments and personal stories exemplify the positive role that Corps serve for individuals and communities nationwide. They help serve as Corps Ambassadors, or spokespeople for the Corps Movement. 2014 winners include
Jon Brito
Kupu / Hawaii Youth Conservation Corps
Edgar Galvez
Fresno Local Conservation Corps
Eliseo Nunez
Urban Corps of San Diego County
Linda Santana
Rocky Mountain Youth Corps
Ruby Simonian
California Conservation Corps
Candace Washington
Civicorps