The Corps Network applauds Biden-Harris Administration's focus on advancing environmental equity and investing in decreasing barriers to safe, accessible spaces to enjoy the outdoors.
---
On Friday, September 23, Lashauntya Moore – Technical Assistance Coordinator at The Corps Network and an AmeriCorps alumna of Earth Conservation Corps – spoke about her service experience at an event with Second Gentleman Douglas Emhoff at Benning Stoddert Recreation Center in Washington, DC. Hosted by the White House Council on Environmental Quality (CEQ), the event celebrated the collaboration of 10 federal departments and agencies on signing the United States Government Interagency Memorandum of Understanding on Promoting Equitable Access to Nature in Nature-Deprived Communities.
This new MOU is part of America the Beautiful: the Biden-Harris Administration's initiative "to conserve, connect, and restore 30 percent of our lands and waters by 2030." The vision of the MOU also aligns with the goals of the President's Justice40 Initiative, which aims to direct 40 percent of the overall benefits of certain federal investments in climate and clean energy to "disadvantaged communities."
The event started with a roundtable discussion among stakeholders about implementation of the new MOU. The roundtable was followed by a tree planting outside the recreation center. Lashauntya helped open the tree-planting portion of the program by speaking about her time in Earth Conservation Corps, a Washington, DC-based organization that engages young adults from under-served communities in environmental education and local conservation projects that benefit people and nature.
Among other activities during her term of service, Lashauntya and her crew helped address pollution of the Anacostia River, restore nesting habitat for the Bald Eagle, and build a river walk around the Anacostia. Related to her service, Lashauntya has been featured on 60 Minutes, NOW with Bill Moyers, and People Magazine. Lashauntya was asked to join Earth Conservation Corps' staff as a Site Manager and was later promoted to a Youth Program Coordinator. She joined the staff of The Corps Network in 2016.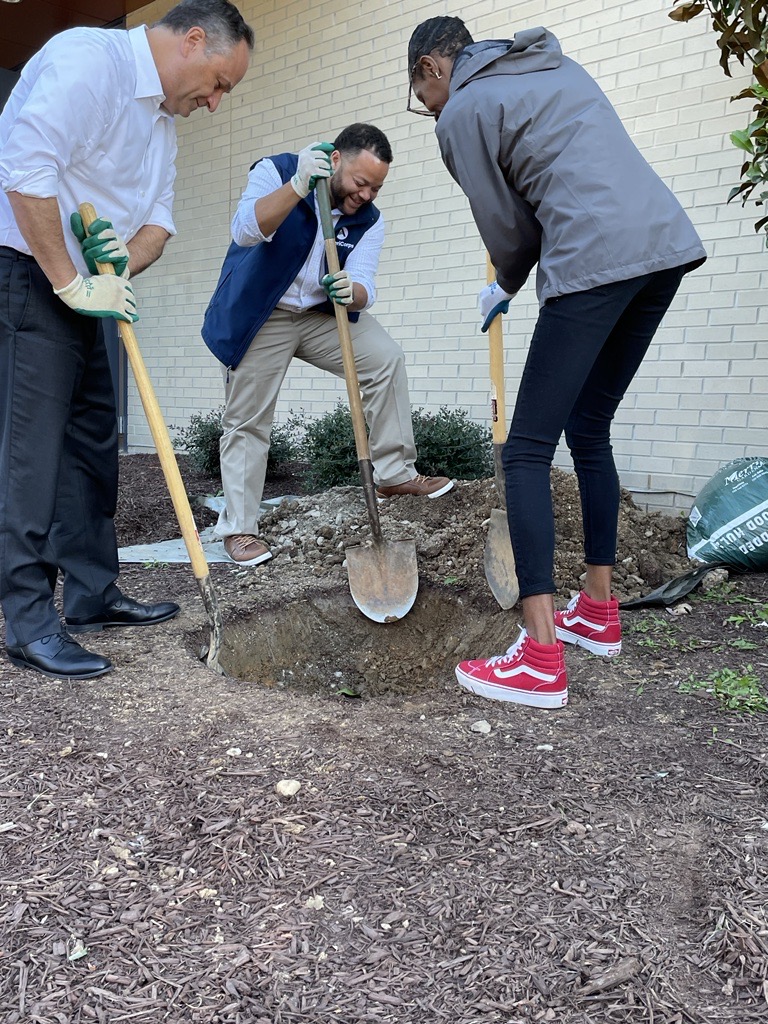 Lashauntya was accompanied at the event by her son, who recently served two terms of service with DC River Corps, a program of Latin American Youth Center. As a child, he sometimes accompanied Lashauntya on projects and was inspired to serve his community as well.
"Having access to nature is a privilege that some folks take for granted. Imagine a world where you don't know the benefits of being able to be in a place that could calm a stressed mind and body. Before becoming an AmeriCorps member, many years ago, I didn't realize how much I was missing out on by not taking advantage of all the outdoor spaces DC has to offer," said Lashauntya. "Today I'm excited to be here to advance the goals of the America the Beautiful initiative. I truly appreciate your focus on local parks and expanding access to the outdoors."
Mary Ellen Sprenkel, President and CEO of The Corps Network, provided the following statement in support of the vision of the Nature in Communities MOU.
"On behalf of our country's Service and Conservation Corps community, I thank the Biden-Harris Administration for making equitable access to nature a priority. In particular, I appreciate the Second Gentleman's attention to the critical role of national service in helping steward America's green spaces. Nature is good for our health and our spirits. Unfortunately, access to safe parks, shade trees, and clean air is a privilege in too many parts of our country. I applaud all the young people in Corps programs serving their communities and improving our local parks and waterways. I applaud Lashauntya Moore and other leaders who are inspiring the next generation of environmental and climate justice champions. Thank you to all the entities participating in this interagency MOU. The Corps community looks forward to supporting implementation of this initiative through engaging diverse young Americans in national service and job training."
The White House published a fact sheet about the MOU, highlighting certain existing federal programs, funding streams, and initiatives – including AmeriCorps – that will help deliver the goals of the MOU.
This event took place one day before National Public Lands Day, the largest single-day volunteer event for public lands in the U.S. The President's Proclamation on National Public Lands Day included the following statement: "Through the Civilian Climate Corps, we hope to put Americans to work conserving public lands across our Nation.  And with our America the Beautiful Initiative, my Administration is working with State, local, and Tribal governments, as well as private landowners, to voluntarily conserve 30 percent of our Nation's lands and waters by 2030."
Among others, attendees at the event included officials from the White House, the National Park Service, the U.S. Department of Agriculture, AmeriCorps, DC government, and various local organizations and schools.