The Virginia Service and Conservation Corps (VSCC), an AmeriCorps member program, has been around for 10 years and began as a way to expand opportunities given to Virginia State Park visitors. VSCC runs several programs and has a unique focus on interpretation through their ongoing Interpretation/ Trails Project. VSCC also has a more traditional Resource Management program, and popular Individual Placement Programs.
---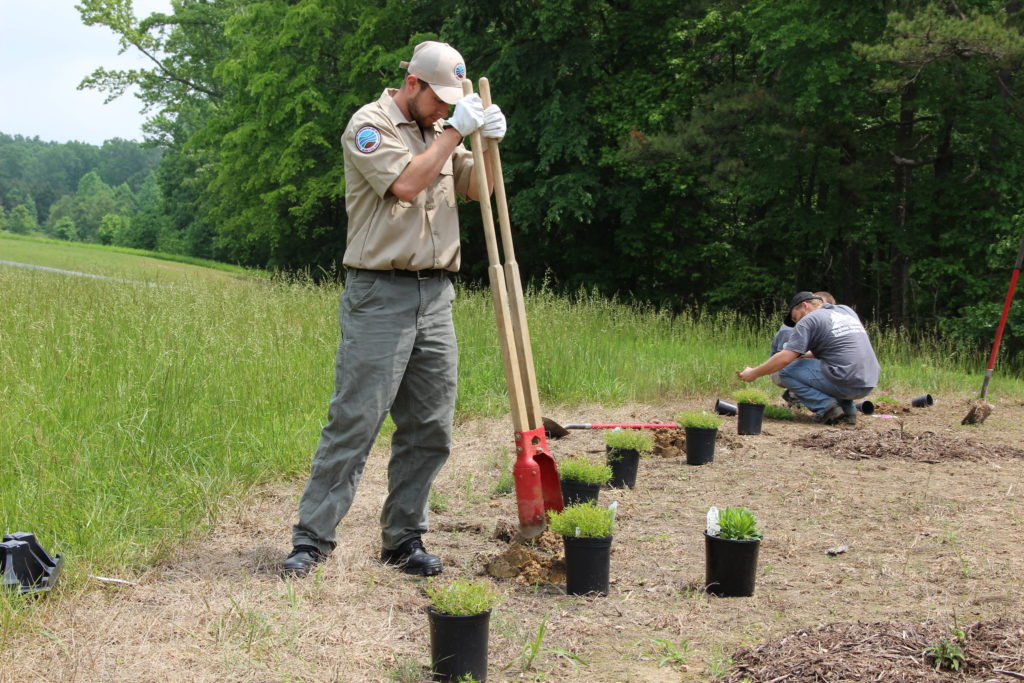 ---
Program Overview:
VSCC is based out of Richmond, VA but has placement opportunities for Corpsmembers to serve in all VA State parks. The Corps is recruiting around fifty-two members for the upcoming season to serve in three different hour options. These include a 1200-hour option from January to September, a 675-hour option, and a 450-hour option which runs through the summer season.  VSCC recruits Corpsmembers ages eighteen and older. They focus on all aspects of conservation work taking a well-rounded approach to fostering the future of environmental stewardship.
VSCC's Resource Management Program gets into the weeds of conservation work. Corpsmembers serve in groups of two-three members assigned to a VA State Park resource management specialist. Corpsmembers travel throughout their district doing conservation work including prescribed fires, invasive species removal, habitat restoration, wildlife surveys, and more.
The Interpretation Trails Program also places Corpsmembers individually into VA State Parks to do visitor experience work. Corpsmembers engage with visitors to teach them about the park, resources, and management. The program is popular with college students and individuals looking for a career path with VA State Parks and conservation.
Corpsmembers come from all over VA. VSCC recruits from colleges and universities and does promotions at community events. They target VA's rural areas to connect with local populations and communities.
COVID-19 Impact:
COVID-19 had a curious impact on outdoor recreation. While the rest of the world was shutting down, trails and parks were more utilized than ever before. People seeking a way to be active and social without fearing infection took advantage of their outdoor resources. This made Corps like VSCC an asset.
Kellie Mattingly, the AmeriCorps Program Coordinator for VSCC says, "I think COVID really showed the importance of outdoor recreation and being able to take advantage of that…VA State Parks saw record numbers of visitation during that time"
Due to the Park's popularity VSCC Corpsmembers were able to keep running as normal to help increase people's access to the natural world, and even expand the services that they offered through the help of Corpsmembers.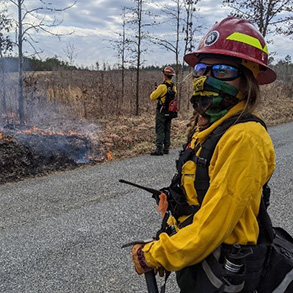 Corpsmember Take-away:
VSCC's goal is to develop the next generation of environmental stewards. Corpsmembers gain a deeper understanding of what goes into running, operating, and managing a state park. Mattingly notes that while many Corpsmembers realize, after completing the program, that they want to do conservation work, others realize that while they are glad to have the experience, conservation work is not for them.
"I think a good takeaway is that this really gives a well-rounded experience of what it's like to work in the conservation field," says Mattingly.
A well-rounded program includes access to certifications including, wildland firefighting certifications, chainsaw certifications, CPR, First Aid, and AED. For members of the Interpretation Trails Program, there is a Certified Interpretive Guide Program or an intensive Spring Interpretive Guide Workshop, which teach members everything they need to know about interpretation in VA State Parks.
VSCC also equips Corpsmembers for their futures through interviewing workshops that teach members how to apply to VA State jobs, perform mock interviews, and give Corpsmembers tips and suggestions for success.
VSCC's unique focus on interpretation allows Corpsmembers to be more marketable to future employers, including VA State Parks. Many members return to the parks to work after their programs. Members also go on to work for the VA department of Wildlife Resources, the VA department of Forestry, and more. Mattingly notes that every year one or two members will go on to use their fire experience and certifications in wildland firefighting positions.
"It's a great opportunity for individuals to share and learn about conservation within Virginia" says Mattingly.