Blog by Ashley McNeil, Communications Assistant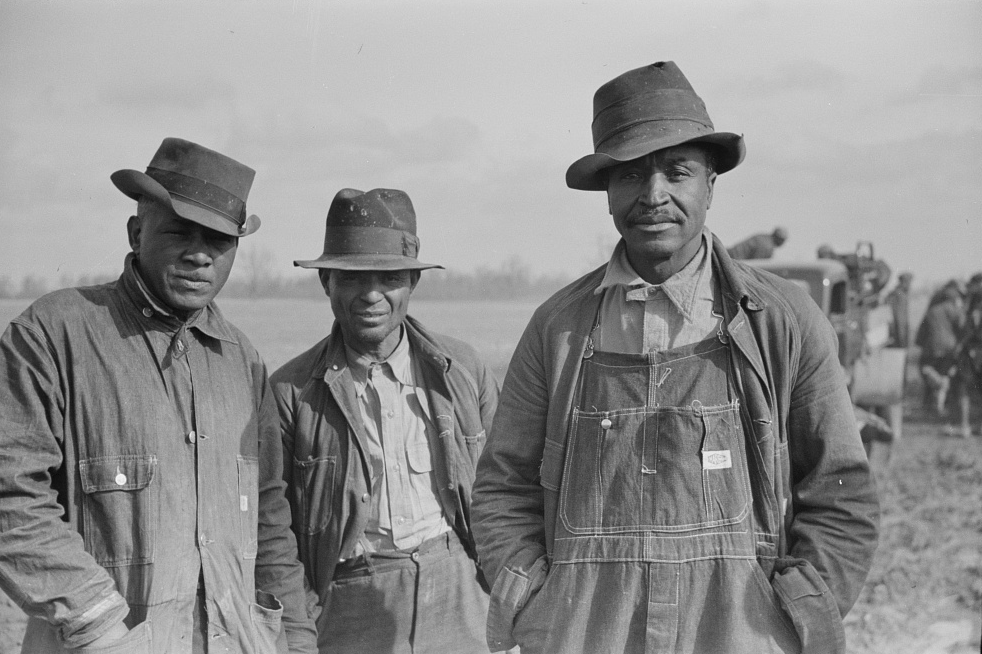 For centuries, the connection between African-Americans and agriculture was tainted by the institution of slavery and the exploitative labor systems that continued in the years following the abolition of slavery. Even as African-Americans gained the right to own land, there were – and continue to be – institutional policies and practices that work against black farmers and land owners. In the modern day, however, farming has become a way for African-Americans to reclaim a piece of history and promote community health and healing. In this two-part series, we will explore what it means to be a black farmer. We will discuss history (Part I), as well as the modern black farming movement (Part II), by uncovering stories of heritage, lost and reclaimed.
Part I: A Legacy of Loss and Exploitation

Would you believe me if I told you that farming is a political act for African-Americans?
As said by Leah Penniman, a farmer and activist, "You can't go through hundreds of years of enslavement and sharecropping and tenant farming and convict leasing and not have that trauma get imprinted into your DNA and your cultural history."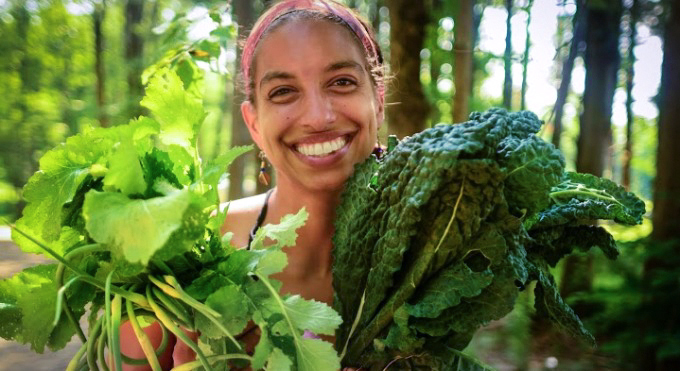 Penniman, Co-Director of Soul Fire Farm in Upstate New York, is a prominent figure in the conversation about diversifying the farming community and reconnecting people to the land. Through accepting food stamps and supporting customers who can't pay every week, Soul Fire Farm developed a progressive system to feed hundreds in the community. In addition, Penniman offers workshops focused on basic farming skills, healing people and the land, and understanding the history between black people and farming in the United States. The act of farming, as well as teaching and understanding the history of black farmers, is a source of liberation.
"We are in a moment where Black and Brown people are ready to reclaim our right to belong to the Earth and ready to reclaim our place and agency in the food system." – Leah Penniman, pictured right
---
History of Exploitation
Farming for African-Americans is tainted with a history of racism and discrimination. During the centuries of enslavement, African-Americans harvested cash crops like tobacco, cotton, and sugar. In addition to their labor, the knowledge of enslaved Africans was also exploited. According to Judith Carney, author of Black Rice, the enslaved people who worked on rice plantations in South Carolina helped create one of the most profitable economies of the 18th century. European settlers, who did not know how to grow rice or millet, could not have achieved this on their own; they relied on the skills of enslaved persons, who brought knowledge of these grains from Africa. Other popular crops brought from Africa to the U.S. include coffee, watermelon, black-eyed peas, and okra.
Post-enslavement, black farmers continued to face injustices, beginning with the failed promise of, "forty acres and a mule," the federal government's attempt to distribute land to freed African-Americans.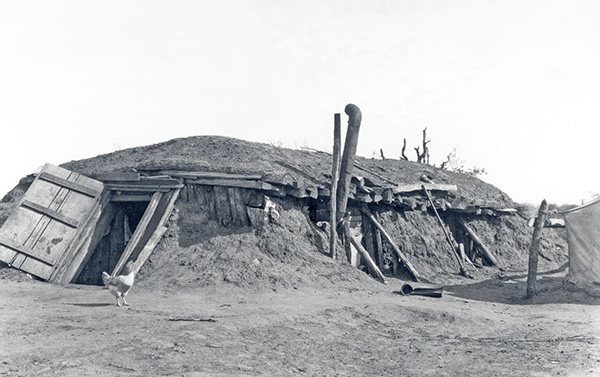 The idea behind "forty acres and a mule" started during the Civil War, when blacks cultivated land abandoned by whites throughout the South. In 1863, President Abraham Lincoln ordered 20,000 acres of abandoned Confederate land be sold to freedmen in 20-acre parcels. Salmon Chase, Secretary of the Treasury, expanded the parcel to 40 acres and agreed to loan army mules to freedmen. By 1865, 40,000 formerly enslaved persons lived on 400,000 acres of coastal land in South Carolina and Georgia. There were indications Congress would expand this program when they authorized the Freedmen's Bureau to divide additional confiscated lands into small parcels to sell to African-Americans and loyal Southern whites. However, President Andrew Johnson intervened, ordering most of the confiscated land be returned to its former owners, despite how the land had already been settled by African-Americans.
This was the first of many practices crippling African-Americans' access to land. The Southern Homestead Act, which created a program to help poor tenant farmers and share-croppers acquire land, offered land prices that were still too expensive for most freedmen. Additionally, the development of Black Codes, restrictive laws that forced African Americans into oppressive labor contracts and servant positions, greatly limited hopes of economic prosperity.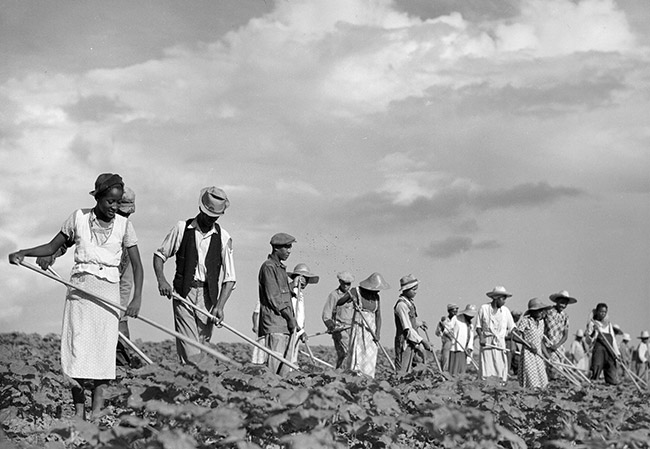 For African-Americans who did not own land, the practices of sharecropping and tenant farming were essentially another form of slavery. In sharecropping, landowners (who were primarily white) assigned families land to farm in exchange for food, shelter, clothing, and farming equipment. When the land was harvested, and goods sold, owners deducted a "furnishing" tax for room and board, giving the meager amount of remaining cash to the African-American farmers. By 1930, there were 1,831,470 tenant farmers in the South.
Despite the laws and systems working against them, African-Americans had accrued some 15 million acres of land by the 1920's. Most of this land was in the South in "low lands" – areas by rivers and swamps that had been abandoned or deemed undesirable by whites. Much of this land was used for farming: at the time, 925,000 farms in the U.S. were black-owned. For generations, however, this number has dwindled. Land has been taken, sold illegally or deviously schemed from black property owners.
---
Land Grab
"If we don't have our land, we don't have our family. This is the battle we're in now."
– Queen Quet, Chieftess of the Gullah/Geechee Nation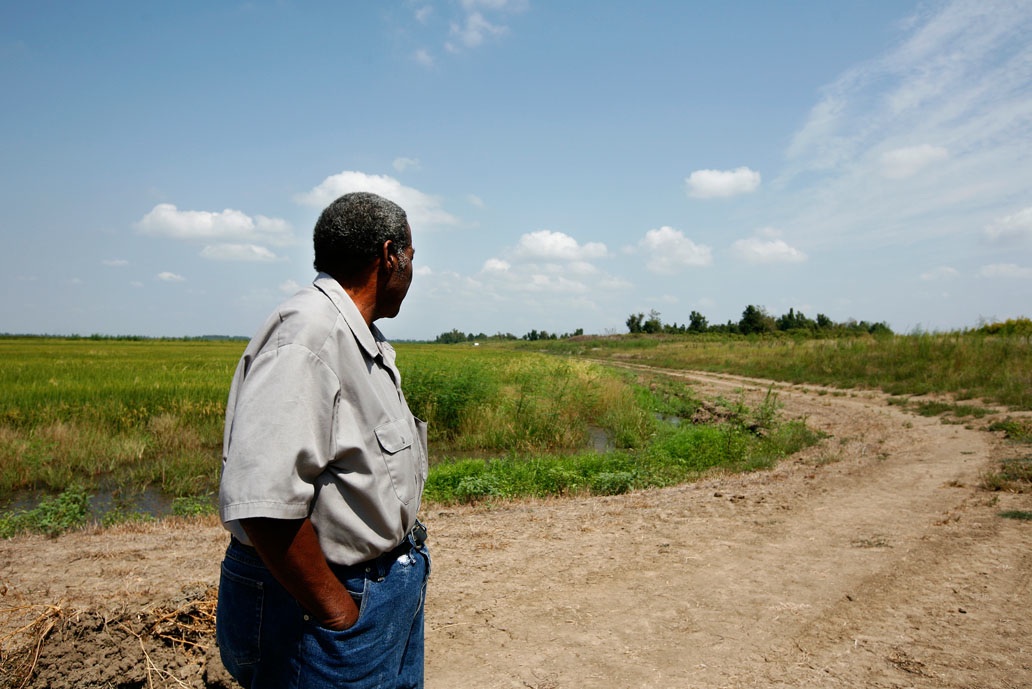 Roosevelt Simmons (pictured right) of South Carolina is one of many victims of land grabbing. Simmons' family owned 54 acres on Johns Island for more than three generations, but part of the property was sold last year. The sad reality is that Simmons had been trying to get a title for his land since 1999; the parcel was previously owned by his grandmother and had been in her name. Although he worked with numerous lawyers and spent thousands of dollars immersed in legal battles, the property was sold, without his consent, due to arguments that a "false heir" had claimed it. Offered a mere $50,000 for his share of the land, Simmons continues to fight to get his property back.
According to Barney Blakeney of the Charleston Chronicle, stories like Mr. Simmons' are common.
"…the impressive number of Black farmers and rural landowners would drastically decrease over the 20th century. During that century, some 600,000 Black farmers were forced off their lands. The Nation reported that by 1975, only 45,000 Black-owned farmers remained," said Blakeney.
For many years, black farmers protested and filed suit over these discriminatory practices. In 1999, 40,000 farmers filed a discrimination lawsuit against the federal government, claiming denial of loans. Overtime, the government recognized these injustices. In 2010, President Obama signed into law a settlement that would repay $1.2 billion to about 18,000 farmers; payments of $62,500 began in 2013. This was the second time black farmers received payments from the government. In 1999, several farmers received funding from a class-action lawsuit over claims of discrimination by federal officials who denied them loans and aid because of their ethnicity.*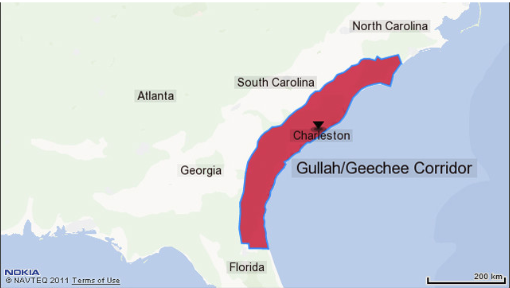 In parts of South Carolina, where Mr. Simmons is from, a main force driving African-Americans off their land hasn't necessarily been the denial of loans, but the development of coastal properties.
Gullah/Geechee, descendants of West African slaves, work to preserve their cultural practices to this day. Brought to the coast of Georgia and South Carolina in the 1700s, the Gullah/Geechee worked on rice fields, cotton fields, and indigo plantations on fertile lands in a similar climate to their homeland. Post-enslavement, they settled in remote villages, forming strong communal ties and a rich history.
Not long ago, the Gullah people inhabited all of Hilton Head Island. The Gullah people thrived in isolation, free of the Jim Crow South. Economic prosperity was finally attained, but, throughout the 1950s – 1990s, the development of high-priced waterfront properties displaced many Gullah people, threatening their history and culture. Some families lost their land due to high taxes, but, according to Leah Douglas of The Nation, many in the community lost their property for a variety of other reasons, including land partition sales, auctions and forced sales by developers, or schemes by partial owners to convince majority-owners to sell the property for a fraction of its value. There was a time where the Gullah accounted for 90 percent of the population across Hilton Head, compared to just 10 percent today.
"The property that we owned was prime property," says Alex Brown, a Gullah native and chair of the island's planning commission. "Over time, it's been sold and traded and stolen."
Landgrabbers fail to realize that the loss of land is far more than just an exchange of property. Cultural heritage, family legacies, and generational economic opportunity are taken.
*The National Action Network and National Black Farmers Association continue to fight against unfair loans, land grabbing, and other discriminatory practices in agriculture.
---
Parker Family
My family have been the target of land grabbing attempts as well. Over the last 175 years, my family has owned 35 acres of land in King George, Virginia. My great-great grandparents purchased the property with the intention to live on and work the land. The land is currently owned by my grandfather and his four siblings (who are all alive – ages 85 to 90). For generations, my family has raised children, produce, and countless memories there, but we have also been met with turmoil. I remember as a child, my grandfather talked about how developers offered to buy the land at a price that undercut the value of it, hoping he would fall for a scam. Because of this, my family has been proactive in paying taxes and having accurate titles on the land, just in case we are met with questions of ownership or fraud, like Mr. Simmons.
Whether he's tending to the yard or talking with neighbors, my grandfather still spends most of his time outdoors. Although we don't live on a farm, every summer he builds a garden in our backyard. He plants sweet potatoes, corn, kale, tomatoes, bell peppers, watermelon, cantaloupe, squash, you name it. He loves getting his hands dirty and watching the fruits of his labor come to life. I often wondered why he enjoyed spending so much time outdoors, but I now see the connection. His time working, living, and cultivating his family's land brought him great joy. His early connection to land and nature has continued throughout his life. This connection could one day be lost. We are currently in talks to sell our land. My grandfather and his siblings are getting older and taxes on our property continue to rise. Selling a piece of family history is devastating, but ultimately might be necessary.
While activists like Penniman use farming as a political act to reclaim connection to the land that was once lost, land ownership for my grandfather and Mr. Simmons is a connection to family lineage. Without both, each story becomes a fragment of history and time.
---
RESOURCES
All sources cited in this piece can be found in the Moving Forward Initiative Resource Library.
Photos are linked to their source.
---
For your consideration
As you read this blog, here are some questions for you to consider:
African-Americans have played an enormous role in building our country's agricultural system. How can we recognize these contributions? Where do we begin?




The agricultural system, and society as a whole, continue to harbor racism. How do we promote one's agency in a racist system?




In what ways might the false promise of "forty acres and a mule" continue to hinder black farmers? How might farming – or society in general – be different in this country had a program like forty acres and a mule succeeded in giving freed African-Americans land and a livelihood?




Regarding the 2010 settlement in which the U.S. government agreed to pay $1.2 billion to 18,000 farmers who sought justice for discriminatory practices at the Department of Agriculture:

Do you believe the $1.2 billion payout helped or hindered this community of farmers?

Do you believe the farmers should have received land instead of money?

Why weren't farmers given the option to choose land or money?




How can the practice of land grabbing be prohibited in the future? Is this something that can't be fixed?




In about forty years' time, Hilton Head witnessed the erasure of a culture. How do we reconcile with these circumstances? Should the Gullah community receive some sort of payout as well?




When we visit a new place, we might not fully understand or appreciate the history of its people and cultures. How can we better educate society about the ways in which cultures are tied to land and place?




Do you have any familial ties to land? What would you do if you were faced with selling your property? Would you try to keep it, or would you sell?



---
Points for further research and consideration:
Do some research on the Freedmen's Bureau. What was its significance for African-Americans after the Civil War? What role did it play in land distribution?




The blog discusses "forty acres and a mule." Early after the Civil War, land confiscated from Confederates was distributed to freedmen. President Andrew Johnson intervened and ordered that the vast majority of this land be returned to its former owners. Compare this to the Homestead Act of 1866, which was designed to give sharecroppers and other poor families access to land, but failed due to high prices that kept land ownership out of reach for many of the people the program was designed to help. What are your thoughts on both polices/programs? What are the underlying reasons why these programs didn't work? What could have been done differently to make them succeed?



George Washington Carver is widely known as the Peanut Farmer, but his agricultural contributions are enormous, including his research into Crop Rotation and the "biological regeneration of the soil through the Nitrogen Cycle." Dr. Carver looked to address the stripping of the soil as a result of cotton planting. Take a look at this article and note some of his other contributions: https://www.farmproject.org/blog/2017/2/4/hikqys8igvv0bo368aco3mrb1rv7d1

Research the role of other black inventors in America's agricultural advances, including the contributions of Frederick McKinley Jones, who patented the refrigerated truck in 1940, which allowed for the shipping of produce over long distances. See what you can find and discover for yourself the "hidden history" of black inventors and farmers.

The Gullah/Geechee people have been featured in mainstream culture. For example, many of you may remember the Nickelodeon show, "Gullah Gullah Island." Additionally, the Gullah/Geechee's rich history was chronicled in the 1991 film, "Daughters of the Dust." Beyond these mainstream cultural artifacts, what else can you find out about the Gullah people of today?