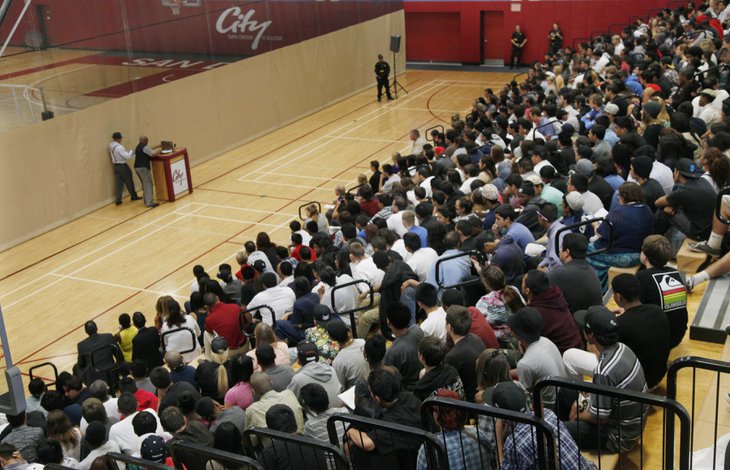 More than 800 youth offenders attended the sixth annual Passport to Life event held on the San Diego City College campus. Speakers from the juvenile justice system spoke and attendees were able to participate in workshops and resource exhibits from literacy to job preparedness.— Peggy Peattie, UT-San Diego.

Taken from UT-San Diego
By Dana Littlefield
SAN DIEGO — Like so many people who ended up addicted to drugs, Anakaren Ruano spent a lot of time chasing that first big high.
She started smoking marijuana and drinking alcohol when she was a high school freshman, and later started using ecstasy. Then, after her first stint at a rehabilitation facility at age 15, she tried methamphetamine.
"I felt like Wonder Woman," said Ruano, now 19, giving a keynote address Friday to a large group of young people who'd had contact with the juvenile justice system. "It's because of that feeling that people become addicted…
"To me, meth equaled me having fun."
But it wasn't long before the fun ran out. On one particularly gruesome occasion, Ruano found herself vomiting blood after mixing methamphetamine and cocaine. She said she was "locked up" nine times.
"Nothing was enough," she said.
It was a sentiment — an attitude, maybe — that other teens and young adults in the room could probably relate to. Hundreds packed the bleachers in a San Diego City College gymnasium for the sixth annual Passport to Life Career and Education Expo, held to help youngsters who either are or had been on probation get tools they need to be productive, law-abiding adults.
"We're not trying to scare you straight," Chief Probation Officer Mack Jenkins told the crowd. "We're trying to help you make better decisions."
The event included workshops on such topics as pursuing education after high school, landing a job and gaining financial literacy. Several local organizations participated in the event, including the San Diego Superior Court, County Office of Education and the District Attorney's and Public Defender's offices.
"The message is to show these kids that the mistakes they've made in the past don't have to define their future," said Juvenile Court Judge Carolyn Caietti, who came up with the idea for Passport to Life one day while driving to work.
Eliseo Nuñez, 27, gave the second keynote address Friday morning. He admitted he didn't like speaking in front of crowds, but he looked comfortable dressed in a button-down shirt, slacks and suspenders, his tattoos peeking from beneath his collar and a fedora perched on his head.
"I was that young man that was posted on the block 24/7," the now ex-gang member from Oceanside said.
He talked about doing drugs at age 13 with his own father and getting locked up at 16. And he talked about being sent to state and federal prison. Then came the day when he realized how much life he was missing while he was behind bars. He saw that his own father had given up drug use in the years before he died of cancer.
In March 2012, Nuñez got clean, too. He finished high school, enrolled in college, and this year he received a national leadership award for his work with the Urban Corps of San Diego County, which teaches and counsels at-risk youth.
"I'm able to give back what was so freely given to me," he said.
Ruano also welcomed the chance to give back. After years of drug abuse, including an alcohol-poisoning incident that almost ended her life, she has been sober for nearly two years. She went back to high school and graduated last year with her class.
"It was the best feeling of my life," she said of walking across the graduation stage in cap and gown. "No drug had ever given me that kind of high."
The day after graduation, her probation term ended. She recently completed her first year at MiraCosta College with a 3.5 GPA.
"You're looking at a soul that's not even supposed to be here, but I am," Ruano said, adding that she's not much older than many of those in the crowd.
"I got clean when I was 17 and I just want you guys to know that you can do it, too," she said. "And you don't have to hurt everyone in your way. You don't have to hurt yourself and you don't have to end up that person that's six feet under because you never got it through your head to change."