During the month of May, The Corps Network is highlighting historic preservation programs at Corps. The Student Conservation Association (SCA) runs a Historic Preservation in Public Lands Program with AmeriCorps and Massachusetts Service Alliance in partnership with the Massachusetts Department of Conservation and Recreation and Boston National Historic Park. The program teaches Corpsmembers leadership skills while training them in historic preservation trades skills.
---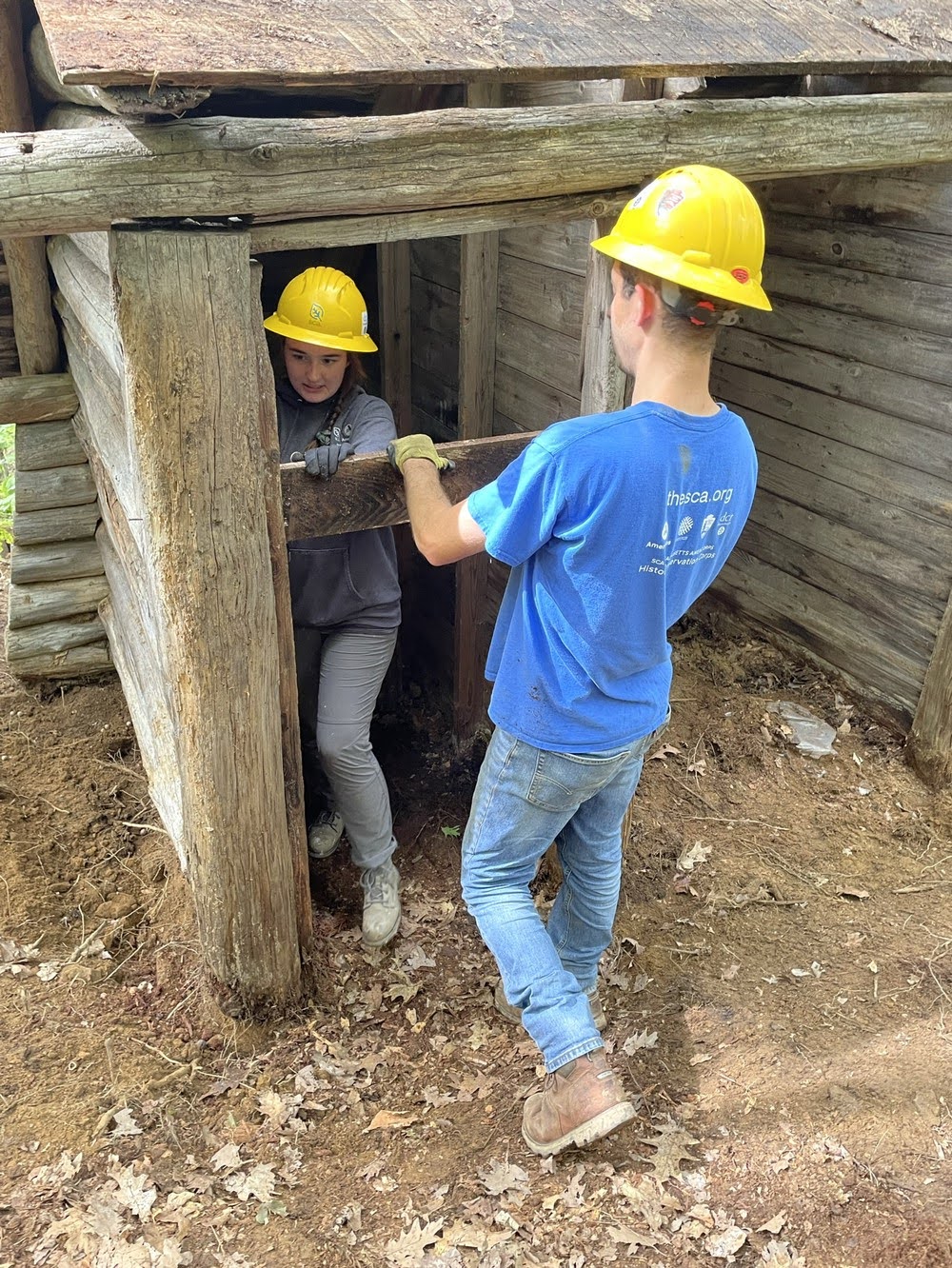 ---
Program Background
SCA started the Historic Preservation in Public Lands Program with the goal of, "Preserving historic places across Massachusetts, introducing young people to the field of historic trades, and highlighting the effects of climate change on the built environment." Launched in 2017, the program ran a residential 12-member crew, but recently switched to its current commuter model in which they recruit locally and offer a higher living allowance. Corpsmembers are AmeriCorps members and many have a background in history.
The program has a 100% retention rate of their Corpsmembers who serve a 10-month service term. So far, the program has worked on projects in The Charlestown Navy Yard, Bunker Hill Monument, the Boston Harbor Islands, and other historically significant places, including an ongoing project restoring windows in the U.S.S. Constitution Museum. A relatively new program, SCA's goal is to continue this work and expand into more long-term projects.
"SCA hopes to work on bigger projects that will sustain our calendar for a few years at a time," said Janina Peppers, the Project Manager. She hopes expanding the program will allow Corpsmembers to help improve more historic structures and sites, giving members a variety of unique skills and experiences that they can bring to their next position.
Program Duties
A day on the program begins around 7:30 a.m. Corpsmembers arrive at either SCA's two-story workshop in Braintree, MA, or the shipyard where they get on a boat, head off to the islands, and pick up where they left off the day before. In the shop, crews review their cut lists, turn on table saws and begin working.
In the upstairs of SCA's shop, Corpsmembers work on window restoration for the on-going U.S.S. Constitution Museum and other projects. Built in the late 1800s, the museum has 122 windows in need of restoration. Each window takes time and careful work to restore; SCA's program restores an average of 15 windows per year from the U.S.S. Constitution Museum and around 60 per year from their other project sites.
When beginning a new window, Corpsmembers go to the site, take the window out, and cover the opening with plywood or a storm window to ensure the correct lighting. Next, Corpsmembers bring the windows back to the shop where they remove lead paint. All members are lead-safe certified. After paint removal, they begin the process of assessing damage. Repairs involve filling holes and fitting new pieces to old pieces in what's called a "Dutchman repair." They then replace the glass and treat the window to a "glazing process" to smooth it out, before painting and reinstalling the window into the museum.
The first-floor crew is currently building life jacket boxes to make a historic ship accessible to visitors. On the islands, crews work on restoring a 110-year-old building through brick repointing. Peppers says the goal is to, "make spaces a bit more accessible, a bit safer. You can't go into a building that has a rotted floor…which then offers more opportunities for learning and growing."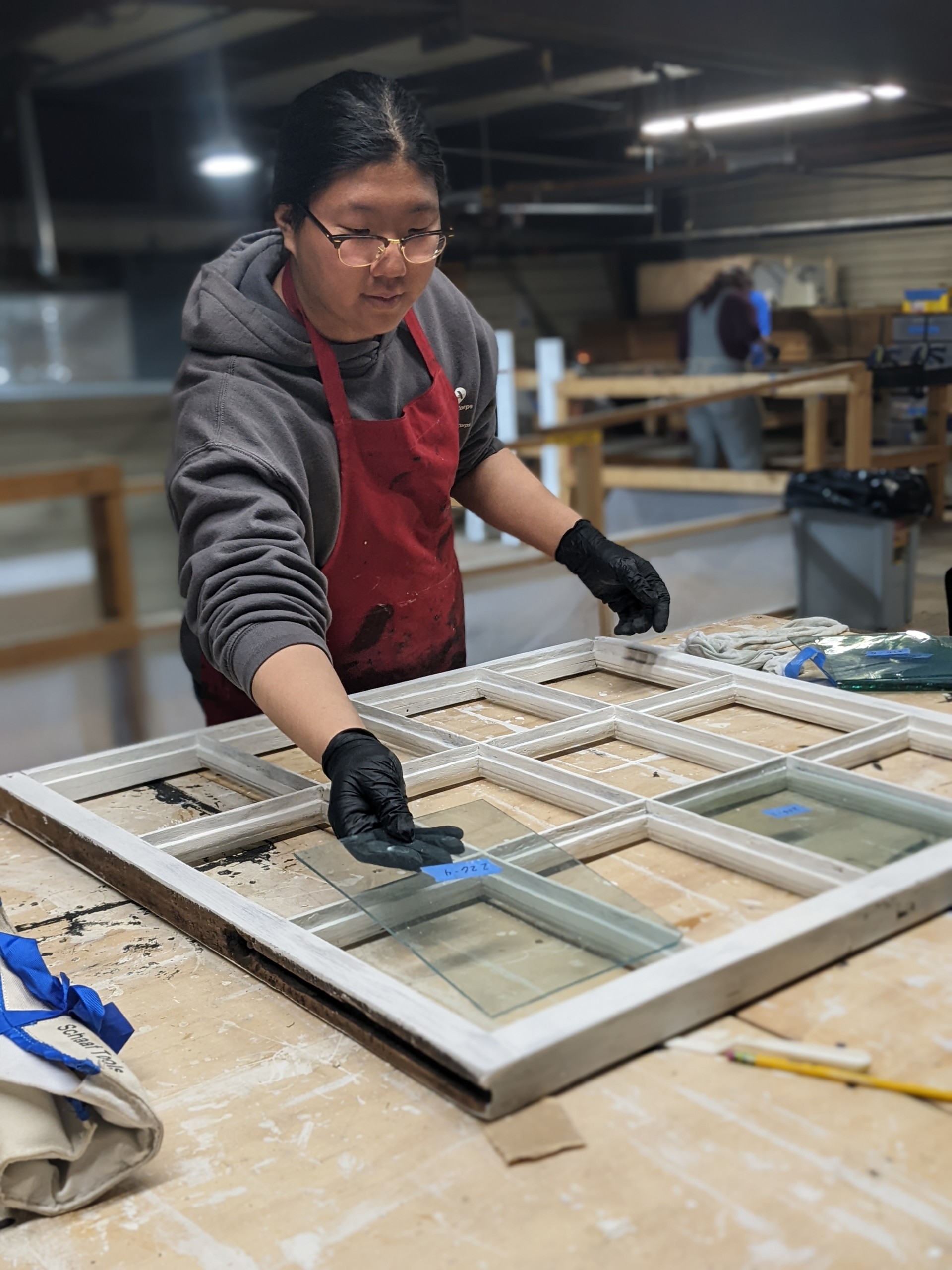 Corpsmembers
Though SCA does not require a college degree to join, Peppers notes that most Corpsmembers that join SCA's Historic Preservation program have a degree in history or historic preservation and are generally between the ages of 21 and 27. Many members are looking for experience in historic trades and find the paid training opportunity a great segue into the historic preservation field. The niche nature of historic preservation allows for many members to land profitable careers in the field after completion of the program.
Corpsmembers have a five-week training period where they earn certifications in Lead Safe Renovator, Wilderness First Aid, Chainsaw Use and Safety, Carpentry 101, Window Restoration, Historic Landscaping, and more. SCA provides Corpsmembers with professional development including resume building, interviewing skills, and a USAjobs workshop. Peppers believes Corpsmembers also gain skills in leadership, communication, and teamwork throughout their term. At the end of the year, the program hosts a historic preservation career fair with employers that talk about job openings in the field.
Alumni have gone on to work as museum guides, preservation craftspeople, masonry specialists, park rangers, and more. Alums can be found across the country in places like Great Smokey Mountains National Park, California State Railroad Museum, and Preserve Rhode Island.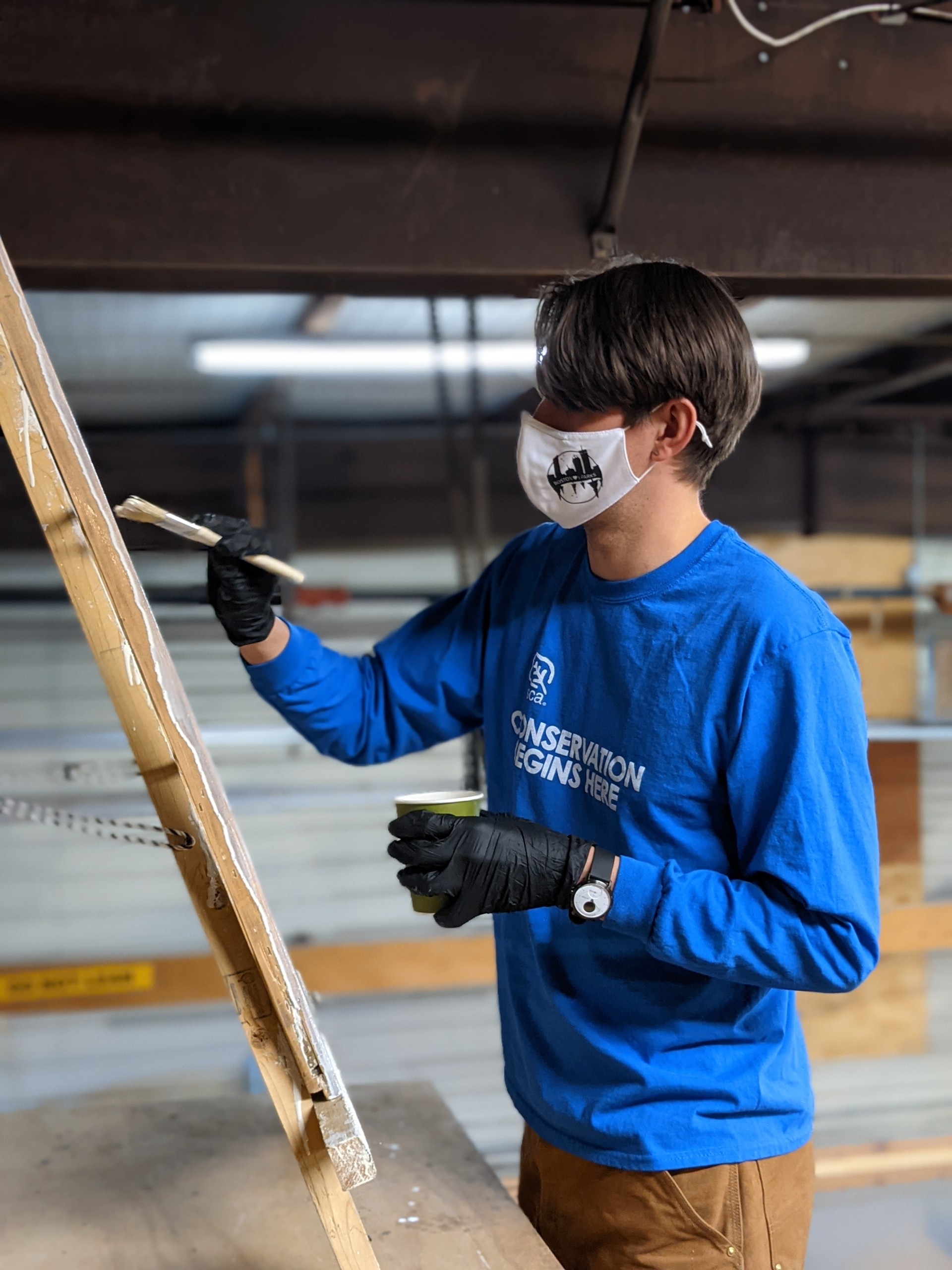 Impact
In addition to making history more accessible for all, Peppers says that historic preservation helps to fight climate change in ways people don't always consider.
"I think that what we do is very directly preserving our built environment. We can't as humans remain here without structures and things we've built," she said. "Our work in historic preservation all over the country and all over the world, keeps the buildings around so they don't get demolished and sent to the land fill and make a need for new buildings using more materials. There's a quote by an architect that the greenest building is the one that is already standing, so that is the quote that I use."
SCA's Historic Preservation in Public Lands program is one of the few historic preservation programs in the Corps community. Pepper's notes that it is an exciting place to be, with lots of networking opportunities and areas for growth. As the importance of historic preservation becomes more recognized, SCA hopes to continue expanding their program and introduce historic preservation into additional organizations across the Corps community.