By Emma Fantuzzo
About the Oral History Project:
The Corps movement dates back to President Franklin D. Roosevelt's Civilian Conservation Corps (CCC) of the 1930s – '40s. The CCC offered young, mostly white, men the opportunity to work and earn money during the Great Depression. The "CCC boys" planted billions of trees, built hundreds of parks, and established a legacy of conservation across the country.
While the CCC certainly provided framework for modern Corps, it wasn't until the 1970s and '80s that a new, more equitable, and ever-evolving Corps movement began to emerge. This oral history project gathers insights from the dreamers, innovators, and leaders who made today's network of Service and Conservation Corps possible.
---
Bruce's Background:
Bruce Saito has dedicated the past 47 years of his life to Conservation Corps and is currently Director of the California Conservation Corps (CCC). Bruce grew up in Los Angeles and graduated from San Francisco State University with a degree in Art. His history with the Corps began in 1977 when he was hired to a supervisory position with the CCC. As he put it, "I started my career and never looked back with the Conservation Corps movement."
Bruce has had a huge impact not only on the CCC but also on the Los Angeles Conservation Corps, which he helped establish in 1986. His work has influenced modern Corps across the country and helped usher in the Corps movement as we know it today. More recently Bruce served as the president of the California Association of Local Conservation Corps and as president of The Corps Network's Board of Directors. Bruce was awarded The Corps Network's Corps Legacy Achievement Award in 2014.
"[The Corps] has been a great pleasure and a kind of obsession of mine. It's amazing."
---

---
Bruce's Insights:
Q: What was the Corps community like when you started?
Bruce: When I began in 1977, Governor Jerry Brown modeled the CCC a little bit after the Civilian Conservation Corps, but a lot more inclusive. The Civilian Conservation Corps was all boys, men, and it was segregated at that. I think this governor was intent on not only diversifying but being more inclusive. There have been times where the CCC has been probably 30 or 40% women and I think we're constantly trying to improve. Back then we were coming after the Vietnam War, so the world was upside down.

There was always, especially in California, a strong commitment to the environment. In the 1970s there was a great need for employment of young folks. People wanted to go to school, but some also wanted to serve their communities. So that kind of convergence of doing the natural resource conservation work was still a great need. You know this is the time of Woodstock. The message back then, and still is, is the ability to serve your community, to develop those skills and experiences and at the same time do something good for the environment.
Q: What would you say has been the biggest change you've seen since you began?
Bruce: What's changed I think is how we approach young folks and the message that really resonates with folks to get them to make that commitment. I'm still trying to figure out post-pandemic, what really motivates young folks. I still think that it doesn't matter which generation you're from, we're looking for that little spark in each person that they want to really contribute, they want to pay it forward.

The environmental issues might change from 40 years ago – maybe it was water, and then it was clean air, and now it's certainly climate – but it's all related to the environment.  I think that's not been a change, but something that's been consistent. Some of the venues change, some of the priorities change, but the constant is this commitment to the environment.
---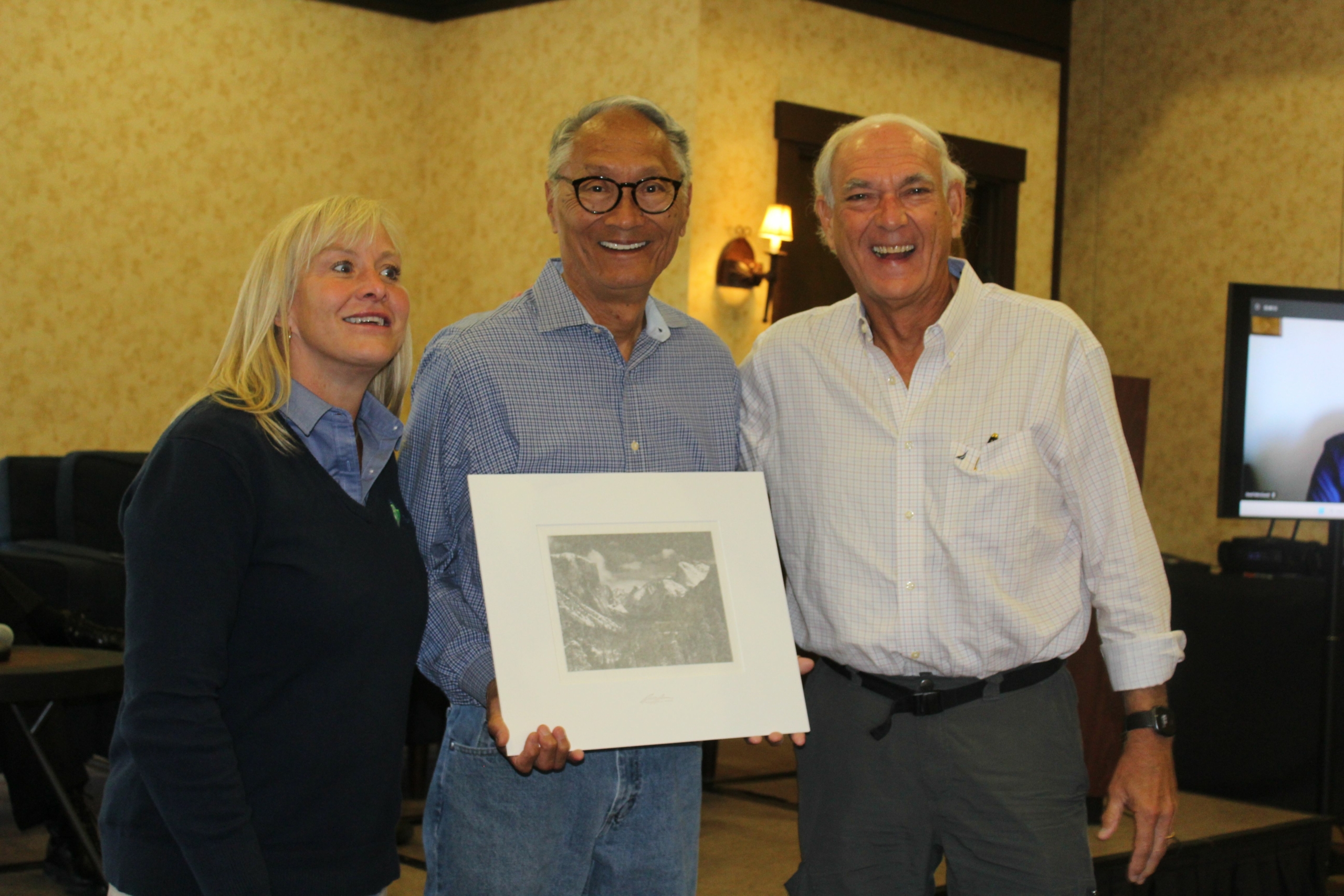 Bruce Saito with Mary Ellen Sprenkle and Derrick Crandall at The Corps Network Board Retreat, August 2023
---
Q: What do you think is the future of the Corps movement and what would you like to see happen in the future?
Bruce: I might just be drunk on the notion of the Corps movement, but I see the movement continuing. I see it not only continuing but expanding because, again, those basic issues will remain constant. There are peaks and valleys. When we had the 2008 recession, and every time there's recession for the world, state, or community, our recruitment increases. Then when things are great, we hit a valley but it's still consistent where there's always going to be young folks who want to serve, that want to do something good for the environment. So, I think the future is only going to get bigger and stronger, despite technology.

For us, the future is strong because our priorities don't waver as much as some of those one-and-done companies. We've been spending many years on climate. There was a period, 20 or 30 years ago, where Service and AmeriCorps, in President Clinton's administration, was big. And then that changed with administration. But we still have AmeriCorps. I think it's because some of those AmeriCorps programs stay abreast with the changing times. And so, I think again the future is strong, but it's critical for all program innovators to keep changing with the times. Especially now. I think with climate change people are looking to help.
Q: How does California Conservation Corps help to mitigate climate change?
Bruce: This is a good example of where we've adapted and changed. We've traditionally built trails, planted trees, developed parks, and we've always responded to emergencies: fires, floods and agricultural events, and the like. About 10 years ago, maybe even more, we helped pass legislation to do energy efficiency audits and retrofits at schools. That legislation ended after about five years. And now the CCC gets a small portion of the CCC's Greenhouse Gas Reduction Fund. So, we have about 125 young folks who are doing energy efficiency audits for public buildings and nonprofit groups and then they're turning those audits into energy efficiency retrofits.

In recent years, besides us doing energy efficiency, building audits, and retrofits, we're now doing solar installation and electric vehicle charging stations to go with the flow and stay ahead of California eliminating all gas guzzling vehicles by 2030 or 2035.

We've also done a lot in fuel reduction to prevent catastrophic fires, which in turn keep carbon in the ground and in the trees. And we try to do a lot of reforestation and tree planting projects.
---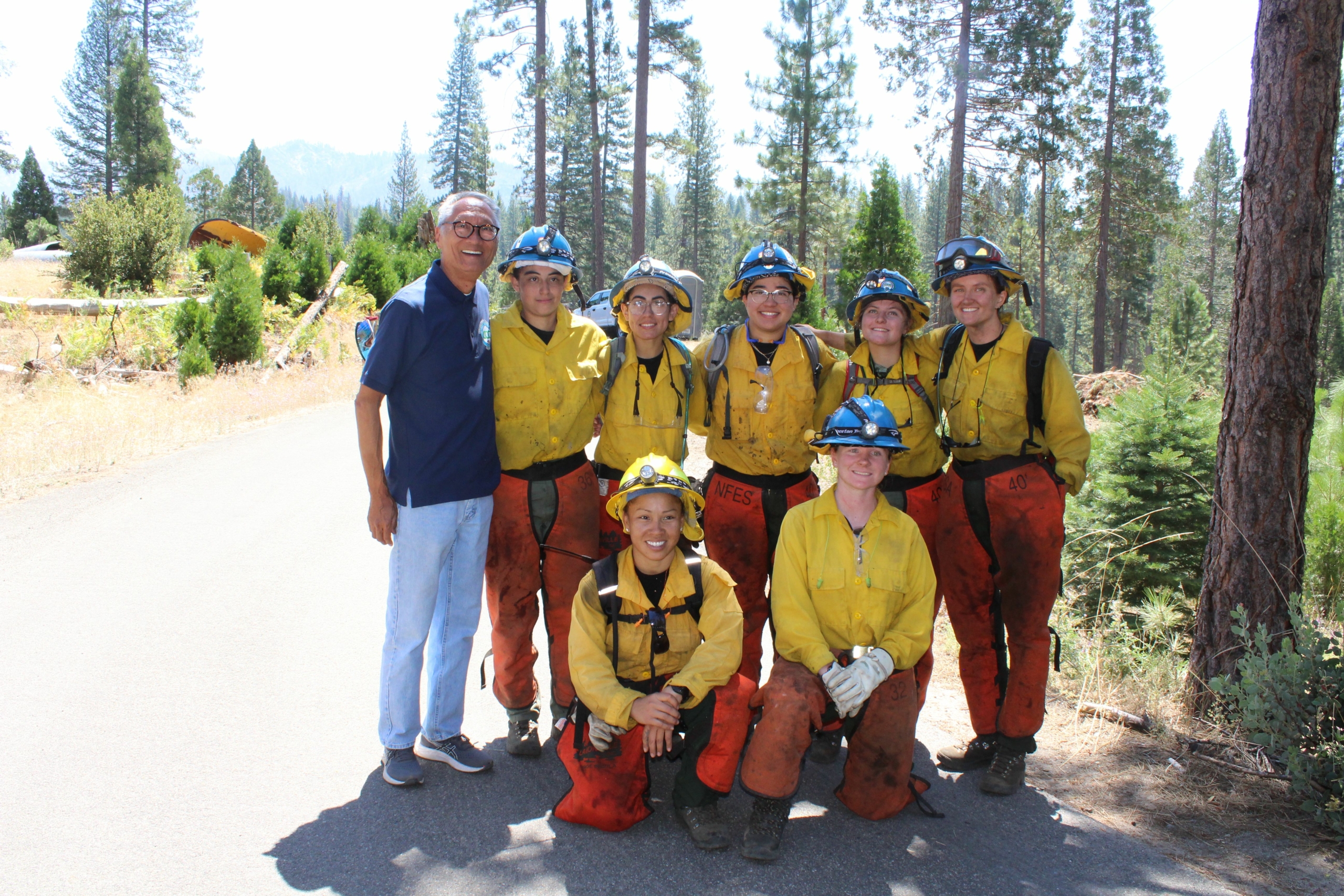 ---
Q: Could you share a little bit about what you think the impact of the Corps is on young people's lives?
Bruce: That's one of the proudest areas that I've got to experience. More than 130,000 young folks have come through the CCC and that's a cool thing. I'd like to say that many of them we've helped, and I hear from them that we've changed their lives.

Developing, progressing, and making their life better… I think that's what we do each day. We ask young folks to bust their butts every day. We have six crews or about 80 young folks doing levee repair where there was once a dry lake, which now looks like an ocean because of last winter's severe flooding.

Those folks are working. They get up at five, they're at the site by seven in the morning and they don't leave the site till five or later at night.

The crew will be out there for at least 10 days and maybe 13 or 14 days in a row. And they're dividing the crew work up, but they're filling 7,000 sandbags a day. So, the number just kind of blows your mind…a crew of 15, they split up and they're filling sandbags. They're shoveling and filling sandbags for a full day. And it's backbreaking labor, intensive work, but it's also monotonous and it's like 'Oh my gosh.' – And that's just the first day.

How do you sustain that? You've got to really build on that sense of purpose with the young folks that you're saving property, you're saving lives by restoring and shoring up this levee. And it may not seem like it at three o'clock in the afternoon when you're sore and you're on your seventh day out there and it's hot outside, but you know, you do it. Because you know that you're really doing something of great value.