By: Emma Fantuzzo
About the Corps Oral History Project:
The Corps movement dates to President Franklin D. Roosevelt's Civilian Conservation Corps (CCC) of the 1930s – '40s. The CCC offered young, mostly white, men the opportunity to work and earn money during the Great Depression. The "CCC boys" planted billions of trees, built hundreds of parks, and established a legacy of conservation across the country.
While the CCC certainly provided a framework for modern Corps, it wasn't until the 1970s and '80s that a new, more equitable, and ever-evolving Corps movement began to emerge. This oral history project gathers insights from the dreamers, innovators, and leaders who made today's network of Service and Conservation Corps possible.
---
Andy's Background: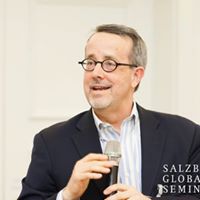 Andrew Moore was introduced to the Corps movement in 1987 when he joined the Human Environment Center (HEC) as a staff member. At the time, HEC served as the fiscal agent for The Corps Network's predecessor, the National Association of Service and Conservation Corps (NASCC).
"At that point, we had about 40 programs that we knew of around the country. Many of them were statewide programs, there was a tiny spattering of local programs. So that was the beginning, back in '87."
Andy went on to work with NASCC for the next 15 years in various roles. In 1988 he staffed a partnership with Public/ Private Ventures called the Urban Corps Expansion Project which set out to build on examples in places like Oakland, San Francisco and LA, to plant Corps in at least 15 cities around the country. Several of these start-up Corps are still active, such as the Greater Miami Service and Conservation Corps.
In the 90s, building on the momentum created during the Bush administration, the Clinton administration brought more attention and resources to National Service with the creation of the Corporation for National Service. During that time, Andy, still working with NASCC, worked on federal agency partnerships and funding flows for Corps.
"We set the wheels in motion beginning in '93 and '94 for increased partnerships between Corps and the National Park Service and to some degree the Forest Service, Fish and Wildlife, and other federal agencies. NASCC took another major step by applying successfully to the US Department of Labor support welfare-to-work "Corps to Career" projects with several member Corps… That was right around 2000, at the peak time of funding for youth employment from the federal government. It's never been the same since."
In 2002, Andy left NASCC and began consulting with Corps on strategic planning and partnership development. This led him to begin consulting with the National League of Cities where he currently works as the Director of Youth and Young Adult Connections. Andy continues to look for ways to utilize and expand Corps work.
---
Andy's Insights:
Q: What was the Corps Community like when you started? How has it changed?
Andy: If I go all the way back to '87, the leaders in the Corps world were largely people who had experience in that Jimmy Carter era of the Young Adult Conservation Corps programs at the state level. In the latter half of the 1980s and first half of the 1990s and I think especially through the Urban Corps Expansion Project, we were able to create leadership roles for more people of color, for women, and just really start to diversify what the leadership in staffing of the Corps world looked like.

I think there have been discussions and debates over time about who can best benefit from participation in a Corps. I'd like to think that emphasis on providing opportunities for young people who had less opportunity starting out is a big emphasis in the Corps world. The Corps Network is a major participant in ongoing policy support for opportunity youth, so I am glad to see that. Even the Corporation for National Service has come around after many years of resisting our role in employment and training to embrace that under the current leadership.
Q: Where do you think the Corps movement is headed and what could be improved going forward?
Andy: I'm still interested in, and this goes back to when we started doing training in urban stream restoration 30 years ago – thinking about young people, wondering what Corps can do to strengthen ties with employers or demonstrate that they are really delivering young people credentials and experience that will pay off well in public or private sector jobs after they leave the Corps. I'm imagining that there is still work to do to tighten up the connections. I know that it is difficult work. So that's one area.

Despite the growth of federal funding and federal partnerships, I think there's so much need for more Corps. There is a huge population of opportunity youth, five million across the country, and a lot more young people should have a Corps experience. There's a long way to go to be operating at the scale that we need to be operating.

Sitting where I do at National League of Cities, I'm not sure that we have really maximized the potential for Corps to work with cities. I think the relationship between PowerCorps and the Philadelphia Water Department is a good model of mutually beneficial relationships…as I've talked to Corps in recent years, I have the sense that cities are not always welcoming partners and that there are legal barriers in place, and I wish we could do more to break those down and make sure that Corps and cities are working together.
---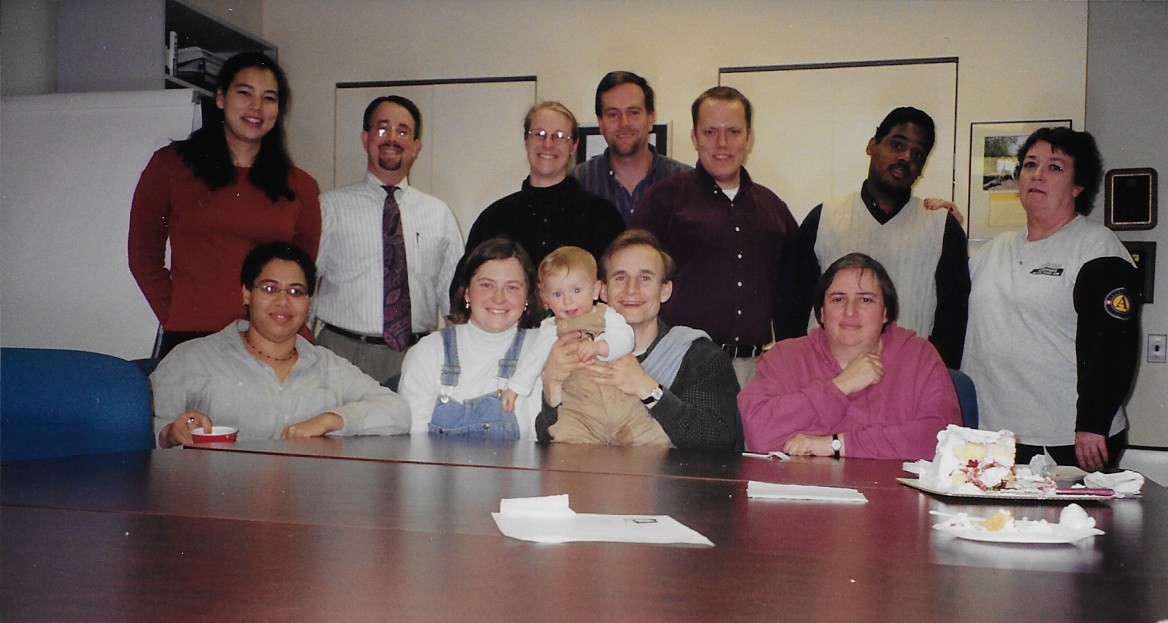 NASCC Staff in 2000, Andy third from left
---
Q: What do you feel is the effect Corps have on young people's lives?
Andy: First is the connection to local projects and being able to go back to a site and say, "I contributed to this, I did this." Second, I think there's something for crew-based Corps. Strong team identification, and the ability to really connect with a mentor and a crew supervisor. That can pay a lot of dividends. Best case, a chance to complete or advance your education in a way that's grounded in the actual work experience so that it feels relevant and creates a sense of forward momentum in terms of credentialing and so forth. And creating a consistent source of income, even if small scale. It gives young people on that track the opportunity to earn money.
Q: Do you have any stories from your experiences that you'd like to share?
Andy: In Montana and Arizona we had to go through a couple of rounds to get it right, to get to a structure that would work in each of the states. To have the Corps working in huge geographic areas, a lot of rural space and population concentration, a lot to figure out in terms of how to make a Corps work in those states. Unlike California, which always has forest fires and disasters that contribute to the need for the CCC, those states have been somewhat more insulated from those disasters so they had to figure out working relationships and funding flows that would work. It was gratifying to work alongside them. I was there as an advisor, trying to bring in ideas from other places to help tighten up their thinking, so those were great experiences working in those two states, and both of which as I understand still have a lot of Corps activity.

I wish the Corps community the best. I wish I had more time to connect with people I've met over time. Always eager to hear stories of success and challenges and standing ready to help add momentum to the successes and work through the challenges.