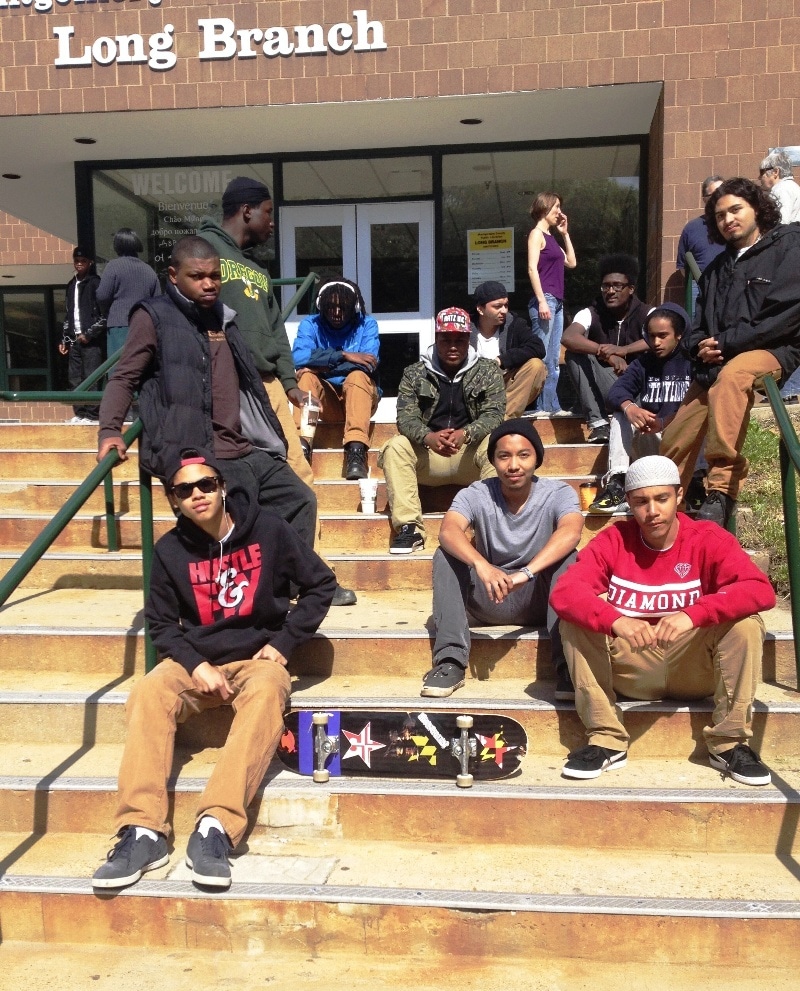 Edgar (pictured in the bottom row, gray shirt) with MCCC members. Also pictured is one of his skateboard deck designs

When he finished his first term as a Corpsmember with Montgomery County Conservation Corps (MCCC) in Silver Spring, MD, Edgar Romero felt it wasn't time for him to leave the program.
"I wanted to stay because the Corps offers a lot of opportunities that I want to take advantage of," he said. "I feel like my work here is not done yet. I think I could do a lot more: managing the photos, producing the videos, just making good quality content."
Edgar is a self-taught expert in video editing and graphic design. He learned these skills in order to grow and promote Spruzi Skateboards, the business he started in September 2012. Edgar now uses his knowledge of editing and design software to help create movies and graphics for MCCC. He even designed a logo for the Corps (see below).
"I've always been interested in art and creating," said Edgar. "My whole life, that's how it's been."
Edgar was part of MCCC's first cohort during the spring of 2013. He came to Latin American Youth Center (LAYC), MCCC's parent organization, hoping to obtain his GED. At the time, recruitment was underway for the newly-created Corps and Edgar was a perfect candidate. He was intrigued to learn that becoming a Corpsmember would allow him to continue pursuing his GED while also gaining work skills and earning an income.
"Basically I was looking for a new experience," said Edgar. "I'd never really had much interest in conservation work, but I'm glad that I got involved because it's been great."
Edgar enjoys having the opportunity to work on a variety of conservation projects with MCCC, but he says he is most interested in the construction projects. He likes applying math in real world situations.
"I'd say my favorite project was rebuilding a deck," he said. "It was an old deck and they told us to replace the wood. That involved a lot of measurements and cutting. A lot of precise work. I like doing those types of projects when you have to use your brain to do the job well."
In the future, Edgar wants to get involved in real estate. He is interested in eventually buying, renovating and selling old houses. For now, he wants to continue building Spruzi Skateboards. He started the business around the time he dropped out of high school (due to the fact that he was too far behind in his credits to realistically graduate on-time). Between leaving school and starting the GED program at LAYC, Edgar focused his energy on Spruzi. He now has a business partner and reports that they experienced no profit loss during their first year.
"I started off by just producing skateboard decks," said Edgar. "I would design them on the computer and then send them off to the manufacturer. They would print those designs on a piece of wood that was eventually shaped into a skateboard deck. They would mail them back to me and I would sell them out here on the streets…This is something I want to pursue…I can never see myself doing anything else other than running a business."
Edgar says that MCCC has helped him become a more confident businessman. As a Junior Crew Chief Leader, he has developed his leadership skills. He also enjoys having the opportunity to network and gain experience as a public speaker.
"I remember I did this speech one time for the council members that run programs like MCCC for the county. I had to do a speech in front of them about my experience in this program and what it has done for me," said Edgar. "I was really nervous to go in front of the room; my heart was beating so fast. But learning how to deal with that should be very important to me because as a businessman that's something you need to know how to do – talk in front of a lot of people, give them your ideas, and not be scared. If I'm nervous about doing something, I just tell myself, 'You've got to do it.'"
Because he passed the GED exam this past summer, Edgar now has free time to use his unique skills to help promote the Corps. He sometimes spends class days updating the Corps' Facebook page, curating photos, and editing videos.
Now that he has his GED, Edgar is beginning to research local colleges. He hopes to get his AA degree and eventually earn a bachelor's degree, maybe in computer science. For the time being, Edgar is happy to continue serving as a Corpsmember with MCCC.
"[This] is a program that I want to be a part of for as long as I can. MCCC is like a family."