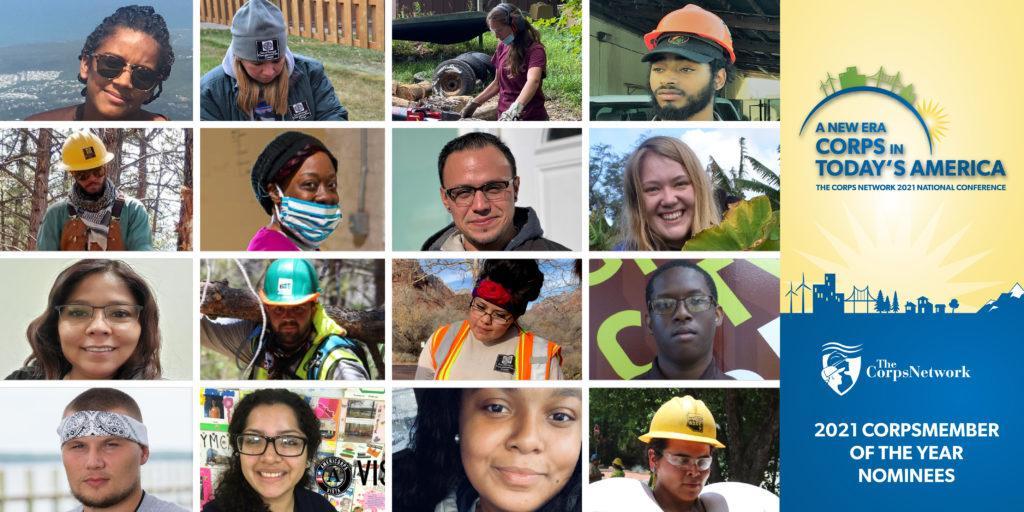 Meet the nominees for the 2021 Corpsmember of the Year Award! We are so inspired by all of our remarkable finalist and their outstanding service to their Corps and local communities.
The winners will be announced this month and will be recognized at A New Era: Corps in Today's America –
The Corps Network's 2021 Virtual National Conference, March 15 – 18, 2021.
Corpsmember stories are arranged in alphabetical order by Corps name.
---
American Conservation Experience
Estefany Gonzalez Ramos
*AmeriCorps Alum*
"Within the community, many young females look up to her as a role model who made a transition from a shy high school student to a Labor Leader with Operations Division at El Yunque National Forest."
Through her AmeriCorps service, Estefany Ramos Gonzales gained the skills and experience to obtain a job with the U.S. Forest Service. With her high school education coming to an end, Estefany joined American Conservation Experience (ACE) with the goal of earning an AmeriCorps Education Award and doing something good for the environment. She served three terms at El Yunque National Forest: a more than 28,000-acre reserve of tropical rainforest in northeastern Puerto Rico. Estefany and her crewmates played a critical role in helping reopen recreation areas damaged by Hurricanes Maria and Irma. She even had the opportunity to rehabilitate trails constructed by the Civilian Conservation Corps during the Great Depression. Trail construction is physical and tiring, but Estefany inspired her crew with her infectious work ethic.
Though she joined the Corps as a quiet high school student, Estefany developed confidence in her abilities and earned respect. Last year, she was hired by the U.S. Forest Service as a Labor Leader with the Operations Division at El Yunque. Her duties include leading crews of up to eight USFS employees in trail maintenance, construction, and recreational site improvement. She hopes to use her Education Awards to enroll in college and study music.
---
Ancestral Lands Conservation Corps
Jessica Arkeketa
*AmeriCorps Member*
"Jessica has been a positive influence on the Pipestone National Monument team and the local community. Her passion for this place and learning mindset are contagious."
Jessica Arkeketa started her service term in 2020 with the Ancestral Lands Conservation Corps. Aiming to strengthen connections with the Otoe-Missouri Nation and other surrounding tribes, Jessica is helping lay the foundation for future work with tribes to create local programming that will serve indigenous youth through the Ancestral Lands Conservation Corps. A member of the Otoe-Missouri Tribe, today located in Oklahoma, Jessica knew once she started working on the Pipestone National Monument (PIPE) that she wanted to build bridges between people of different nations and revitalize interest in cultural transmission. The site that PIPE sits on is sacred to many tribes in the region, and it contains the only source of stone to make certain sacred objects. Jessica communicated with elders and knowledge keepers to learn the process of making sacred pipes, effigies, and jewelry. In addition to this work, Jessica created informational documents about the Pipestone cultural area – including flyers, website information, social media messaging, and an anthropological document. Details of the documents included cultural, archeological, and ethnographic history of the area that will be added to federal and state archeological databases. Through her work, Jessica built trust with local Dakota people, and has sparked passion in young people wanting to learn and preserve their traditions. When the pandemic conditions allow safe travel to the park again, Jessica plans to continue to engage Native American youth in programming on-site.
In the fall, Jessica will attend South Dakota State University to pursue her education in Native American studies. After her internship with Conservation Legacy, Jessica still plans on quarrying and carving pipestone; she has created lesson plans to teach tribal youth this skillset. PIPE hopes Jessica will return to the park one day to continue her important work.
---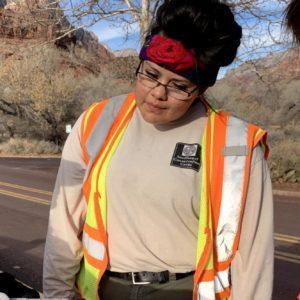 Ancestral Lands Conservation Corps
Raquel Reeves
*AmeriCorps Alum*
"I think her biggest impact has been on the other women on her crew, to be able to see someone really grow into the position on the fly, as well as working hard no matter the task."
Before joining the Ancestral Lands program, Raquel Reeves was juggling family responsibilities, a cooking job at a hotel, and her studies as a full-time culinary arts student at Navajo Technical University. Looking for a new direction, she joined the Corps after a recommendation from a friend. Raquel says her two terms with the program had a profound impact on her: she learned how to use tools and became more confident in her leadership and communication abilities, but, most significantly, she says she feels closer to the land and her Navajo heritage. On her second term with Ancestral Lands, Raquel joined an All-Women's trail crew, stepping up to take on the responsibilities of an assistant crew leader when the program needed her. Raquel excelled in the role, helping mentor and encourage other young women. With her leadership, the crew maintained good spirits, even when hiking up to seven miles to get to backcountry projects (all while carrying equipment and following COVID-19 safety protocols). Even during a tough season, Raquel's crew was a success, far exceeding project goals.
Raquel hopes to return to the Corps to continue developing her leadership skills. She plans to use her AmeriCorps Education Awards to study botany or archaeology so she can pursue a career with the National Park Service. In the meantime, she is growing her business making traditional Navajo art.
---
Arizona Conservation Corps
Cody Fetty
*AmeriCorps Member*
"Cody has always been a hard worker, always keeps things in order and learned through their grandparents to always give 100% effort."
Prior to joining Arizona Conservation Corps (AZCC), Cody worked as a barista at Northern Arizona University. Eager to try something new and grow comfortable being outside, Cody joined AZCC in May 2019. In Cody's first term, while serving at Grand Canyon National Park and helping maintain and build fence on the park perimeter, the Museum Fire hit Flagstaff. Cody helped fill and place sandbags, protecting the community from post-fire flooding. Following that experience, Cody left with a new outlook and developed confidence in their ability to contribute to the community.
Returning for another term, Cody learned technical skills in trail building and maintenance, and earned an A-feller certificate in chainsaw operations. Quickly putting their saw skills to use, Cody worked on the Lockett Meadow Firewood Project, that brought together the Ancestral Lands Conservation Corps and AZCC to assist the National Forest Foundation and Coconino National Forest with cutting, loading, and delivering firewood to designated distribution sites so members of the local tribal community could have a free source of heat for the cold weather months. In entering the COVID-19 lockdown phase, Cody created a great atmosphere and crew bonding experience by teaching traditional Diné beading and instructing Corpsmembers on how to make Navajo fry bread. During these challenging times, Cody's activities offered a great way for everyone on the crew to open up and be vulnerable. Throughout their service, Cody gained a lot of experience with hand tools, fencing techniques and chainsaws. Not only did the Corps experience help Cody build unique skills, but it helped them connect to the land and focus on a career in conservation.
Taking a break to give their body a rest after serving back-to-back terms, Cody is working on expanding their online beadwork jewelry business – Glitteringworldgal. Cody hopes to be a Crew Leader for a 6-month term with Montana Conservation Corps and eventually land a leadership role with the Arizona Conservation Corps.
---
Civic Works
Stephanie Thornton
*AmeriCorps Member*
"Throughout every iteration of our COVID-19 Emergency Food operations, Stephanie filled the roles she was assigned with flying colors and incredible flexibility. As the program evolved, Stephanie became an even more vital component of the team."
Stephanie Thornton has been a key member of several Civic Works programs and integral to the organization's COVID-19 response work. She first joined Civic Works as a construction apprentice in the Elder Services program. Her leadership and mentorship skills were immediately apparent. She quickly learned the fundamentals of carpentry and home repair, making minor modifications in clients' homes to help them age in place. During her free time, she often volunteered on the Civic Works Real Food Farm. She later enrolled in a second AmeriCorps term with the farm program just as COVID-19 lockdowns started. As an essential service, the farm continued to operate, but pivoted to focus on providing free food to clients in the Elder Services program. With knowledge of both the farm and Elder Services programs, Stephanie offered extremely valuable input in the development and operation of this new service.
At some point during 2020, Stephanie served in every role, from intake, to packing, to making deliveries. She was often the first one in every morning and the last to leave at night. With her charisma and excellent customer skills, Stephanie became beloved by the older adults the program serves. A former hair stylist, Stephanie feels she has found her true calling. She enrolled in a full-time AmeriCorps term on the farm with the goal of one day operating her own herb and produce farm that focuses on holistic health and nutrition.
---
Civicorps
Sharif Ahmad
*AmeriCorps Member*
"He proved to be very capable. Always professional, Sharif always knew where to be and when to be there, and worked with a consistent smile on his face. His presence was a cornerstone for the Job Training Center (JTC) community."
Sharif Ahmad joined Civicorps in January 2019 as a Conservation Intern, serving on projects with Alameda County Flood Control, East Bay Regional Park District, and Caltrans. Sharif's supervisors immediately recognized his strong work ethic and awarded him the "Hardest Hitter of the Month" award in February 2019. During his term as a Corpsmember, Sharif continued to impress staff with his positive work ethic and supportive nature towards his peers. Through his hard work, he earned the title "Corpsmember of the Quarter" in the spring of 2019. According to a supervisor, Sharif was "always looking at the bigger picture, what to do next and how to grow." As another superviros said, "Sharif was one of the most reliable, outstanding people that has ever gone through our program." He described Sharif as a courageous, respectful, self-motivated, and inspirational leader. His fellow Corpsmembers saw him both as a peer and role model for how to advance in their positions. Analyzing his growth from the start of his internship to March 2020, Sharif reshaped the role of Operations Intern and accepted a new position as a Fleet Machinist trainee at Waste Management. In this role, he performs maintenance and service on the Waste Management work trucks.
Currently training to become a Machinist Apprentice at Waste Management, Sharif plans to use his AmeriCorps education award to support further training in his goal to be a truck mechanic. His main goal is to learn all that he can about running an auto repair shop so that he can build and operate his own business. Sharif also plans to use the skills he learned at a coding bootcamp to help launch his business online.
---
CLIMB CDC Conservation Corps
John "Connor" Robison
*AmeriCorps Member*
"He inspired people to join a program and organization that helps within his community and caters to the people he had in his life."
During his time with CLIMB CDC, John "Connor" Robison has excelled in personal and professional goals. First, through saving up his earnings, he visited an eye doctor and got new glasses with the correct prescription. After this step, he studied hard and earned his driver's license so he could become a GulfCorps Crew Leader. He is now enrolled in CLIMB CDC's high school diploma program. During his time at CLIMB, Connor has inspired six other people to enroll. As a supervisor said, "Although he helped recruit many of his friends, there is not one person in the Corps that does not see [Connor] as a friend, confidant, brother, role model, and leader."
Outside of his GulfCorps responsibilities helping restore coastal habitats and recreation areas, Connor was inspired by his service with the Corps at a local soup kitchen. He sought information on how to volunteer there on his own time  continue aiding to those in need. A supervisor said that "[Connor] shows people that no matter where you come from or what you have been through, you can help someone and make a difference." Connor is currently working on his high school diploma, with a goal of continuing to serve in AmeriCorps, learn new skills, and gain experience across different career fields.
---
Conservation Legacy – SIP
Lilibeth "Lili" Fuentes
*AmeriCorps Member*
"Stewards AmeriCorps VISTA Leader Lilibeth 'Lili' Fuentes supports members serving across the United States and territories, so her positive influence is as wide ranging a the members she supports."
Lilibeth "Lili" Fuentes first joined AmeriCorps directly out of college, serving with Conservation Legacy and Stewards Individual Placements. Fast forward three years later and Lili has accomplished quite a lot in a short amount of time. While serving as a VISTA member with the Hazelton Integration Project (HIP), Lili created new partnerships with the local community and took an active role with social media to help grow the organization. Upon finishing her first VISTA year with HIP, Lili served as a VISTA Leader with Stewards Individual Placements. In this role, she developed training resources for over 50 VISTA members, assisting with technical issues during their service, traveling across the country to conduct sites visits, and providing them with professional and personal support. Lili also held a heavy influence in getting the Stewards Program back in the social media world, creating social campaigns and developing policies for the organization. In addition to increasing the Stewards' visibility on social media, Lili also led the Diversity, Equity, and Inclusion (DEI) initiative in her program. After receiving positive feedback from those who attended DEI sessions and workshops, Lili took on the role of training new VISTA Leaders, ensuring that she leaves behind a legacy at Stewards to make sure that future leaders are fully supported for their services. Upon entering her third term as a national service member and her second as a VISTA Leader, Lili transitioned to serve remotely, upholding COVID-19 safety regulations while continuing to support raising the voices of the VISTA members she supports. Lili's overall focus this term is to contribute to the implementation of the Stewards' goal to increase representation from a diverse, national community through listening sessions and town halls.
Using her AmeriCorps education awards to pay off college, Lili is now debt free and will continue to serve a third year as an AmeriCorps VISTA Leader.
---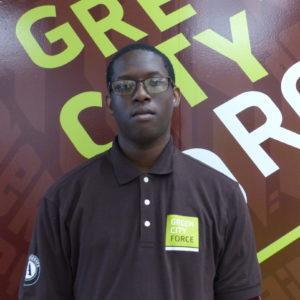 Green City Force
Devante Haynes
*AmeriCorps Member*
"Devante has shown what it means to be in service to others as he has demonstrated what a leader looks like in action. He has been fearlessly responsive to the needs of his community, his Corpsmembers, and his peers."
Dependable and hardworking are good words to describe Devante Haynes. Devante finished his first AmeriCorps term with Green City Force (GCF) in February 2020, winning the Attendance and Punctuality Award at graduation. When the COVID-19 pandemic delayed the start of the next cohort, he used the time to volunteer at GCF's Eco-Hub at the Bay View Houses in Canarsie, Brooklyn. Located on properties operated by the New York City Public Housing Authority, Eco-Hubs serve as green spaces for urban farming, education, and community-building. When the Corps needed assistance, Devante, a quiet person by nature, stepped outside his comfort zone to take a leadership role as an Eco-Hub Fellow at the Bay View Houses. Throughout the pandemic, Devante has demonstrated initiative and notable skills in problem-solving and planning. He has been critical to leading one of the smallest crew at the largest site. As a supervisor noted, "In spaces where people have historically been marginalized and not felt safe, Devante created reliability, consistency, and trauma-informed work."
Devante takes the responsibility of seriously mentoring fellow young people and empowering his community with the information and resources needed to become more environmentally resilient. As Devante said, "I want to continue to contribute to help other people because even one person can make a difference no matter how small."
---
Kupu – Hawai'i
Hulali Alford
*AmeriCorps Alum*
"Teachers and administrators have all grown to love and respect Hulali. She brought her kind nature, her passion, and her expertise in biology, Hawaiian culture, and teaching to the position, creating lasting memories and impact."
As college graduation neared and Hulali Alford considered her next steps, she was guided by three truths: 1) She loves working with youth; 2) She is passionate about the environment; and 3) She wanted to return home to Hawaiʻi. The Environmental Education Leadership Development Program at Kupu was a perfect fit. Hulali served at two large public high schools – Campbell and Kapolei – where she designed and implemented numerous tools to educate teachers and students about careers in natural resources. Among her many accomplishments, Hulali launched a guest speaker series on Rapid ʻŌhiʻa Death (a fungal disease affecting native plants); compiled a clearinghouse of remote natural resources professional development opportunities for teachers; created a summer program to connect teachers to externship opportunities; and connected conservation professionals to classrooms at Campbell and Kapolei, creating over 100 work-based learning opportunities for 2,500 students.
With her kind nature, Hulali has earned the respect and admiration of teachers and students. She credits her AmeriCorps service with solidifying her goal to become a high school teacher. Hulali is using her AmeriCorps Education Award to pursue a master's degree in teaching while working in a staff role at Kupu in the Education Program. There is no doubt Hulali will be an excellent educator. As she says about her service, "I strived to be an educator who could uplift, equip, and empower [students] to be curious about their world."
---
PowerCorpsPHL
Destiny Lewis
*AmeriCorps Member*
"Destiny's gift to the Corps is her spirit of genuinely wanting the best for everyone."
Destiny Lewis began serving with PowerCorpsPHL in 2018. Originally entering the program shy and reserved, it took Destiny a few months to embrace her Corps experience and blossom into the environmental activist and enthusiastic leader she is today. During her first year of service, Destiny served as a fellow with the Clean Water Fund and the Tookany/Tacony Frankford Watershed Partnership. She also actively participated in the first iteration of "Ladies First," PowerCorpsPHL's affinity and support group for women-identified Corpsmembers. In this role, Destiny co-created the first Power Panel of accomplished women in non-traditional careers to speak and network with the women of PowerCorpsPHL. In her second year of service, Destiny served as an Assistant Crew Leader. Adjusting to the challenge of her Crew Leader unexpectedly leaving, Destiny stepped up to lead her crew through an effective season while following the COVID-19 shutdown and safety protocols. As a result of her leadership, Destiny was offered a temporary staff position as a Site Supervisor, leading on-site service with a small crew. Going into the second half of her Assistant Crew Leader term, Destiny was invited to concurrently enroll in a Youth Worker Apprenticeship, which required attending college classes weekly. Destiny took on this additional commitment with diligence. By the end of 2020, Destiny completed her Youth Worker Apprenticeship, earned 24 college credits with straight As, received her driver's license and OSHA-30 certification, and was promoted to a permanent staff position as a Crew Leader. Through all of this work, Destiny has put first the responsibility of co-parenting her young son.
Destiny's plan for the future is to start her role as a Crew Leader and create other ways in which she can mentor youth while the world still manages through a pandemic. After she receives her associate's degree, Destiny would like to enroll in school and pursue her bachelor's degree when the time is right.
---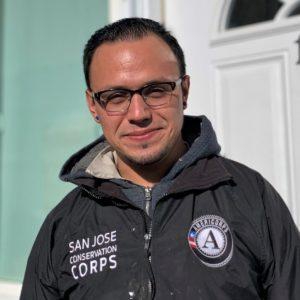 San Jose Conservation Corps + Charter School
Victor Lopez
*AmeriCorps Member*
"Victor's positive attitude, work ethic, and personal commitment to his work and the Corps are contagious to everyone he comes in contact with."  
During his time with San Jose Conservation Corps (SJCC), Victor Lopez has made the most out of his service term experience. Before joining SJCC, Victor was enrolled in City Team – an addiction recovery program. After finding a new path at City Team, Victor joined SJCC to earn his remaining high school credits and gain relevant job skills. For his first seven months with SJCC, Victor worked and attended school full-time to earn his diploma. After receiving his diploma, he transferred to the Construction Crew, where he learned how to operate heavy machinery and use different tools to build entire houses and tiny homes from start to finish. While serving his time as a Corpsmember and increasing his skillset, Victor was soon promoted to Crew Leader based on his outstanding work performance. As a Crew Leader, Victor excelled and was selected to serve with the Education Design Team, where he represents SJCC as a Youth Ally. In this program, Victor works with teachers and professionals in designing a new educational model that will help students succeed and stay in school.
As Victor continues to work with SJCC as a Crew Leader, he wants to continue to help Corpsmembers who have goals and aspire to be something in life. Currently serving in his fourth and final term as an AmeriCorps member, Victor plans to use his education awards to enroll in college and study engineering. While in college, Victor hopes to still work as a Supervisor for the Corps and continue to teach others how to build tiny homes.
---
Southern Utah University
Intergovernmental Internship Cooperative (IIC)
Faralene Williams
"As a Native American crew leader, Fara provided solid leadership and mentoring to her crew members and proved to be a positive role model – showing how pursuing a bachelor's degree can make a difference."
Prior to joining Southern Utah University's IIC program, Farlene "Fara" Williams worked in a manufacturing plant for 14 years. Growing tired of repetitive work, Fara enrolled in school to pursue her bachelor's in biology in hopes of achieving her life-long goal of working with the National Park Service. Returning to school was a significant challenge for Fara both financially and personally, yet she persisted and landed at IIC to add real-world experience to her academic pursuits. Since beginning with the IIC in 2017, Fara has accomplished a great deal. As a Crew Leader for IIC's Pipe Springs Youth Crew, a program focused on exposing Paiute Tribal youth to new career opportunities in the National Park Service and public lands sector, she provided solid leadership and mentoring. In 2018, Fara returned to work as a Crew Leader for the Cedar Breaks Youth Crew, where she continued to work with Paiute youth. Upon graduating in 2019, she returned to Cedar Breaks, serving as a facilities maintenance intern and later as a "Tier III" intern in a Facilities Management and Education Assistant position. In this role, Fara found her niche in facilities management and pursued it with passion.
As a Native American, Fara embraced the responsibility of being a positive role model for tribal youth and encouraging them to pursue their goals through education and hard work. As a result of her IIC experience and leadership abilities, Fara was hired as a permanent Facilities Service Assistance at Cedar Breaks National Monument, working on property and fleet management. Fara plans to continue to work with NPS and expand her knowledge in facilities management so that she can teach the next generation of leaders.
---
Southwest Conservation Corps
Trevor Taylor
*AmeriCorps Member*
"Mr. Taylor has worked hard to ensure that he shares his knowledge with individuals beyond his immediate peers, thus serving to foster a community dedicated to racial equity in the outdoor community of Southern Colorado."
Trevor Taylor has demonstrated outstanding leadership skills. A Chicago alum of the Student Conservation Association, he joined the Southwest Conservation Corps (SCC) Los Valles Crew Leader Development Program as an AmeriCorps member in May 2020. During a challenging a year, he successfully co-led a crew on a technically and physically demanding trail project in the Rocky Mountains at 14,000 feet in elevation. In addition to his project skills, Trevor stood out as a powerful advocate for people of color in the Corps community. While on hitch, he led a lecture for his crew and for EarthCorps on racial equity in the outdoor industry. Over the summer, he took time to develop a model for a "Leaders of Color" Corps program. He then applied for Conservation Legacy's Innovation Fund, receiving funding to make this program a reality. Trevor will lead a 2021 Leaders of Color crew, envisioning it as an affinity space for young people of color to learn advanced technical skills as a means to enter higher-earning conservation industry jobs.
During his time with SCC, Trevor also helped Corps staff develop a racial equity-centered restorative justice approach to disciplinary action. Additionally, he created a story-sharing week on SCC's social media platforms and fostered relationships with local and statewide organizations that promote racial equity in conservation, establishing a network of like-minded advocates.
---
Urban Corps of San Diego
Manhal Jajju
"Manhal is often seen taking his time to help others or encourage them to ask for help. This type of attitude is not just seen in the classroom, but out in the field."
Manhal Jajju knew he wanted to come to the United States to land a good job and escape the harsh conditions in his native country of Jordan. After receiving different referrals from the International Rescue Committee (IRC), Manhal chose the opportunity with the best reward: Urban Corps of San Diego County offered the opportunity to earn his education and gain work experience. Since starting his term in 2016, Manhal has received his California driver's license and certifications in chainsaw operation, herbicide application, and forklift operation.
Manhal currently serves as a Crew Leader and holds the title of Urban Forestry Specialist. In this role, Manhal trains new and existing Corpsmembers on how to plant and maintain trees. Tasked with leading a crew responsible for planting 600 trees in the City of Encinitas as part of a $1.2 million CAL FIRE grant-funded project, Manhal is praised by City staff for his hard work. He is also excelling in the Urban Corps Charter School program, from which he will graduate in June 2021. His teachers say Manhal is ambitious and determined, wanting to do his best and have his classmates and coworkers excel. Manhal welcomes new students as an unofficial ambassador and keeps an eye on the needs of his classmates so he can help them be successful.
Once Manhal finishes his high school diploma, he aspires to become a Supervisor at Urban Corps, continuing to serve and guide Corpsmembers enrolling in upcoming years.
---
YouthWork
Tequila Duncan
*AmeriCorps Member*
"At the start of each new term, new members are excited to be on her crew – drawn to her story and her knowledge and experience. New members know, just by how Tequila holds herself in confidence around the project site, that they can trust her to give advice."
Tequila Duncan's hard work has left an impact on the landscape, but her kindness and resilient spirit have left an even bigger impact on those who have served with her. Since joining the Adult Community Experience Corps program at YouthWork in 2019, Tequila has served four AmeriCorps terms. She has contributed to over 40 different projects across Michigan, helping plant trees, build trails, preserve historic structures, restore shorelines, and more. In October 2020, she was even chosen as the Michigan AmeriCorps Member of the Month. Tequila has continuously impressed project partners and acted as a friend and mentor to fellow Corpsmembers. Her supervisors note that she has a particular talent for helping others break out of their shell.
Tequila has overcome obstacles to be where she is today: she entered the foster care system at 13 – an experience that she says literally saved her life. Throughout her service, she has demonstrated tremendous personal growth and an eagerness to try new things. Though she rarely spoke when she joined the Corps, she is growing into a confident and independent young woman. Tequila plans to continue at YouthWork as an assistant crew leader and one day become a Crew Leader. She hopes to use her AmeriCorps Education Awards to take classes on environmental sciences and early childhood development. It's her dream to open a childcare facility that incorporates environmental education.