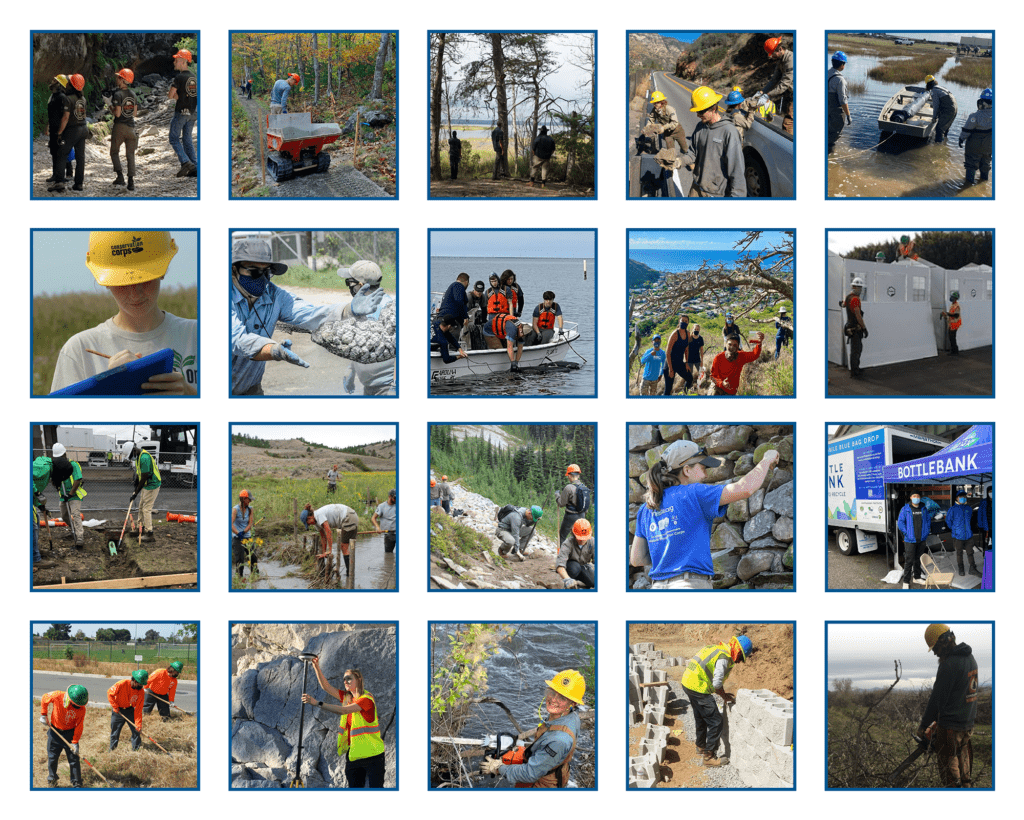 Learn about the nominees for the 2022 Project of the Year Award! We are inspired by all our remarkable finalists and their outstanding service to local communities and the young people they engage. The winners will be announced in March 2022 and will be recognized at We Are the Civilian Climate Corps: A CCC for a New Generation. The Corps Network's 2022 Virtual National Conference, April 4 – 6, 2022. Stories are arranged in alphabetical order by Corps name.
---
American Youthworks, Texas Conservation Corps
Austin Civilian Conservation Corps
Texas 
In May 2020, Austin City Council passed a resolution directing the City Manager to create the Austin Civilian Conservation Corps (ACCC). ACCC used municipal funds to quickly erect a workforce program utilizing existing partners to put Austinites impacted by COVID-19 back to work. ACCC established job pipelines through a variety of programs that allowed residents with different experience levels to enter at many points and achieve their career goals. To date, ACCC has created 100 opportunities for residents through 11 new programs in collaboration with eight City of Austin departments and nine community organizations, including American YouthWorks.
The American YouthWorks (AYW) ACCC crew completed local project work, partnering exclusively with the City of Austin. Without traditional 10-day camping service projects, the ACCC is more accessible to Corpsmembers who have home obligations or travel limitations. Project work focused on addressing conservation work and expanding outdoor access in traditionally underserved communities in Austin. Corpsmembers underwent trainings in a variety of resource management-related skills; nearly all of them entered full-time employment upon completion of the program. "ACCC hopes to correct a long legacy of segregation and exclusion that was present in the Civilian Conservation Corps (CCC)," said LaJuan Tucker, Parks and Recreation, Culture and Education Supervisor with the City. "It is our hope that the ACCC will expand more opportunities for community members to have access to natural resource and sustainability careers in Austin and beyond."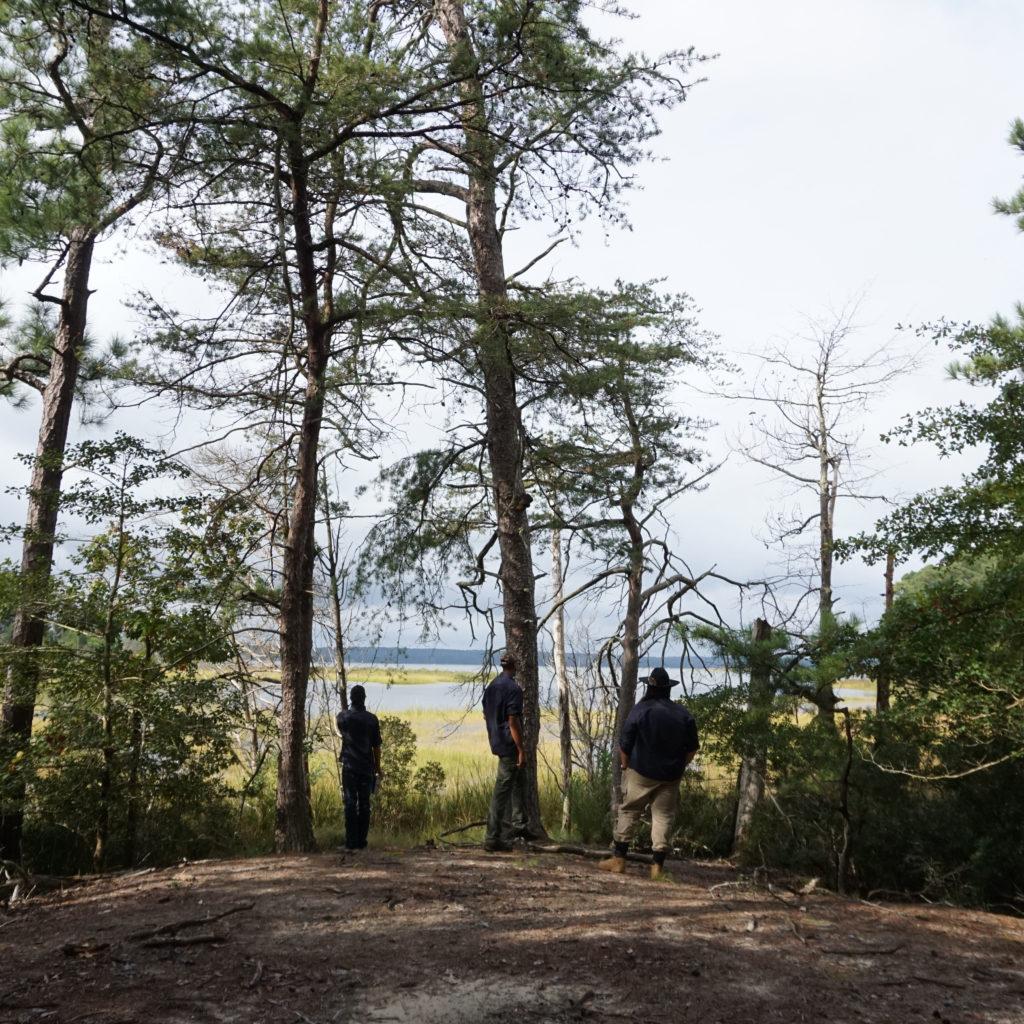 Appalachian Conservation Corps
Virginia
The Werowocomoco Ancestral Lands program – an initiative of Appalachian Conservation Corps – is based at Colonial National Historical Park (Colonial NHP) in Yorktown, VA. The only recently rediscovered Werowocomoco is a significant Native place where the leader Wahunsenacawh, also known as Powhatan, lived and received the newly arrived English leaders. In 2021, the program recruited and brought on three interns from local Virginia Tribes to introduce them to major aspects of National Park operations. Each intern brought their own unique cultural perspectives and tribal connections to the preservation of Werowocomoco as the National Park Service (NPS) prepares the site to open to the public.
All Individual Placements are now pursuing higher education and the Segal AmeriCorps Education Award will be helpful for them in those efforts. This project's importance lies in the fact that tribal members are reconnecting with lands that are sacred to their cultures. Members receive direct training from various NPS departments, prepping them for future careers. During their service, Corpsmembers interacted with over 200 members of the public, presented final projects to over 100 people, and shadowed 5 different departments at Colonial NHP. This project engages and develops stronger land stewards from populations that in the past have been underrepresented in federal resource management and conservation work.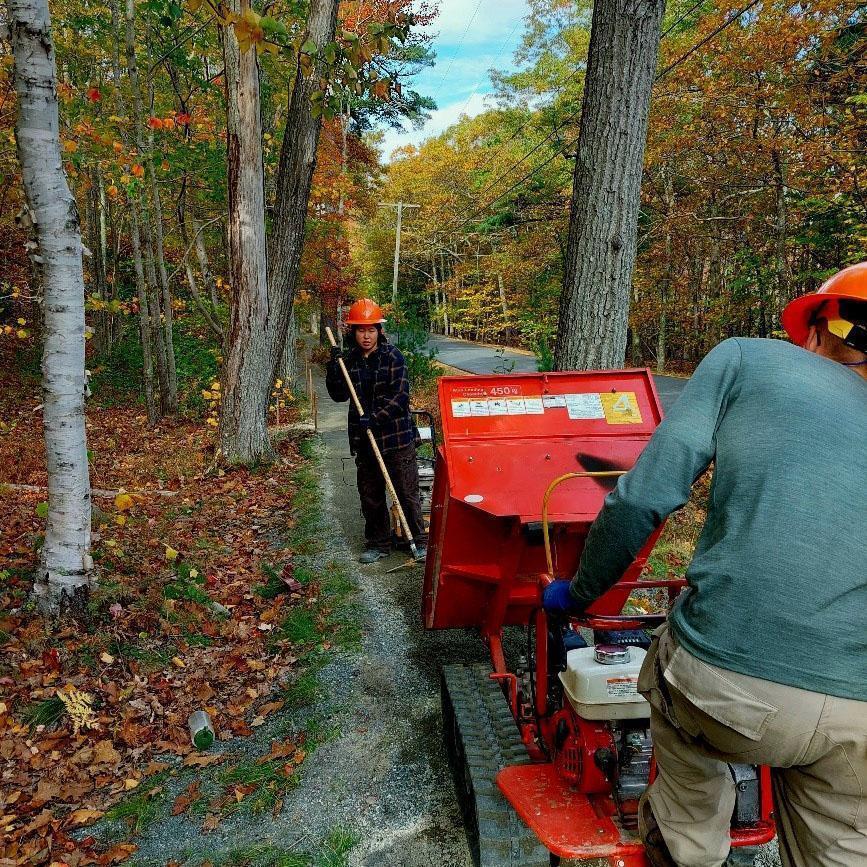 Appalachian Mountain Club, AMC Conservation Corps
Acadia National Park Trail Rehabilitation
Maine
Over the course of eight weeks in 2021, Appalachian Mountain Club's (AMC) Conservation Corps served with Acadia National Park, focusing on resurfacing the Schooner Head Path in Bar Harbor, ME, which had eroded from severe weather the year prior. The crew brought more surfacing material into Schooner Head and created drainage dips to help water flow off the trail in the future. In total, they resurfaced 6,040 linear feet of tread and re-vegetated 12,080 square feet along the sides of the trail. The crew also worked on the South Cadillac Trail and Giants Slide Trail, replacing 284 feet of rotted bog bridging. The crews were operating canycoms (motorized track wheelbarrows), mini excavators, and plate compactors to resurface the path. The AMC Crew Lead would keep the National Park Service (NPS) staff updated on progress and took a pro-active approach to trouble shooting and problem solving.
This project provided opportunities for five AMC Corpsmembers to work well in to the fall season in one of the most amazing locations in the northeast. The project on the Schooner Head Path repaired and resurfaced a trail that links the community of Bar Harbor, ME, with Acadia National Park. This provided accessible nonmotorized access from communities to the park and highlighted what a productive partnership between a national park and a Conservation Corps can be.
Arizona Conservation Corps, Ancestral Lands Conservation Corps
Oak Creek Canyon Trail Rehabilitation Project
Arizona
Oak Creek Canyon is a water-based tourist mecca in the arid Southwest, located halfway between Flagstaff and Sedona, AZ. Due to its popularity, the area has been overrun by more than 300 social trails in a 12-mile stretch. These trails have led to increased erosion and poorer water quality. Human and wildlife traffic has introduced pathogens such as E. coli into the water, which is the major water source for the downstream town of Sedona. Supported by Arizona (AZCC) and Ancestral Lands Conservation Corps (ALCC), the Oak Creek Canyon Trail Rehabilitation Partnership Project is designed as an environmentally friendly and aesthetic alternative for managing access to Oak Creek by installing log worm fencing along sections of the canyon to limit creek access. These barriers discourage easy access to the creek and direct recreation traffic to a limited number of access trails created and improved by the crews.
Project work was initially shared between AZCC and ALCC, with both Tribal and non-Tribal crews completing portions of the project. Sixteen crew members and leaders got training in experimental erosion and user management. Most members have commented that this project was the highlight of their term of service. Among other outcomes, crews helped close over 200 of the 320 social trails and build 705 feet of new trail. This project demonstrates how Conservation Corps can not only be the labor force for implementing mitigation efforts, but they can serve as ongoing monitors, data gatherers and analysts.
Civicorps
Shorebird Sanctuary Habitat Restoration
California
 In the fall of 2021, a crew of six Civicorps Corpsmembers served with East Bay Regional Park District (EBRPD) at the Shorebird Sanctuary located at Martin Luther King Jr. Regional Shoreline in Oakland, CA. The crew prepared, leveled, and cleared an island of debris, and then moved bulk materials (six cubic yards of sand and oyster shells) by use of a small boat to designated spots on the island. They spread out the materials to create ideal nesting and roosting habitat for the Western Snowy Plover (federally threatened and state species of special concern), American Avocet, Black-Necked Stilt, and Long-billed Curlew. A total of 4,590 square feet of restoration work was completed.
This project gave Corpsmembers the opportunity to work closely with Dr. David "Doc Quack" Riensche, a Wildlife Biologist with EBRPD. He commented, "It was refreshing to see the next generation of resource professionals so willing to break a sweat and get down and dirty helping wildlife. They gave me great hope for the future of our precious natural treasures." The Shorebird Sanctuary Habitat Restoration project provided these six Corpsmembers with hands-on training in species protection and preservation, habitat restoration, waterfowl identification, and how to navigate a small water vessel. This project exemplifies the service Civicorps aims to provide to their partners and Corpsmembers.
Conservation Corps Minnesota & Iowa
Monarch Habitat Project
Iowa 
The Iowa Monarch Habitat Project is supported by the Iowa Monarch Conservation Consortium, a collaborative group of more than 30 partners committed to butterfly conservation and habitat preservation. Due to habitat degradation and climate change, the Eastern Monarch Butterfly population has experienced an 80 percent decline over the past two decades. Iowa is in the heart of the Monarch's summer breeding range and roughly 40 percent of all Monarch butterflies that overwinter in Mexico are estimated to come from Iowa and neighboring states in the Midwest. The Iowa Monarch Habitat Project is designed to gather data needed to protect vital habitats that support Monarchs.
In the first year of the project, Conservation Corps Minnesota & Iowa Corpsmembers doubled the existing Monarch data for the state. Members received training in 21st century skills like field data collection, GPS and GIS skills, implementing national monitoring protocols, data collection best practices, and outreach to the public to recruit volunteers, all while collecting vital natural resource data. In 2021 alone, Corpsmembers added critical habitat information for an additional 121 sites to the overall database. The six AmeriCorps members that served on the 2021 Monarch Crew were trained and outfitted to conduct flowering plant surveys, and Monarch population surveys, serving a collective total of 3,260 hours. The project will continue in 2022, with hopes to expand the data collection efforts. This effort represents the kind of innovative work a Civilian Climate Corps could carry out to preserve and protect native species from climate change while preparing members for modern careers in the natural resource field.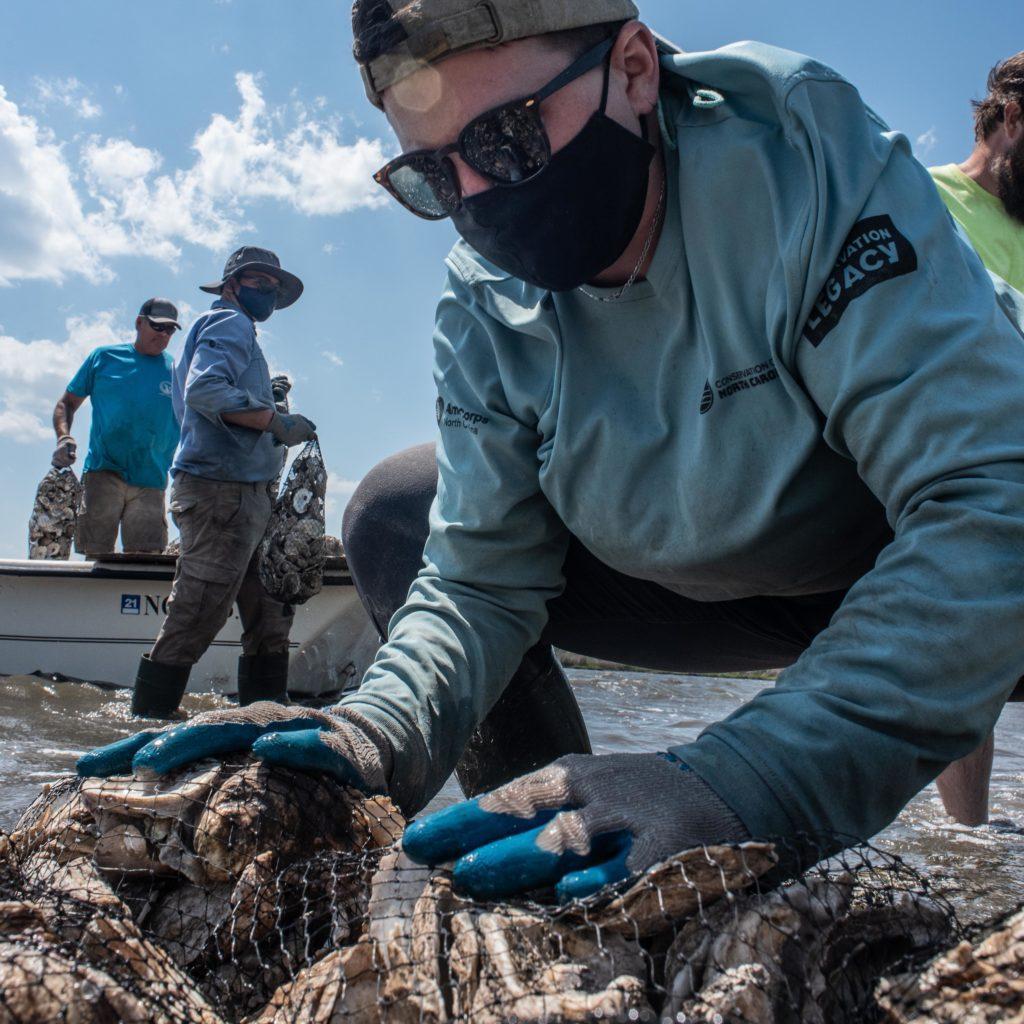 Conservation Corps North Carolina
North Carolina
Conservation Corps North Carolina (CCNC) partnered with the North Carolina Coastal Federation (NCCF) and the National Park Service at Cape Lookout to expand the capacity of NCCF and other natural resource partners to complete innovative, technical, and sustainable coastal management projects. Supplementing the usual cadre of volunteers, trained CCNC AmeriCorps members helped construct living shorelines along the North Carolina coast. The project provided AmeriCorps members an unprecedented opportunity to learn coastal management techniques, engage with coastal community members, and meet the challenges of North Carolina's rapidly changing coastline.
From March to April 2021, CCNC crew members completed eight weeks of project work at various locations. The activities included installing living shorelines, oyster reefs, and stormwater infiltration areas, as well as removing over 8,800 pounds of marine debris. Corpsmembers also helped clear trail corridors and maintained rain gardens at a local elementary school. All of the AmeriCorps members were trained on CCNC's new online module, learning the science, practices, and policy behind their work. This project marked the first time CCNC's has deployed "boots in the water" as well as "boots on the ground" to address threats to our coastlines caused by climate change.
Franklin's Promise Coalition
Florida
OysterCorps is a training program aimed at coastline resilience, oyster habitat restoration and economic diversification. The program is a part of Conservation Corps of the Forgotten and Emerald Coasts (CCFEC). Corpsmembers are typically Opportunity Youth who can earn several certifications, over 700 hours of experience, and an AmeriCorps Education Award upon completion of the program.
The program partners with local restaurants, seafood processors and others to recycle oyster shells to help rebuild shoreline reefs. OysterCorps also works with Panhandle Estuarine Restoration Team (PERT) and Apalachicola National Estuarine Research Preserve on best practices for costal ecosystem restoration. This program helps strengthen shorelines and reduces erosion. In addition to hands-on restoration work, participants help educate the community, including training high school students and advocating through social media. Since the program launched in 2020, members have collected over 18,000 tons of oyster shells, planted over 24,000 native plants and are growing 21,000 farm raised oysters.
Kupu
Kupu 'Āina Corps
Hawaiʻi 
With support from the CARES Act, Kupu created the Kupu 'Āina Corps (KAC) in response to the need for employment caused by the COVID-19 pandemic. The hospitality industry was hit hard by COVID restrictions, leaving many residents unemployed. The focus of the KAC program is on workforce development in the "green economy" for displaced individuals of all ages. The program used a network model to match KAC participants with opportunities to work with farmers and conservation organizations across multiple islands. More than 350 people were placed in jobs in 2020.
KAC provides participants not only with employment, but with benefits like health insurance and opportunities to participate in trainings. Kupu hopes KAC participants will gain skills needed to contribute to Hawaiʻi's economy and gain long-term employment after their Corps term has ended.
Louisiana Green Corps
New Orleans Community Led Green Infrastructure
Louisiana
Flooding is a problem that has spanned generations in New Orleans. The levee red lining and ongoing disinvestment in public infrastructure projects has put neighborhoods of color at particular risk of catastrophic flooding. In addition to advocating for more equitable distribution of resources and investments, neighborhood groups and nonprofit associations have begun spearheading green infrastructure projects in an effort to mitigate flooding in hyperlocal hotspots.
In 2021, nine of Louisiana Green Corps' Construction and Conservation Corps graduates completed a project to prevent flooding along an important hurricane evacuation route. The work was completed in partnership with Groundwork and a community consortium. The project was significant in its scope and its larger meaning: the intersection where the crew served is an important social and cultural area for the Black community. The project was also unique in its funding by Black-led organizations and community members. The now completed project helps to retain 30,000 gallons of rainwater every time it rains, significantly reducing the amount of flooding at this critical intersection. The project gave Louisiana Green Corps exposure to help recruit new Corpsmembers and brought attention to the critical work Corps can do.
Los Angeles Conservation Corps, San Jose Conservation Corps and Civicorps
Pallet Partnership to Build Tiny Home Shelters Supported by AmeriCorps Members
California
Throughout 2021, LA Conservation Corps (LACC), San Jose Conservation Corps (SJCC) and Civicorps worked with Pallet to build more than 960 tiny home shelters for people experiencing homelessness in California. Each prefabricated Pallet shelter can be assembled in thirty minutes and is complete with two beds, storage space, climate control, and electricity. This project exemplifies how Corps can work together to create an impact across a larger region. The building of each shelter requires teamwork, time management and construction skills. After the shelters are complete, the villages are managed by non-profits that provide case management and other supportive services.
For each of the Corps involved, this project brought a programmatic element that was new to their organization. Working together, however, they were able to ask questions and learn from one another. This project has strengthened existing relationships Corps have with local city leaders, providing communities with alternative means to address the housing crises in all three cities. Local leaders appreciate how nimble, responsive, and quick to action Corps can be.
Montana Conservation Corps
Montana
Montana Conservation Corps (MCC) seeks to combat climate change through community collaboration and drought mitigation. In 2021, more than 20 AmeriCorps members implemented a pilot program to conduct projects to stabilize water resources throughout the drier months. This effort involved MCC AmeriCorps Individual Placement members planning and coordinating projects with local community members and partner agencies. This included planning meetings, building relationships, and getting local buy-in from public and private landowners alike. These outreach efforts were coupled with project execution by Corpsmembers with MCC's Mesic Strike Crew. This crew worked with partners like the Natural Resource Conservation Service, the Bureau of Land Management, and others to build beaver mimicry installations, conduct wet meadow restoration, and implement other practices.
This project led to a new model of how community members and resources can be leveraged collectively for a larger impact. As a result, MCC members and volunteers constructed over 100 drought resilient low-tech process-based restoration (LTPBR) structures and are already seeing results in a significant rise of local water tables. This program has gained financial support to continue and local respect. As one partner and rancher stated, "I think these AmeriCorps folks have become the glue to make sure we all work together and get good things accomplished."
Northwest Youth Corps
Sound 2 Summit – Supported by AmeriCorps (The Corps Network's AmeriCorps Education Award Program)
Washington
In 2017, Northwest Youth Corps (NYC) piloted their Sound to Summit (S2S) program. The program seeks to engage Tacoma teens and young adults outdoors, provide work experience, and support participants in becoming environmental stewards of their city. While they live nearby and can see the mountains, the S2S program is for many participants their first opportunity to visit Mount Rainier. Participants spend the first few weeks of the program serving on urban projects and the last week of the program at Mount Rainier National Park where they work during the day and camp out at night. This experience enables participants to explore the connection between urban conservation and their local national park.
This program differs from a traditional five-week residential program in that it is more accessible to young people who cannot afford to leave their homes for extended periods of time. It allows participants to explore environmental career paths from their own city, and then provides an opportunity for teens to step outside their comfort zone during the weeklong camping portion.
San Francisco Conservation Corps
Bottle Bank Mobile Recycling Program
California
In all of San Francisco, there is only one brick-and-mortar location where consumers can take their recycling to receive the California Redemption Value (CRV) for their recyclables. San Francisco Conservation Corps is helping making recycling more accessible. The BottleBank™ program is an innovative mobile recycling program that uses bags with QR codes that are tied to a consumer's account. Consumers place their uncrushed CRV containers in their blue recycling bags with the pre-loaded QR codes. When the bags are full, they drop them off at a mobile collection site: a large BottleBank™ truck that is operated and staffed by Corpsmembers with San Francisco Conservation Corps (SFCC). The bags are scanned and linked to a consumer's BottleBank™ account, electronically depositing redemption funds into the user's account within 72 hours.
SFCC currently staffs multiple rotating drop-off sites throughout the week and helps manage sfbottlebank.org, a website where consumers can locate a drop-off site. Through this program, Corpsmembers are gaining skills and experience that will translate into careers in the recycling field. This program also represents a democratization of recycling as it allows low-income individuals, senior citizens, and others who lack access to reliable transportation to receive their CRV refund.
San Jose Conservation Corps
California
The Resilience Corps program at San Jose Conservation Corps was developed with a triple bottom line: to engage young adults in career development, improve public spaces in San Jose, and address the climate crisis. Created in collaboration with the mayor's office and various community partners, the program recruited more than 100 young adults from communities in San Jose that have not experienced the same income growth as others in Silicon Valley, especially during the pandemic. The program pays Corpsmembers a living wage – more than $25/hour – to develop the skills they'll need to launch family-sustaining careers. During the six-month pilot program, which started in August 2021, Corpsmembers have worked in critical infrastructure and landscape management projects, including park and trail maintenance, wildfire prevention, habitat restoration, watershed protection, and tree planting. Corpsmembers are trained and certified in safety, emergency response and technical skills, as well as life skills, like financial literacy and leadership. Environmental education, career navigation, and support with résumés, interview prep and networking are also part of the program.
In just six months, Resilience Corps has accomplished a great deal. Among other outcomes, Corpsmembers have constructed bioretention sites, completed fire fuel reduction work across more than 1.8 million square-feet, and maintained more than 1,300 trees. Most importantly, more than 100 young adults from low-income communities gained skills, confidence, and experience that can translate into careers.
Student Conservation Association
Massachusetts
In 2016, the Student Conservation Association (SCA), AmeriCorps, and the Massachusetts Service Alliance partnered with the Massachusetts Department of Conservation and Recreation and the National Park Service to offer a unique opportunity for young adults to gain leadership and hands-on experience in historic preservation trades. The program has three goals: 1. Preserve historic places across Massachusetts; 2. Introduce young people to the field of historic trades; and 3. Highlight the effects of climate change on our built environment. Corpsmembers have served in historically significant places like the Charlestown Navy Yard, Bunker Hill Monument, the Boston Harbor Islands, and several state parks. Corpsmembers complete a 10-month service term while building skills in masonry, window restoration, preservation carpentry, historic landscape maintenance, and much more. In addition to hands-on trades, members have several professional development opportunities through independent projects and networking with preservation professionals.
Due to COVID-19, SCA adapted the program from a residential model to focusing on recruiting local residents. They also began offering a higher living allowance, opening the opportunity to members that previously might not have been able to serve. Additionally, 2021 marked a more deliberate approach to framing the service activities through the lens of climate change impacts on historical structures. To date, alumni of the program have moved into a range of jobs and internships in resource management and preservation.
Southern Utah University – Intergovernmental Internship Cooperative
National Park Service GIS Internship Program
Multiple Locations
A collaboration between the Intergovernmental Internship Cooperative and the National Park Service (NPS), the NPS GIS Internship Program engages current students and recent graduates from GIS programs in an interdisciplinary professional development experience at parks throughout the country. The program is designed to improve geospatial data collection and management in parks while encouraging park units to broaden their use of geospatial services to support data-driven and science-based park management. Interns participate in a week-long GIS training with NPS and then are dispatched to parks to work with mentors. Each week, the intern cohort meets to problem solve, share successes, and receive additional training. The interns support parks across a range of fields, including field data collection, geospatial analysis, remote sensing, web mapping, and cartography. At the end of their internship, they present their work to the NPS GIS community in a webinar. After the program, interns have pursued further education or accepted jobs with the U.S. Forest Service, universities, the National Park Service, and National Park Service partners. Since the program's launch in 2020, interns have provided more than 11,300 hours of critical GIS work at national park units.
The best way to measure the impact this project on interns is through their own words. As one intern said: "[This] program really changed the trajectory of my career. I started as a hardcore academic looking for new life experiences and now, I am fully committed to devoting my future to protecting our nation's most valuable and vulnerable resources. Without the internship program, I wouldn't have had access to the opportunities I do now."
Southwest Conservation Corps
Colorado
For many years, Southwest Conservation Corps (SCC) has partnered with the City of Durango, the Mountain Studies Institute (MSI) and other partners on a range of local projects along the Animas River, including sustainable forestry work and invasive species removal. However, the scope of this work took a new meaning after the 2015 Gold King Mine Spill, when 3 million gallons of mine wastewater and tailings, including a toxic sludge of heavy metals, burst from an abandoned mine into the headwaters of the Animas River. SCC became an immediate collaborator in a community effort to monitor water quality and conduct remediation work. SCC's Watershed Program Manager and MSI's Community Science Director collaborated to secure numerous grants to continue monitoring, but also expanded the scope of invasive species removal efforts to include projects on private land. The restoration work quickly evolved into a watershed-wide project.
In 2021, SCC piloted a Women's+ Crew to complete watershed restoration along the Animas River and Stollsteimer Creek. The Women's+ Crew provides a supportive learning environment for cis women, transwomen, and non-binary individuals to work, learn from, and grow with one another while gaining skills and certifications to propel them into a career in environmental stewardship. In just a matter of months, the crew improved or restored more than 1,400 acres, maintained more than 8.5 miles of waterway, and trained eight sawyers and exposed them to the possibilities in the natural resources field.
Urban Corps of San Diego County
Urban Corps North County Expansion Renovation Project
California 
Transportation is a major barrier for many young people at Urban Corps of San Diego County (UCSD). In 2021, the Corps broke ground on a project to renovate a new location in the City of Escondido, giving UCSD the opportunity to engage young people in a northern area of San Diego County that had previously not been served. Urban Corps decided to expand in the county because it is nearly impossible for young people who need Urban Corps' services to travel to San Diego. This new location was purchased because of its proximity to a bus station. The property was previously an industrial warehouse with a dirt parking lot. There was a lot of work to do to transform it into a useable property. That's where UCSD Corpsmembers come in.
Corpsmembers received construction training and completed roughly 60 percent of the total building renovations. This included building a concrete parking lot and retaining wall; installing new flooring, walls, and doors; remodeling two restrooms; adding a new shower room; and installing new lighting, switches and power outlets. The Corpsmembers also improved the grounds, planting new trees and shrubs. Corpsmembers worked on a property that will be used to train them and other young adults in the community. With the launch of this new location, UCSD estimates they will be able to increase their capacity by 20 percent.
Utah Conservation Corps
Utah
In 2021, Utah Conservation Corps (UCC) began assisting the Northwestern Band of the Shoshone Nation in a habitat restoration project along Boa Ogoi, or the Bear River. Tribal members are the direct decedents of those that lost their lives during the Bear River Massacre on January 29, 1863: a horrific act of violence in which the U.S. Army attacked a Shoshone encampment, killing hundreds of men, women and children. The site received National Historic Landmark designation in 1990. In 2002, the Northwestern Band of the Shoshone Nation was returned 35 acres of the site. In January 2018, the Tribe purchased 550 additional acres of this sacred ground. The Tribe plans to use this land to build a cultural interpretative center. They also hope to ecologically return the site to its pre-contact appearance. Over the past 160 years, the riparian habitat along the Bear River, and the river itself, have become severely degraded due to agricultural production and the introduction of non-native species.
This past fall, UCC AmeriCorps crews treated over 11.6 acres along more than 1.6 miles of river. In less than a month, Corpsmembers cut and treated 1,613 invasive Russian trees. They also repaired fencing and prepared biochar kilns to amend soils for propagating native vegetation. Through this project, young adults are gaining resource management skills while engaging in critical natural and cultural resource management work.