---
Every year at The Corps Network's National Conference, we honor a select group of exceptional Corpsmembers from our member Service and Conservation Corps. These young adults have exceeded the expectations of their Corps by exhibiting outstanding leadership skills and demonstrating an earnest commitment to service and civic engagement. The Corpsmembers of the Year are role models; their personal stories and accomplishments are an inspiration to Corpsmembers nationwide. Learn more about The Corps Network 2022 National Conference, taking place virtually April 4 – 6.
---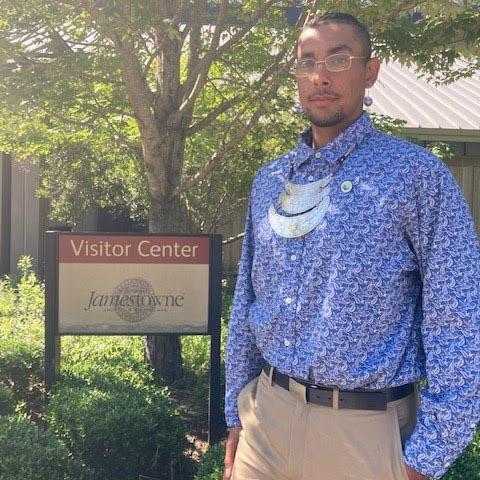 "I aim to advocate, educate, and act on the problems and issues that our diverse ecosystems have across the world."
During his time as an AmeriCorps member with the Werowocomoco Ancestral Lands program at Appalachian Conservation Corps (ACC), Kalen has always been eager to learn, helpful, punctual, and a hard worker. This new program teaches Native youth resource management skills while engaging them in sharing their cultural knowledge and assisting with preservation and interpretation activities surrounding Werowocomoco: a recently rediscovered site with deep historic significance for Tribes in what is today Virginia.
After completing a field archaeology internship at Historic Jamestowne, Kalen returned to the Werowocomoco Ancestral Lands program as a lead intern, supporting and leading the other interns throughout the year. Kalen took every opportunity offered, completing trainings in water quality assessment, invasive species identification, the Archaeology Repatriation Act, and many other fields. An exemplary intern and employee, he is always ready to work, his assignments are complete and on time, he is always the first to volunteer to assist a colleague with a task and can be relied upon to "show up." He leads by example for his peers.
"Before my first placement with AmeriCorps, I was a full-time student working on my Associates degree in Mechanical Engineering while also working part time. AmeriCorps allowed me a smooth transition into a workplace setting to gain essential skills and knowledge for personal growth as well as career development," said Kalen. "I also was able to work closely with local tribes which proved to be of great personal growth and experience."
A member of the Nansemond, Kalen used his training to contribute to his tribe's oyster bed recovery work on the Nansemond River. Outside of the Corps, he has served as flag bearer for his tribe at the Sovereign Nations of Virginia Conference. Kalen has a strong passion for sharing his tribal knowledge with others; after his placement term was over, he returned to the Corps to volunteer with his peers at Indigenous Peoples Day to educate the visiting public at Machicomoco State Park.
Kalen is already extremely involved with his tribe. During his internship he absorbed a great deal of knowledge through the various projects and trainings, always thinking about how information could be applied within his tribal community.
"After my first term being a Corpsmember I gained new interest in my own cultural traditions; I even changed my degree path from Mechanical Engineering to Environmental Science and Conservation," said Kalen. "I have learned an overwhelming amount of skills, such as interpretation, public speaking, event programming, outreach, property surveying, land maintenance, and environmental reporting."
Because of Kalen's stellar performance, a partner offered him an unadvertised internship position to help him deepen his knowledge of archaeology. As a supervisor said of Kalen, "You can tell how deeply he cares about his heritage and the land in which he wants to take care of." Kalen plans to continue a relationship or career with AmeriCorps and or the National Park Service. He wants to apply his AmeriCorps education award towards a bachelor's degree.
"An issue that I see my generation addressing can be environmental stewardship. My generation is next in line to become front runners in the protection and conservation of our ever-changing environment," said Kalen. "Although we are in a time of great industrialization and technology, we must also keep in mind the natural resources that we depend on as a people."