---
Every year at The Corps Network's National Conference, we honor a select group of exceptional Corpsmembers from our member Service and Conservation Corps. These young adults have exceeded the expectations of their Corps by exhibiting outstanding leadership skills and demonstrating an earnest commitment to service and civic engagement. The Corpsmembers of the Year are role models; their personal stories and accomplishments are an inspiration to Corpsmembers nationwide. Learn more about The Corps Network 2022 National Conference, taking place virtually April 4 – 6.
---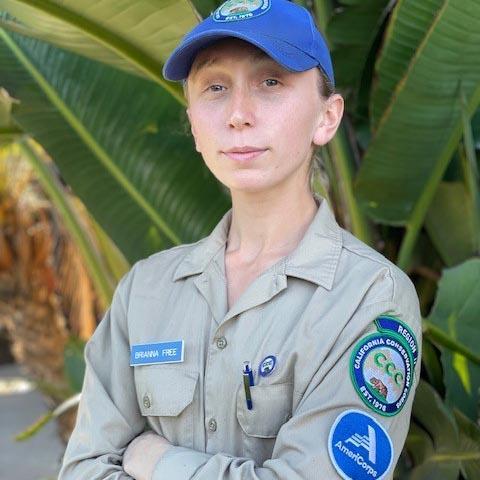 AmeriCorps Member (The Corps Network's AmeriCorps Education Award Program)
"I've always had a great work ethic, but never the opportunity to put it into practice in activities that advanced my personal and professional experience. After joining the Corps, I realized how much I could achieve with the right amount of effort and opportunity."
Brianna Free told her supervisors at the California Conservation Corps (CCC) that she will never work any less than twice as hard as everyone else. Brianna started her service doing resource management projects with the U.S. Fish and Wildlife Service, but her skill and professionalism quickly identified her for fire training.
"I applied, spoke to a recruiter, and quickly realized that the CCC was the perfect place for me to learn more about conservation and public service work," said Brianna. "The fire training program was the most intriguing because growing up, I always looked up to fire fighters and dreamed of doing the type of work communities relied on."
Brianna has volunteered over 60 hours of her time for various in-camp and community service events, including participating in the Corpsmember Advisory Board, a canned food drive, and an Earth Day beach cleanup. She has also volunteered at Tri-City hospital, assisting nurses in cleaning beds and sanitizing instruments. She was recently selected to participate in the leadership training academy at the CCC's San Diego Center. Brianna has completed numerous trainings, including Type II fire training and CPR/First-Aid. She has proven she can keep a cool head in an emergency, once jumping into action and putting her skills to work when a citizen in distress was found in the Corps' parking lot.
Brianna has used her past experiences as fuel to achieve her own carefully curated definition of greatness. This definition includes, acting on environmental conservation and the protection of plants and animals and living a lifestyle in service to others. She has proven herself a leader among her peers through her commitment to her crew and the CCC community. She has taken advantage of every training, every leadership opportunity, and every community event offered to her.
In the male-dominated field of wildland fire, Brianna can also hold her own: she is being actively recruited by multiple fire crews with the Bureau of Land Management and the U.S. Forest Service. She anticipates starting a position with a fire crew later this year, with a goal of one day earning a role as a fire chief.
"When I started, I was one of very few females. The dominant male culture of the CCC intimidated me at first, but after a few weeks in the field, I learned that I could keep up with my male peers. Then, after fire training, I learned I could out-perform my male peers," said Brianna. "This experience helped me understand that my outcomes are only limited by my imagination and effort."
Outside of the Corps, Brianna enjoys creative writing, roller blading, and skateboarding. She also used the knowledge she gained from the CCC to start a native garden at her house and teach her family about the local ecosystem. She believes that in addition to addressing issues of climate change, Corps programs play an extremely important role in breaking cycles of poverty, miseducation, and mental health issues.
"Through programs like the CCC, my generation is given the opportunity to advance their socio-economic status and contribute to society in meaningful ways that change the trajectory of our lives and our children's lives. We are given the opportunity to end our dependency on public services and become stewards and leaders of our community. Together, this allows our community to thrive."