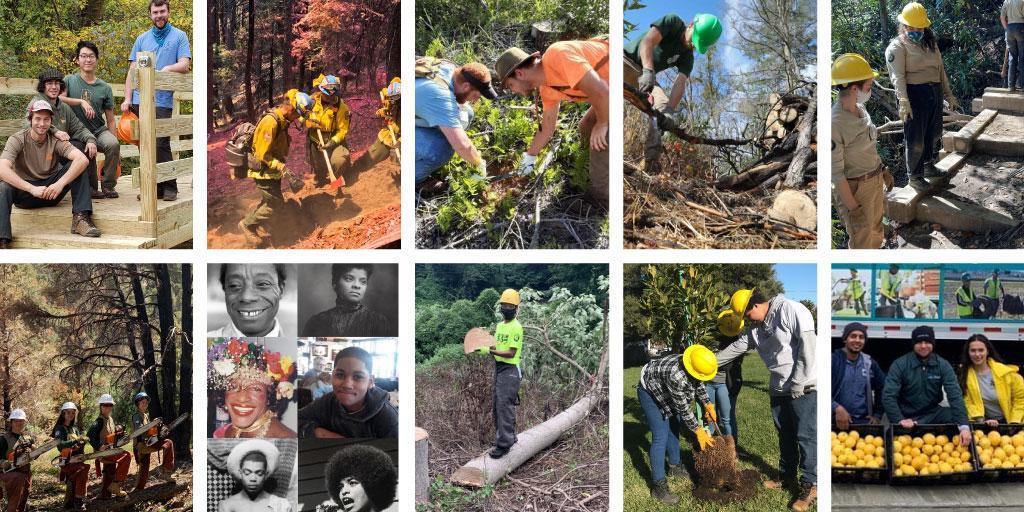 Learn about the nominees for the 2021 Project of the Year Award! We are so inspired by all of our remarkable finalists and their outstanding service to local communities and the young people they engage.
The winners will be announced this month and will be recognized at A New Era: Corps in Today's America
The Corps Network's 2021 Virtual National Conference, March 15 – 18, 2021.
Note that The Corps Network is recognizing a collective Project of the Year Award for the critical work Corps undertook over the past year to support COVID-19 response efforts. Information about these important projects can be found here.
Stories are arranged in alphabetical order by Corps name.
---
Appalachian Mountain Club, Roving Conservation Corps (RCC)
Valley Forge Trail Restoration
Pennsylvania
In the fall of 2020, Appalachian Mountain Club's Roving Conservation Corps (RCC) partnered with Valley Forge National Historic Park in Pennsylvania to improve the Mt. Joy and Mt. Misery trail systems. During the summer, the popular day-use hiking park was hit by a storm that brought several inches of rain over a 24-hour period. This caused serious erosion and knocked down a lot of trees on the trail system. For six weeks, the crew cleared 10 blowdowns in the park and built 70 square foot of log crib; a 140-foot side ditch; a 170-foot wood water bar; 23 check steps; and 70 inches of drainage swales to help mitigate future water flow and retain soil. In many areas of the park, there were large rivulets and divots in the trail caused by high water flow, leading the crew to bring in two cubic yards of dirt and reshape 600 feet of tread. To close out the project, the crew completed a 400 square foot finish to help keep people on the trail and installed a 20-foot bridge with railings, steps and a cribbed abutment to cross over a historic stone paved drainage.
Adapting to working under COVID-19 conditions was difficult at first, but RCC crew members wrapped up the project knowing that through perseverance and supporting each other, they can overcome any challenge. As a result of RCC's work, visitors greatly appreciated the improved trails and the crew expended their agreements for additional work in 2021, including landing new agreements to do work with Acadia National Park in Maine and the Conte National Wildlife Refuge in New Hampshire.
---
California Conservation Corps
Emergency Response Work
California
In 2020, Corpsmembers with the California Conservation Corps (CCC) certainly experienced the program's motto: "Hard Work, Low Pay, Miserable Conditions, and More!" Though emergency response projects have long been part of the CCC's mission, the need in 2020 was unprecedented. Corpsmembers served extraordinary hours to ensure public safety and minimize the impact of historic environmental catastrophes, all while facing the COVID-19 pandemic.
The 2020 fire season was the worst in California history, burning over 4 million acres. CCC crews assisted both on the frontline, helping extinguish hotspots and create fire lines, as well as at fire camps, helping maintain and inventory gear, answer phones, keep the sites clean, and support food services. The norm was for Corpsmembers to work 21 days straight with 12-16-hour shifts. Fire crews worked 24-hour shifts and, in some cases, worked over 45 days straight. Corpsmembers responded to emergencies in 115-degree heat and in the snow. They lived in tents, ate whenever they could, and slept minimally. In total, Corpsmembers served over 1 million hours in response to 296 fires. In addition, Corpsmembers spent over 28,500 hours on erosion control assignments, placing wattles in areas where homes were burned to prevent toxic household chemicals from reaching community water sources. On top of fire work and flood mitigation, the Corps spent roughly 100,000 hours supporting the state's COVID-19 response work. Through these challenges, Corpsmembers gained valuable skills for jobs in firefighting, logistical support, the forestry industry, and other emergency response organizations. Firefighting members are graduating with an S212 or a Faller certification and received a higher level of medical training than typical, such as a wilderness first aid or EMT certification. During these unique times, the CCC was at the forefront of helping lessen the impact of a global pandemic while also fighting the effects of climate change.
---
CLIMB CDC Conservation Corps
Turkey Creek Project
Mississippi
The Turkey Creek watershed encompasses approximately 30,906 acres of mixed rural/urban land use within the cities of Gulfport and Long Beach, MS. In an effort to protect and restore the existing ecological resources of the watershed, CLIMB CDC Conservation Corps started the Turkey Creek project. Since the project's launch in the summer of 2019, Corpsmembers have treated 80 acres of land. The crew holds the responsibility of treating and removing invasive species and replanting native species that will help return the area to a Wet Pine Savanna. In some areas, the crew treats areas with herbicide and removes trees and brush with chainsaws, brush cutters, loppers and machetes. The crew also works with land managers and ecologists to plant a variety of native grasses and trees throughout the site.
Through this work, Corpsmembers have developed their interpersonal skills and achieved many individual accomplishments. Out of the 22 Corpsmembers who have worked on the project, six were promoted into leadership positions in the organization; nine members received professional development training that has assisted them in gaining employment; six members received S-212 certifications; and five members participated in reintroducing native plants to the different areas where they worked. The Turkey Creek Project is set to be completed in 2022.
---
Conservation Corps North Bay
Post Tubbs Fire Forest Management
California
In October 2019, the Conservation Corps North Bay (CCNB) Natural Resource Crew partnered with the Sonoma Resource Conservation District in a multi-year project to provide post-fire erosion control and restoration services. In this long-term fire restoration contract, the focus is primarily on improving privately owned land intersecting with public areas.
In October 2017, the Mark West Creek area near Santa Rosa, CA, was greatly impacted by the Tubbs Fire. As a result of the fire, the flow of sedimentation increased tremendously into the creek, impacting stream flows needed to support suitable habitat and hydrologic connectivity for the coho salmon and steelhead fish populations. To properly complete the critical forest management work needed to reduce creek sedimentation and improve the hydrological ecosystem, Corpsmembers with CCNB were tasked with removing dead and dying brush and trees; clearing hazardous trees along roads and near buildings; and removing old wire cattle fences to improve wildlife corridors. To date, CCNB has completed nearly 54 acres of fire fuel reduction with another 15-20 acres remaining to be treated before work is completed. Upon completion of these tasks, approximately 164 acres of Mark West Creek forestland will be improved and protected.
As result of CCNB's successful efforts on this project, the Corps was able to successfully secure year-round work for its crews. Corpsmembers involved in this project will not only gain paid work experience and certifications that will help them secure living-wage employment, but they will also play a significant role in participating in the restoration of their communities.
---
Conservation Corps North Carolina
Distinguished Womxn of Linville
North Carolina
In the summer of 2020, Conservation Corps North Carolina (CCNC) launched their first identity-based program: the Distinguished Womxn of Linville trail crew. Grounded in a commitment to diversity, equity, and inclusion, the crew was designed to give members an opportunity to be with peers that share similar values, life experiences, and identities. The program was in part supported by funding through the National Park Foundation.
Between June and October, the Distinguished Womxn of Linville AmeriCorps members engaged in an ambitious trail rehabilitation project at Linville Falls, one of the most popular destinations along the Blue Ridge Parkway. The 4.4 miles of trails surrounding the falls were loved to death. What was once a five-foot-wide trail turned into a ten-foot-wide highway: the trail was degraded by heavy foot traffic and soil erosion from extreme weather events. Between two sessions, the womxn's crew improved over three miles of trail. Among other accomplishments, they built 27 drains and maintained another 24; installed more than 50 steps; removed 13 downed and hazardous trees; obliterated more than 300 feet of "social trails"; cleared the corridor of more than 6,000 feet of trail; and built a 40-foot-long wood-cribbed wall. Along the way, members learned how to use tools such as a chainsaws, power wheel-barrows, and skid-steers. Most importantly, however, was the empowering experience of serving on an identity-based crew. With the success of this crew, CCNC is looking to expand opportunities for LGBTQ+ individuals and under-represented populations in the outdoors. As one Corpsmember said: "One of my favorite moments was a young girl telling her family to look at the 'trail girls.' The girl was so excited and it was amazing to be able to inspire the next generation of women to become more involved in conservation and the outdoors."
---
Great Basin Institute, Nevada Conservation Corps
Interdisciplinary Women's Resource Conservation Crew (IWoRCC)
Nevada
With support from the National Park Foundation, the Great Basin Institute (GBI) and Great Basin National Park partnered during the summer of 2020 to launch the Interdisciplinary Women's Resource Conservation Crew (IWoRCC). This was GBI's first identity-based program. The goal was to provide training and experience to young women with the larger vision of creating pathways to employment for women interested in conservation. The program was designed to create an inclusive space that was empowering and supportive for women in the traditionally male-dominated field of public lands maintenance. Throughout the summer, the crew was supported by two female employees from the National Park Service who provided guidance and mentorship.
The IWoRCC crew assisted NPS staff in areas of critical need. Participants received training across disciplines and engaged in a breadth of park management projects, including habitat restoration, native species planting, fire mitigation, hydrology research, deferred maintenance, recreation planning, and wildlife management. The four AmeriCorps members received an S-212 equivalency chainsaw training and wilderness first aid certification. Though the crew was small, they made an impact: due to COVID-19 safety restrictions, the park was unable to bring on the typical number of seasonal employees. Park staff agreed that the energy and excitement that came from the crew and their collaborative efforts had a positive impact on the overall summer culture at the park.
Among other accomplishments, the crew repaired 1.76 miles of fencing, removed over six acres of invasive species, restored over 13 acres of habitat, maintained more than 2.5 miles of trail, and hauled out over 100 pounds of trash from backcountry campsites. Beyond the numbers, however, are the intangible outcomes. From interviews and testimonials from the crew, it is clear that this experience was meaningful and memorable.
---
Green City Force
Each One, Teach One Project
New York
On Juneteenth 2020, Green City Force (GCF) launched the "Each One, Teach One" Project across their five Eco-Hub sites: a collection of large-scale urban farms and sustainability platforms located on properties operated by the New York City Housing Authority. Aiming to spread knowledge for the betterment of the community, the Each One, Teach One project was created as a tool to actively combat anti-blackness and racism, while uplifting diversity, equity and inclusion. Across the Eco-Hub sites, GCF renamed farm beds in honor of local and national BIPOC leaders and heroes who are fighting towards equity and justice. GCF also honors indigenous people whose ancestral lands they actively cultivate in the fight against food injustice. Each bed is labeled with a portrait and biography with the intent to educate Corpsmembers and members of the community about the stories of BIPOC people from different backgrounds, ethnicities, genders, and cultural backgrounds. Since the project's launch, Corpsmembers have gained a deeper understanding of the importance of spreading knowledge; they have a clearer vision of their important role in advancing equity. The initiative is a gentle reminder to all visitors to always continue to create inclusive spaces where people can feel seen and heard.
---
PowerCorpsPHL
Memorial Grove
Pennsylvania
Each year, PowerCorpsPHL engages out-of-school or out-of-work 18-to-28-year-olds in an immersive 4-to-24-month program. In their seven years of operation, they have engaged 684 young people and provided over 660,500 service hours to the city's park system and green infrastructure. The Corps has also lost 12 young people, including ten to gun violence. Five of these tragic deaths occurred in 2020. To honor the contributions of these Corpsmembers, PowerCorpsPHL built a Memorial Grove adjacent to their project headquarters and training center in Philadelphia's East Fairmount Park.
The purpose of the Memorial Grove is to provide a publicly accessible area where people can seek healing in nature. The space is a multi-acre plot of forested land with a small creek. Neglected for decades, the land was overgrown with invasive plants; it was used on the weekends as a party space and dumping ground. Though the work started as a typical forest restoration project, it became bigger as the Corps discovered additional needs and the potential for the area to serve as a recreational and gathering space. The crew uncovered a patio, built an outdoor classroom, and created a trail loop (this was the Corps' first time helping design a trail). AmeriCorps members cleared hundreds of invasive shrubs, felled dozens of trees, and removed thousands of pounds of trash. In total, more than 100 native trees will be planted. With their experience on this project, a few of the Corpsmembers have moved on to forestry-related jobs.
This project had an emotional impact on all the Urban Forestry Fellows; there was a sense of pride and responsibility that came with working on a memorial. The Memorial Grove has also been important to the families of the 12 lost members. In addition to the physical space, the Corps also built a webpage, accessible by scanning a sign at the grove, where visitors can learn more about these 12 young men who were lost too soon.
---
Student Conservation Association
The Vallejo Urban Tree Force – Promoting Community Resiliency to Climate Change
California
In the fall of 2020, the Student Conservation Association (SCA) Bay Area Community Conservation Program entered the final year of their three-year Vallejo Urban Tree Force project. The program ran year-round, with a school-year and summer component. Each crew consisted of 10 Corpsmembers and two Crew Leaders. Collectively, these crews planted and maintained 375 trees in under-served communities within the city limits of Vallejo, CA. The trees were planted in coordination with the City of Vallejo Public Works Department and the Greater Vallejo Recreation District. A primary goal of the tree plantings was to reduce greenhouse gas emissions to improve community resiliency in the face of climate change. As the first large-scale tree planting project undertaken by SCA's Bay Area program, Corpsmembers gained knowledge on tree selection, planting, and maintenance. The project also provided Corpsmembers and Crew Leaders with the opportunity to employ an array of different technology platforms and apply them to on-the-ground conservation and resiliency work. Their efforts included using tools like GPS and TreePlotter Inventory Software Suite, and calculating GHG reductions using the California Air Resources Board Greenhouse Gas Quantification Calculator. As a result of SCA's success, a net greenhouse gas reduction of 1,269 metric tons of CO2 was achieved and the program was asked to do an additional large scale, multi-year tree planting project with the City of Vallejo, to be launched in the spring of 2021. In total, 100 local young people from Vallejo received hands-on training and were able to actively participate in building community resiliency.
---
Urban Corps of San Diego County
Community Food Waste Prevention and Rescue Program
California
Discovering a sustainable solution to address hunger and repurpose food waste, the Urban Corps of San Diego County created the Community Food Waste Prevention and Rescue Program. In collaboration with ProduceGood – a non-profit in North San Diego County that works with local farmers who have fallen produce – Corpsmembers help keep fruit out of the landfill and deliver to agencies that provide food resources to local communities. For 30 weeks, Urban Corps sent a youth-led crew one day a week to farms to pick, collect and deliver food to restaurants and/or kitchens to repurpose. Some of the produce was donated directly to food pantries to disperse to local families in need. Additionally, a non-profit called Ocean Kitchen Collaborative received a portion of collected produce to turn the citrus and fruit peels into soups, sauces, and jams in an effort to keep whole pieces of fruit out of the trash and landfill. Through this program, Corpsmembers learned about the challenge of food waste and were able to participate in getting fresh food to those who need it. To date, Urban Corps crews have harvested 73,600 pounds of citrus (approximately 220,800 individual servings) through 30 picking events that assisted over 15,000 people.