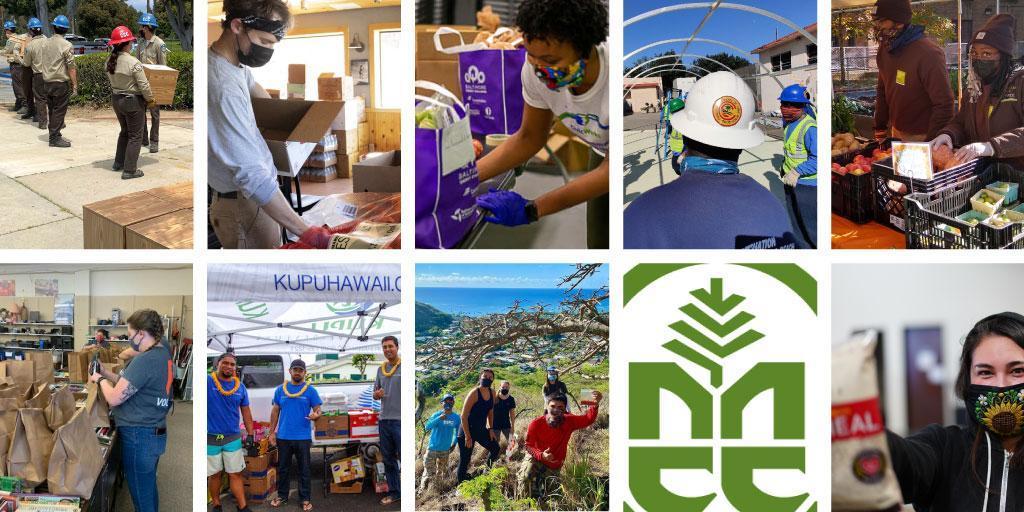 Throughout the COVID-19 pandemic, Service and Conservation Corps across the country have pivoted their project priorities to support community response efforts. During these times, Corps have worked together to share experiences and collaborate on safety protocols in order to continue providing young adults opportunities to serve and learn. We are honoring the critical COVID-19 response work completed by our member Corps with a collective 2021 Project of the Year Award. Scroll below to learn about some of the important ways Corps have helped our country through an unprecedented time in history. Their work will be recognized at The Corps Network 2021 virtual National Conference, March 15 – 18.
---
California Conservation Corps
California
In addition to their work responding to a historic wildfire season, Corpsmembers with the California Conservation Corps also mobilized to support the state's COVID-19 response efforts. With shelter-in-place orders keeping volunteers at home, CCC members have stepped in to support food banks. Crews have helped receive, organize, inventory, pack, and distribute food at food banks throughout California. In the early days of the pandemic, the CCC also served at medical supplies distribution centers, helping the state send PPE and other critical items where they were needed.
In addition, Corpsmembers have supported the state's Emergency Operations Center, helping disinfect surfaces and promote COVID-19 safety measures in order to keep vital emergency response staff safe and healthy. CCC crews also helped the state establish various alternate care facilities. Crews loaded, unloaded, and set up beds and other hospital necessities, expanding the amount of space available to receive potential patients. In total, Corpsmember served 7,908 hours setting up alternative care facilities; 13,282 hours staffing medical supplies distribution warehouses; over 19,000 hours supporting the State Emergency Operations Center (ongoing); and over 53,350 hours across 15 different food bank assignments (ongoing). Through all of this work, Corpsmembers have demonstrated a deep commitment to service.
---
Canyon Country Youth Corps
Utah
Within a matter of days after seven AmeriCorps members arrived for Canyon Country Youth Corps' Crew Leader Development Program, states began issuing stay-at-home orders. Though many of their planned projects with public lands agencies were cancelled or postponed, the Corps decided to continue with the spring season. In the county where they're based, 22 percent of the population lives in poverty and the population density is 1.9 people per square mile. COVID-19 cases were rising quickly, with the Navajo Nation soon experiencing one of the highest per capita outbreaks in the country. There was a clear need and CCYC had the ability to assist.
Collaborating with Bluff Area Mutual Aid (BAMA), AmeriCorps members began packing and delivering food for the 12 Navajo Nation Chapters within San Juan County. In total, Corpsmembers delivered 1,000 boxes to 2,000 individuals, driving 1,300 miles to very remote locations on the Navajo Nation. It is likely that this critical service could not have happened without CCYC's labor, vehicles, and people willing to put in the miles. Though the AmeriCorps members joined the program with a vision of building trails and restoring habitats across Utah's beautiful landscapes, they finished the season citing their service with BAMA as by far the most meaningful and memorable.
---
Civic Works
Maryland
When stay-at-home orders took effect in Maryland, farming and infrastructure work remained essential services. This allowed Civic Works to continue operating, but they needed to pivot and find new ways to engage some of their AmeriCorps members. Collaborating across programs, the Corps stepped up to meet a critical community need. The Corps' Elder Services program typically sends AmeriCorps members out to complete minor home repairs, allowing elderly residents to "age in place." Though they could no longer do repairs, Civic Works recognized that their Elder Services clients were in a high-risk category and might be unable to shop for essentials. With donations and fresh produce from the Corps' urban farm, Civic Works began delivering food and other basics to their homebound clients. The organization was soon fielding hundreds of referrals, ramping up food production to help meet demand. This emergency food distribution project was a unique cross-program collaboration at Civic Works and helped highlight to various partners the often under-recognized challenge of food insecurity in the elderly population.
"The greatest success of this project was that it served to underscore the dynamism of AmeriCorps programs. Our ability to pivot our operations at a moment's notice and then marshal resources and know-how to address a local emergency is indicative of what every Corps across America is capable of."
---
Conservation Corps of Long Beach
California
During these challenging times, Conservation Corps of Long Beach (CCLB) has assisted their community in three main ways. First, at the start of the pandemic, the Corps collaborated with the City of Long Beach's Fire Department, Police Department, and Emergency Operations Center team to erect four triage centers and help assemble beds for an emergency "field hospital" at the Long Beach Convention Center. These efforts helped lead to an increased capacity of over 400 beds at existing local hospitals and an additional 100 beds upon activation of the field hospital. After this work, CCLB partnered with San Jose Conservation Corps, sending Corpsmembers to assist with SJCC's emergency food operations. From the summer through the fall, Corpsmembers helped sort, pack, and distribute food for residents in need. Third, as stay-at-home orders began to lift and outdoor recreational patterns changed, the City of Long Beach saw a dramatic increase in litter and discarded items throughout the city at parks and other outdoor areas. CCLB collaborated with the City to create "strike teams" of Corpsmembers who assisted with this increased need to help maintain safe and healthy green spaces.
Assisting with emergency response efforts was an optional assignment, but there was an overwhelmingly positive response and many Corpsmembers and staff volunteered to participate. The experience of serving the community during a time of need helped the Corps and their partners draw closer together.
---
Conservation Legacy
Based in Colorado
In early May 2020, Conservation Legacy was asked to pilot an AmeriCorps Contact Tracing program. Their Stewards Individual Placement Program was awarded funding to launch a VISTA Summer Associate (VSA) program that became known as the Colorado Containment Response Corps. Facing the urgent need for contact tracers, Conservation Legacy had to scale up quickly. Over the course of three weeks, they hired twelve former Corpsmembers and staff to implement the program and, out of more than 1,100 applicants, recruited 143 VISTA members. The group was diverse, including displaced PeaceCorps members, retirees, college students, stay-at-home parents, and AmeriCorps alums. These members underwent an intense three-week training supported by the Colorado Department of Public Health (CDPHE), then began making contact calls, identifying resources in the regions of their service, and submitting and analyzing data and reports.
As a national service organization that primarily focuses on public lands maintenance, operating a service program focused on public health was completely new for Conservation Legacy. However, they do have experience in disaster response and had help from several partners. The CDPHE provided training; Gary Community Investments (GCI) provided laptops and internet hotspots; Community Resource Center (CRC), a nonprofit based in Colorado, collaborated with Conservation Legacy to support the members. Serving from their own homes, the members made nearly 3,100 calls over the course of the 12-week pilot program. A total of 127 members successfully completed the program. Through this experience, Conservation Legacy developed protocols, training and recruitment materials, and an overall blueprint for how to operate a national service contact tracing program. These plans have been shared so that other national service organizations can implement similar programs. Conservation Legacy continues to support contact tracing projects within the Navajo Nation through their Ancestral Lands program, as well as a nine-month contact tracing project within the Stewards program focused on Colorado and Arizona.
"This position really has impressed upon me how helping/serving is about the people you serve, not about the work you're necessarily doing. I might be sitting in my room wondering if I'm doing enough, but those fifteen people I talked to might be grateful someone called so quickly and was able to help them in whatever way they needed." – Sarah N., VISTA Summer Associate Contact Tracer 
---
Green City Force
New York
Increasing access to fresh, healthy food has been central to Green City Force's mission for years. In 2020, this work evolved and took on new meaning. In conjunction with partners, the Corps operates several farms on properties managed by the New York City Housing Authority. GCF typically distributes produce to residents through farm stands, asking in exchange for a contribution of volunteer time or kitchen scraps (composting material). During the pandemic, GCF began sending produce directly to food pantries, ensuring the food could safely and efficiently reach people beyond their usual base. Across their farms, GCF had their first significant winter/spring harvest, gathering close to 2,000 pounds of vegetables in April and May. AmeriCorps members who started their term in July continued planting and harvesting produce that went directly to pantries throughout the summer. Members additionally supported door-to-door emergency food distribution for seniors and homebound residents. When the Corps eventually reopened their farm stands, they waived their "contribution policy," reducing any barriers to accessing fresh food. When the harvest began to slow in the late fall and winter, the Corps began distributing produce from the Hunts Point Terminal Produce Market. In total, GCF distributed 20,000 pounds of their own produce, 4,500 pounds sourced from the produce market, and an additional 175 bags of food through a December distribution event.
GCF usually only distributes food from June – November, but they are now looking at how to continue an expanded food program, potentially incorporating virtual education and cooking lessons taught by Corpsmembers. They are also looking at ways to incorporate and support local vendors through their farm stands. More than ever, this work deepened Corpsmembers' commitment to not only growing food, but helping address the related social justice, environmental, and health issues in their communities.
---
Heart of Oregon Corps
Oregon
Heart of Oregon's service during COVID-19 demonstrates that Corps can be operationally stable while still pivoting to meet immediate local needs. The community throughout the Confederated Tribes of Warm Springs has been challenged by ongoing water supply issues that are further exacerbated by COVID-19 restrictions, creating a crisis-level lack of access to clean water. In September, HOC AmeriCorps members served alongside volunteers from First Interstate Bank to help build emergency packs to be distributed to residents of Warm Springs. The Corps used their thrift store, which has been closed for safety purposes, as the base of operations. Supported by grant funding and donations from local businesses, the packs included 12 essentials, such as bottled water, hand sanitizer, shampoo, and toothbrushes. The Corps' existing relationship with Warm Springs helped ensure that they created a service project that would be valued by the recipients, was not duplicative, and could be efficiently distributed.
In addition to being a relevant service project meeting a crucial community need, Native American young people represented 14 percent of the Corps' total enrollment, most of whom live in and around Warm Springs. This project had a very personal element for these young people and served to educate others about challenges that affect local tribes. As a result of the project, 150 residents received emergency packs.
---
Kupu
Hawaiʻi
Food Hub COVID-19 Relief Initiative
With the support of partners and generous donations, Kupu reorganized their Culinary Program to meet the increased need for food aid during the pandemic. Through the Culinary Program, young adults work with professional chef instructors, receive behind-the-scenes exposure to culinary professionals and food vendors, and gain hands-on cooking and event management skills. The program typically works exclusively with caterers, but, with events cancelled, they pivoted to
prepare meals five days a week for people in need. Rather than working from a set catering menu, the program adapted to curate meals based on ingredients that were recovered from local restaurants and hotels, or donated from local food companies. Beginning in late March, Kupu served 800 meals per weekday to two Windward Oʻahu communities (Waimānalo and Kahaluʻu). In May, the program expanded to distribute an additional 200 meals per weekday in Waiʻanae. From the end of March through mid-September, Kupu delivered over 85,000 meals to community members across Oʻahu. All of the food was prepared by Corpsmembers at Kupu's Harry and Jeanette Weinberg Hoʻokupu Center in Kewalo Basin.
Due to the pandemic's impact on tourism and hospitality, unemployment skyrocketed in Hawaiʻi. The primary goals of the Kupu Food Hub were not only to feed as many people as possible, but to also create and retain jobs. With the help of community partners, Kupu was able to innovate and confront several challenges at once.
Kupu ʻĀina Corps (KAC)
Hawaiʻi has been one of the states hit hardest by the COVID-19 economic downturn. With more than a decade's experience delivering green jobs training for youth in Hawaiʻi, Kupu responded by establishing the Kupu ʻĀina Corps (KAC): a statewide program funded by the CARES Act that provided green jobs programming for people of all ages whose employment was impacted by the pandemic. Through KAC, Kupu engaged 350 members in temporary employment opportunities in Hawaiʻi's agricultural, conservation, and sustainability industries. KAC members provided much-needed support to 150 sites and organizations, completing critical projects in green sectors across Hawaiʻi.
KAC was new for Kupu in several ways. First was the scale and timeline: they recruited, interviewed, onboarded and placed 300 participants within six weeks of the start of the project. Second, the program supported for-profit organizations, such as farms and recreational businesses. Third, they engaged people of all ages, providing opportunities to recent graduates as well as displaced hotel workers, restaurant staff, teachers and others who saw their employment impacted by COVID-19. Finally, CARES Act funding was brand new for everyone; it took quite a bit of learning and adapting to make the program the success that it was. At the end of the program, participants had earned paychecks for more than 89,000 hours of work and received free training and experience they can apply in their careers. Over 90 percent stayed in the program until the final day, getting its full benefits. Participants collectively earned over 400 certificates, with some also earning college credit. For a program that cost less than $3 million, it's estimated that the returns exceeded $6.5 million. Ecologically, participants treated over 21,700 acres of land.
---
Montana Conservation Corps
Montana
When a shelter-at-home order was implemented across Montana in late March, Montana Conservation Corps (MCC) needed to shut down nearly all activities. They were forced to suspend all 59 Crew Leaders, furloughed 26 field staff, and unfortunately had to let go several valued employees, continuing operations with a core team of just nine people. At this same time, calls to the Governor's COVID-19 response hotline exploded. They were in immediate need for responsible, service-oriented people who could quickly be trained to field phone inquiries about the Governor's policies to mitigate the spread of the virus. MCC worked with the Governor's Office of Community Service to make its AmeriCorps leaders available. Within a couple of days, they had negotiated an agreement to train and deploy eleven AmeriCorps members to log and respond to calls made to the Governor's COVID-19 hotline. The agreement allowed the members to continue receiving a stipend, which helped reduced the financial burden of the shutdown on them. After undergoing training, the members were able to field calls safely from home. This team was an integral part of the state's response and communications system well into April. Over a five-week period, the MCC AmeriCorps members provided assistance to more than 2,200 Montanans.
"We as MCC AmeriCorps Crew Leaders do this work because we love this work. We love service, we love community, and we love what MCC stands for – inspiring individuals, through hands-on conservation service, to be leaders, stewards of the land and engaged citizens who improve their communities. Amidst the COVID-19 pandemic this mission statement has never been more apparent. Service for the sake of service." – Elias Romanoff, MCC AmeriCorps Crew Leader
---
San Jose Conservation Corps + Charter School
California
The pandemic and accompanying economic downturn caused a spike in need for both food aid and emergency shelter. Over the past year, San Jose Conservation Corps + Charter School (SJCC+CS) has adapted and stepped up to assist the community in meeting these needs. With shelter-in-place orders keeping volunteers at home, Second Harvest Food bank needed help packing and distributing food for residents in need. AmeriCorps members and Corps staff have assisted at five food boxing warehouses, serving as the Food Bank's primary workforce in helping provide food to 500,000 people per month since the start of the pandemic. SJCC+CS also brought in young people from other Corps to assist. In the process, Corpsmembers learned new skills and stepped into leadership positions. Many Corpsmembers have been promoted to Crew Leader and some have been hired on as staff.
Second, the Corps has collaborated with partners HomeFirst and LifeMoves to help provide 24/7 staffing at 10 emergency shelters. At just one of these 10 shelters, more than 600 guests have been served since April. Corpsmembers have been given ownership over certain shelter operations, creating new practices around resident meetings and recreational opportunities. They have also expanded into providing services at isolation shelters for residents who test positive for COVID-19. With their hard work, 11 Corpsmembers have been hired as staff by HomeFirst and LifeMove, demonstrating the amazing care and performance of these young adults. Through these challenging times, SJCC+CS has witnessed Corpsmembers thrive in these partnerships. Corpsmembers have been able to learn directly from partner staff and many have been inspired to pursue a career in social work.