At The Corps Network's annual National Conference in Washington, DC, we celebrate the important service Corps provide to communities and young people across the country by honoring Corps who have taken on especially noteworthy endeavors within the past year. Projects of the Year are innovative and show a Corps' ability to work with partner organizations to give Corpsmembers a positive experience and provide the community with meaningful improvements. 
---
This program made possible with support
from the National Park Foundation and AmeriCorps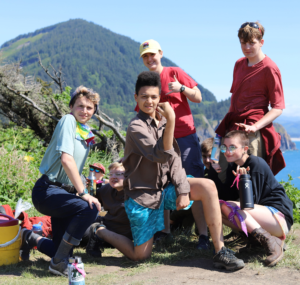 In recent years, as part of an organizational commitment to Diversity, Equity, and Inclusion, Northwest Youth Corps (NYC) has launched several single-identity crews. This includes the Corps' ASL Inclusion program, as well as Native American and all-women crews. NYC's offerings also now include the Rainbow Conservation Crew, a program for LGBTQ youth.
Single-identity crews are designed to create access to a Corps experience for populations that may be underserved in the Corps community. These programs give participants an opportunity to learn and develop skills alongside peers and Crew Leaders with whom they can relate; Corpsmembers can feel supported and empowered in expressing their true selves in a way they might not experience on a "mixed" crew. These programs also help integrate the identities of these members into the larger environmental movement.
Unlike some facets of identity, such as perceived race or ability, people who identify as lesbian, gay, bisexual, transgender or "questioning" are often an invisible demographic. NYC's move to create a single-identity LGBTQ+ crew began when they recognized the need to be much more purposeful in supporting this community. For example, many NYC programs involve tent camping. After surveying NYC alumni who are members of the LGBTQ community, and consulting an attorney in the field, the Corps developed a policy that recognizes the rights of Corpsmembers to use sleeping accommodations that match their identified gender. In order to more fully support LGBTQ Corpsmembers and staff, however, NYC realized the need to accompany this policy with employee training and resources.
In 2016, NYC contacted OUT There Adventures (OTA), an outdoor education organization designed to specifically help meet the needs of LGBTQ young people. OTA Co-Founder Elyse Rylander offered valuable advice and training. In 2017, OTA and NYC partnered to field the first "Rainbow Conservation Crew" with funding from the North Face Explore Fund and Okanogan-Wenatchee National Forest. This program served nine members and two leaders. NYC redoubled their efforts to build a more effective program in 2018, which earned a grant from the National Park Foundation and partnership with Mount Rainier National Park. In 2019, with funding from the National Park Foundation and increased support from project partners, NYC doubled the size of the program from its first year.
During the summer of 2019, NYC fielded two sessions of the Rainbow Crew. During the first four-week session, Crew Leaders led 10 youth in service projects at Lewis and Clark National Historical Park and Olympic National Park. Crewmembers removed invasive plants, cleared a blowdown, and helped create sustainable trails through building check steps, turnpikes, retaining walls, and drainage structures.
During the second five-week session, 10 LGBTQ youth served at Mount Rainier National Park. Here, the crew worked at multiple sites, using various tools to create a safer riverbed crossing, maintain clear pathways to a campground, and complete other projects to make recreation more accessible and assist the park's trails and habitat restoration teams.
In addition to completing projects, Corpsmembers participated in a total of 450 hours of structured education. Each participant had the opportunity to earn at least one full credit in physical education and a quarter credit for Natural Resource Education.
The Rainbow Crew offered more than a career-building experience, however. As NYC says, "it is important to remember that equity means valuing different cultures on their own terms and not merely expecting people to assimilate." The Rainbow Crew provides a space for young people to be themselves, share stories and discuss common challenges. Unfortunately, it is estimated that LGBTQ young people comprise 40 percent of the youth homeless population. Additionally, data suggests LGBTQ youth have a suicide rate four times greater than heterosexual teens. If managed properly, an affinity group like the Rainbow Crew can potentially provide not just a life-changing experience, but life-saving experience. In 2019, the program received applications from across the country, suggesting there is a large audience of LGBTQ youth eager for this type of experience.
"When I joined the first NYC LGBTQ crew at sixteen, I was forever changed by the sense of belonging and support that I felt, for the first time in my life, as a queer person, from queer people," said a Leader-In-Training from session-two of the summer 2019 season. This same young person credits his Rainbow Crew experience for giving him the confidence and skills to be successful on a wilderness crew, and for his new-found desire to be a professional firefighter.
As the parent of one Rainbow Crew participant said, "Y'all are building more than trails and footbridges, y'all are building confidence and strength in our kids who are at highest risk."
As a result of the Rainbow Crew, NYC has been strengthened two-fold. First, members of the Rainbow Crew increase their skills and self-esteem and often later decide to join NYC's traditional programming. Second, NYC's agency partners increasingly look to the Corps to help them connect with underserved communities and provide a warmer welcome to everyone on our public lands.