At The Corps Network's annual National Conference in Washington, DC, we celebrate the important service Corps provide to communities and young people across the country by honoring Corps who have taken on especially noteworthy endeavors within the past year. Projects of the Year are innovative and show a Corps' ability to work with partner organizations to give Corpsmembers a positive experience and provide the community with meaningful improvements. 
---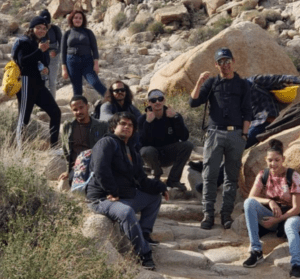 For over a decade, Urban Conservation Corps of the Inland Empire (UCC) has provided opportunities for young people to serve and learn in the national forests and monuments of Southern California. Year after year, however, Spanish-speaking UCC Corpsmembers noticed the same issue: the educational services at these sites were in English and offered by tour guides who were not people of color. Many Corpsmembers saw their own families left out of understanding the environmental and historical significance of these public lands.
Inspired by Corpsmembers' concerns, UCC wanted to address this disparity. Starting in 2018, UCC Corpsmembers began surveying communities of color in San Bernardino and Indio. By mid-2018, hundreds of Latino respondents had reported feeling not included in any environmental conservation agenda. This in spite of how these communities emphasized that they loved the parks and often spent family events outdoors on the public lands their taxes help support.
Activating the community and getting their feedback helped push this issue forward. Many stakeholders stood strong and, by late 2018, the National Forest Foundation stepped in: UCC received funding to pilot Los Naturalistas, a bi-lingual naturalist training and interpretative program.
UCC based the framework for Los Naturalistas after the University of California Naturalist Certification Training Program. It is important to note, however, that the university's training first needed to be translated from English to Spanish. This hadn't been done yet, but that did not deter the UCC Corpsmembers.
For over four months, 12 UCC Corpsmembers met every Saturday for training under the guidance of a biology instructor from the University of California Division of Agriculture and Natural Resources. Also assisting was Gaby Nunez, a bi-lingual, Spanish-speaking staff member from UCC.
The trainings were intense: the program was designed for Corpsmembers to be able to lead stewardship activities and educational tours in both English and Spanish. Recognizing that Corpsmembers learn in different ways, the trainings included a combination of readings, lectures, field trips, videos, and one-on-one tutoring. All of the trainers were Spanish-speakers who had cultural context for the training. Even with the rigorous curriculum and time commitment, all 12 Corpsmembers earned their naturalist certifications and also received college credit.
From there, Los Naturalistas started changing the narrative in environmental education and interpretative services at the forests and monuments of Southern California. Working in small teams, Los Naturalistas can be found offering tours in Spanish, with a Latino cultural twist.
Of the 12 original Corpsmembers, one is studying botany at the University of Portland and also employed as a bilingual naturalist; one went to work for an environmental consulting firm; three pursued various other environmental jobs, including in wildland firefighting; two remained at UCC and continue to help with the program; the remaining five are all employed outside of UCC.
Los Naturalistas filled a void in the availability of environmental literacy services for the Spanish-speaking population of San Bernardino and Riverside Counties. Thousands of Spanish-speaking community members who visit the San Bernardino National Forest will not be excluded from educational opportunities. In turn, the community sees UCC Corpsmembers as champions and trail blazers in environmental justice and addressing access issues.
What really made Los Naturalistas a success was the community support and can-do attitude of the Corpsmembers. The Corpsmembers were empowered to gain community buy-in and be part of the solution. The young people were listened to and knew they could make a difference.