Every year, at The Corps Network's National Conference in Washington, DC, we honor a select group of exceptional Corpsmembers from our member Service and Conservation Corps. These young men and women have exceeded the expectations of their Corps by exhibiting outstanding leadership skills and demonstrating an earnest commitment to service and civic engagement. The Corpsmembers of the Year are role models; their personal stories and accomplishments are an inspiration to Corpsmembers nationwide.
---
AmeriCorps Member, Education Award Program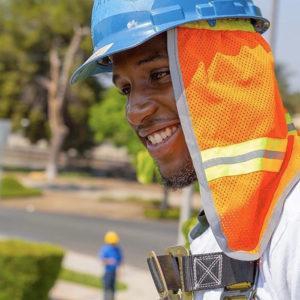 "While at the Conservation Corps of Long Beach, Ryan Shelton was always considered a leader among his peers."
Ryan Shelton is the kind of person every Crew Leader wants on their team. Supervisors argued over who could take Ryan on their project not just because he is a hard worker, but because he has the respect of his peers.
The work at Conservation Corps of Long Beach (CCLB) is not always easy. Corpsmembers like Ryan might serve on a variety of demanding projects, including digging in the earth to plant new trees, build irrigation systems, construct trails, or install drought-tolerant landscaping. Ryan embraced every new project, never complaining about the assignments. At the end of the day, he was always the dirtiest and sweatiest person on the crew. He set an example and inspired other Corpsmembers to work hard, too.
"I've matured from my Corps experience," said Ryan. "My professionalism and sheer work endurance and tenacity has improved greatly. The work was sometimes brutal and backbreaking, but it built me as a man, pushed me, and taught me that I can handle the work. It taught me to have a positive mindset towards it."
For Ryan, CCLB and AmeriCorps offered a second chance. He first learned about the Corps in prison while taking a class about how to navigate the workforce with a record. Ryan had a turbulent adolescence, spending time in unstructured foster care. He became involved in criminal activity.
Upon completing his prison sentence, Ryan took advice he learned in his "Back on Track" class and sought employment through temp agencies. This, however, proved unsatisfying. Month to month, Ryan found himself moving from one temporary warehouse gig to the next. These short-term jobs weren't helping Ryan build a résumé, but, with a felony on his record, finding an alternative was challenging. This is when Ryan decided to give the Corps a try.
"I just wanted to make an honest living, stay out of trouble, and feel like I was going somewhere," said Ryan.
This determination was evident. He was unanimously recommended for a "Red Hat" position by every Staff Supervisor. This designation indicates a Corpsmember who has displayed leadership abilities and can be trusted to step in and supervise a crew in the absence of a staff member.
It was while serving as a Red Hat that Ryan, always eager to learn, volunteered to participate in a "Basic Solar Installation Program" through a partnership between CCLB and Grid Alternatives. Grid Alternatives is an industry leader in installing solar systems in low-income communities. Through the 13-month fellowship, Ryan learned the ins and outs of the solar industry while installing solar panels on homes in Compton and Long Beach. Ryan decided that solar installation is what he wanted to do for a career.
Ryan currently works full-time for Xero Solar, a Tesla Certified Partner Installer. He is an apprentice electrician and installs Tesla Powerwall batteries and Tesla EV Chargers. In addition to his work responsibilities, Ryan is pursuing an AA degree in Electrical Construction Technology at Los Angeles Trade Technical College. He plans to complete school in the spring of 2020 and become a licensed electrician. Another goal for the near future is to save money so he and his wife can buy a house.
Ryan is an excellent public speaker and, in his spare time, has represented the Corps at numerous events.
"I've learned that although I was motivated to work and succeed, I needed support beyond what I could just do myself," said Ryan. "Now I love helping other youth make the right decisions and succeed."
Ryan on the Power of Community:
"I find strength in the community of young black men working together, doing something positive, and learning new skills to elevate us and our families."