Every year, at The Corps Network's National Conference in Washington, DC, we honor a select group of exceptional Corpsmembers from our member Service and Conservation Corps. These young men and women have exceeded the expectations of their Corps by exhibiting outstanding leadership skills and demonstrating an earnest commitment to service and civic engagement. The Corpsmembers of the Year are role models; their personal stories and accomplishments are an inspiration to Corpsmembers nationwide.
---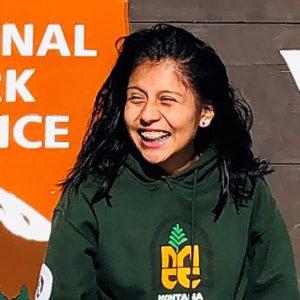 "Rosy's resiliency and optimistic attitude became the glue that held her crew together. She is always bubbly and cracking jokes to lighten the mood after a long, hard day of work."
Rosalinda "Rosy" Chavez dedicated her summer to serving with Montana Conservation Corps' 12-week Piikani Lands Crew – a crew serving youth from the Blackfeet Nation. A couple weeks into her service, however, Rosy's Crew Leaders noticed that she tended to crouch down to dig new trail. Little did they know what Rosy had recently experienced.
Prior to joining the Corps, Rosy was a senior at Buffalo Hide Academy, an alternative school on the Blackfeet Indian Reservation. While finishing her last semester of school, Rosy was involved in a bad car accident and had to be life-flighted to Seattle. Rosy's injuries left doctors concerned she would never walk again. She spent several months in different hospitals, using a wheelchair for mobility, but Rosy persevered and overcame the doubts of so many around her. Two weeks after regaining the strength and mobility to walk on her own, Rosy interviewed to join MCC.
As a Corpsmember with the Piikani Lands Crew, Rosy found herself hiking up to 10 miles a day, carrying equipment and completing physically demanding projects. She and her crew helped construct and maintain three miles of trail; plant, prune, or remove 730 trees; install 50 trail drainage structures; and build beaver mimicry dams to encourage the growth of the beaver population and improve the water quality on the reservation. She also participated in a citizen science study in Glacier National Park, surveying loons to protect this species.
"I have learned what makes a team is to work as one, be encouraging, and to never doubt yourself," said Rosy. "I learned that working together gets things done and bonding is in the process….I learned to try new things, to not be afraid of judgement, to take risks, to be proud of making change for my community, and to overcome a new challenge every day."
The project work was hard, but Rosy never gave up. She had perfect attendance and always carried herself with pride. Until prompted by her Crew Leader, she had never mentioned the life-altering accident. She'd undergone surgery to rebuild her hips, and so she simply hiked a little slower than the rest of the crew. She patiently modified the way she used her trail tools to complete tasks.
"Rosy cared deeply for her fellow crew members, and took the time to get to know each one of her peers," said Jono McKinney, CEO of Montana Conservation Corps. "Her positivity and enthusiasm radiated to everyone else. Everyone felt welcomed by Rosy and she was great at getting people to open up."
In part due to her accident, Rosy has a strong desire to become a trauma therapist. She is currently pursuing her AA degree in Psychology from Blackfeet Community College. After obtaining her associates degree, she plans to further her education at The University of Montana in Missoula. Rosy plans to use her education to leverage the voice of her Native American community.
Rosy on the Power of Community:
"I personally find strength and connection with my community through the collective biography and history I have with them. We as a community show support and encouragement to one another if needed. I am thankful for my people on the Blackfeet Reservation; it is a community with a lot of very welcoming and giving people. My people have taught me respect, generosity, and how to gain leadership. Now, in our generation, every day the young adults and youth show in different ways that we can do the unthinkable if we believe in ourselves and don't give up."