Every year, at The Corps Network's National Conference in Washington, DC, we honor a select group of exceptional Corpsmembers from our member Service and Conservation Corps. These young men and women have exceeded the expectations of their Corps by exhibiting outstanding leadership skills and demonstrating an earnest commitment to service and civic engagement. The Corpsmembers of the Year are role models; their personal stories and accomplishments are an inspiration to Corpsmembers nationwide.
---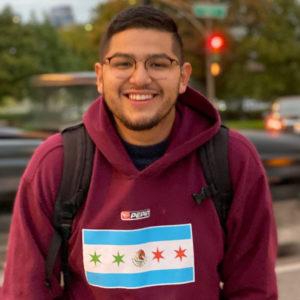 "Luis Cabrales has risen up through the ranks in SCA's Chicago Community programs to become a great leader within his local community as well as within the larger conservation and Corps community in the Chicago region."
Luis Cabrales first discovered his interest in conservation work during a field trip with his Environmental Studies class to Whistler Woods, a local forest preserve in Chicago. Along with his peers, Luis participated in a volunteer workday performing restoration projects. Luis always had an interest in the natural world and loved being outdoors, but something clicked that day. It was during this experience that he learned he could continue to serve outdoors through the Student Conservation Association (SCA).
Luis jumped at this opportunity. His first position, in 2015, was with the SCA-Friends of the Forest Preserves summer team called the Chicago Conservation Leadership Corps. Luis and his team removed over 1,800 square feet of invasive species and laid 112 feet of new boardwalk. The following summer, in 2016, Luis held an Assistant Crew Leader position with a Friends of the Forest Preserves program called the Forest Preserve Experience. Through this opportunity, Luis helped leading high school-aged students in invasive species removal, environmental education and recreation opportunities.
Luis returned to the SCA during the summer of 2017 as an Apprentice Crew Leader at Eggers Woods Forest Preserve. In this opportunity, he assisted his Crew Leaders with pre-program preparations and project logistics, helped implement an environmental education curriculum and team building activities, and motivated his crew. Together, Luis's team laid 78 feet of elevated trail, and cleared 2.7 acres of invasive species.
"Through Luis' experiences in the Conservation Corps program, he grew in his personal development by seeking out further leadership [roles] and responsibilities," said Daiva Gylys, SCA Chicago Program Manager. "Luis successfully supported his teams and his leaders by encouraging and motivating others and providing helpful work and life advice."
In addition to his studies as a full-time student at the University of Illinois at Chicago, Luis recently completed a term with SCA's weekend Tree Planting team. With this program, Luis took an unofficial leadership role in helping to acclimate new members to hands-on conservation work.
Outside of SCA, Luis is very active in Chicago's broader conservation community. Partnering with other local organizations, Luis helps facilitate and organize community bike rides, volunteer workdays, and youth group meetings.
"Working with a Conservation Corps allowed me to further develop my leadership skills and be a leader in different aspects of my life," said Luis.
Luis will graduate in May 2020 with a bachelor's degree in Integrated Health Sciences with a minor in Sustainable Cities. He is currently in the process of establishing a 501(c)(3) non-profit called Southeast Youth Alliance. Born out of a vision among Luis and his friends, this grassroots organization is designed to engage youth from the Southeast side of Chicago in helping change their community. After graduation, Luis plans to continue his work in the environment and serve as a Crew Leader with SCA.
Luis on the Power of Community:
"I find power in being proud of who I am; I always strive to represent myself and my Latino community wherever I go…The main reason why I do what I do is to bring more representation of Latinx folks to the conservation community. I want younger Latinx kids to feel empowered in the fact that they can work in nature, be paid for it, and contribute to something bigger than themselves."