Every year, at The Corps Network's National Conference in Washington, DC, we honor a select group of exceptional Corpsmembers from our member Service and Conservation Corps. These young men and women have exceeded the expectations of their Corps by exhibiting outstanding leadership skills and demonstrating an earnest commitment to service and civic engagement. The Corpsmembers of the Year are role models; their personal stories and accomplishments are an inspiration to Corpsmembers nationwide.
---
AmeriCorps Member, The Corps Network Opportunity Youth Service Initiative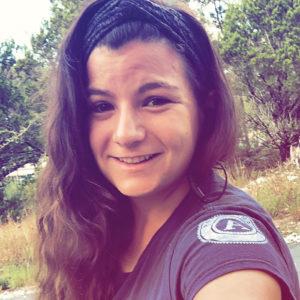 "Alexa not only serves our community, but her team as well. She is constantly encouraging crew members that they are doing great and to keep working, even when they are faced with the toughest or most tedious tasks. She will clap her hands together, smile big, and say 'We can do this.'"
With her can-do attitude and drive, Alexandria Hansen has established herself as a valuable AmeriCorps member at American YouthWorks (AYW) in Austin, TX. As the only Deaf member currently serving, Alexa is creating history at AYW.
"Alexa is one of the hardest working people on the crew," said Britni Trustman, Grants and Complicance Manager at American YouthWorks. "She has an impressive speed, made even more impressive by the accuracy of her work. She is always at the top of any scaffold, at the top of her game, and with a clear top priority: to get things done."
Prior to joining AYW, Alexa worked several odd jobs and took various courses, searching to reclaim her identity. At 18, Alexa left home and started college with dreams of becoming a scientist. These dreams were diminished, however, by school administrators who seemed not to care about supporting a student from the Deaf community. With her confidence depleted, Alexa sought a fresh start in Austin. Here, Alexa's outlook began to brighten, but there was something missing. She knew she wanted more out of life. On her journey to find her purpose, Alexa stumbled upon AmeriCorps.
"It was an opportunity that I had no idea that would absolutely change my life for the better," said Alexa. "It was something I have been looking for my entire life. An opportunity to serve communities, my country and possibly the world. It felt like a huge calling to help and truly make a difference."
Alexa comes from a military family; both her parents served in the Marine Corps. Though being Deaf denied her the opportunity to follow in her family's footsteps, joining AmeriCorps offered Alexa the chance to feed her passion to serve.
Since joining AYW in May 2019, Alexa has served with the Corps' Casa Verde Builders team. Her skill and leadership abilities were quickly apparently; she earned the role of Crew Leader within the first two months, making her the only female Crew Leader in the program.
Alexa has worked on several projects, including building tiny homes at Mobile Loaves & Fishes, a community to house chronically homeless individuals. Alexa assists residents in the village, providing repairs and maintenance. In addition to her project responsibilities, Alexa began teaching an American Sign Language class at American YouthWorks, bringing together members from all corners of the organization to learn about Deaf culture.
"Every day, Alexa redefines how people on her team, at AYW, and in the communities they serve understand Deafness. She shows everyone that Deaf people can do anything a hearing person can do."
Upon completing her term with AYW, Alexa plans to move to Washington D.C. to continue serving as an AmeriCorps member and as a Crew Leader for Habitat for Humanity. Here she plans to learn more about construction in urban development. After her term with Habitat for Humanity, she plans to join the Federal Emergency Management Agency (FEMA) Corps to train and attend deployment assignments. Alexa's goal is to one day work full-time for FEMA and part-time role as a nurse or paramedic in a hospital. Alexa has found her purpose is to serve.
Alexa on the Power of Community:
"I have always been a part of Deaf community since I was first diagnosed as Deaf at the age of six. As a community, we work together to provide resources and build a Deaf Ecosystem. [We] support Deaf individuals and community by investing in education, rights, businesses, networking, programs, and events. That is the essence of supporting and strengthening the community for past, current, and future generations."