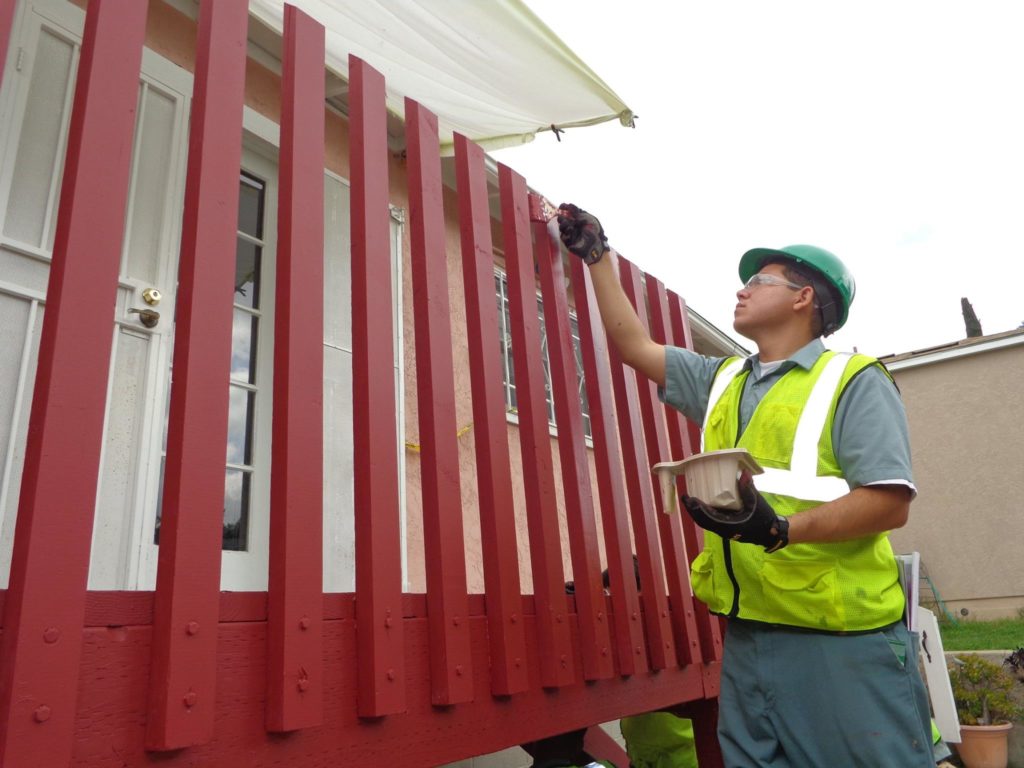 At The Corps Network's annual National Conference in Washington, DC, we celebrate the important service Corps provide to communities and young people across the country by honoring Corps who have taken on especially noteworthy endeavors within the past year. Projects of the Year are innovative and show a Corps' ability to work with partner organizations to give Corpsmembers a positive experience and provide the community with meaningful improvements. 
---
Urban Corps of San Diego County's Construction Apprenticeship Readiness Program (CARP) provides young adults with the support to overcome past challenges and succeed in construction-related apprenticeships.
CARP is specifically designed for young adults ages 18 – 25 who have not completed high school and who may face numerous barriers to employment. These barriers could include a lack of reliable transportation, childcare responsibilities, homelessness, or previous gang or court-involvement. Corpsmembers in CARP receive specialized case-management and "wrap around" support services, such as access to day care or transportation assistance. They also attend classes towards completing their high school requirements, and undergo comprehensive training to prepare them for success in a building trades apprenticeship.
Urban Corps is one of only a handful of sites across the country that is licensed to teach the Multi-Craft Core Curriculum, or MC3. This standardized 120-hour curriculum provides an educational foundation to help students choose and succeed in a construction-related apprenticeship. In addition to completing the MC3, Corpsmembers in CARP earn their OSHA-10 certification and undergo training in green building technologies, fork-lift operation, and CPR/First Aid.
In addition to classroom learning, a key component of CARP is that Corpsmembers also gain paid hands-on construction experience through community service projects. Among other projects, the 2018 Corpsmembers repaired and replaced wood siding at eight City Hall buildings; replaced a concrete pathway at a community garden; built or repaired bridges, ramps, boardwalks and a pavilion at a local park; installed doors and garage doors at various public buildings; and helped make infrastructure improvements at a Boys & Girls Club location.
An important element of CARP is Urban Corps' collaboration with their Industry Advisory Panel (IAP). This panel includes representatives from the Division of Apprenticeship Standards; the Green Building Counsel; Local Iron Workers 229; the International Brotherhood of Electrical Workers (IBEW); San Diego Community College; and the carpenters apprenticeship program. The IAP also includes representation from the San Diego Building & Construction Trades Council, which represents 22 local unions. Through working with IAP partners, Urban Corps stays abreast of industry trends and works to ensure they are meeting the needs of their Corpsmembers as well as the needs of employers.
The IAP representatives are an important element in helping Corpsmembers find job and apprenticeship placements after undergoing the MC3 curriculum, but are also helpful mentors and instructors. IAP members – including carpenters, pipefitters, electricians, and ironworkers – donated over 50 hours of volunteer time to CARP.
A young person who successfully completes MC3 is a highly competitive candidate for a building trades apprenticeship, which in turn is a pathway to a fulfilling and well-paying union job. Though CARP offers a pathway to career success, it is not for everyone. In addition to having good grades, strong attendance, and staff recommendations, Corpsmembers must interview for the program and demonstrate their commitment. Throughout 2018, two cohorts completed the program for a total of 16 graduates.
Through local partnerships, nine Corpsmembers were placed in state-accredited apprenticeships; two are enrolled in San Diego City College with full sponsorships; two have gained employment in the construction industry; and the remaining members are employed in construction-related industries.
CARP has helped strengthen Urban Corps' resiliency by helping the organization develop deeper and more numerous relationships with various community partners. The program has also contributed to the resiliency of the city of San Diego by providing needed infrastructure improvements to public facilities. Most importantly, however, CARP helps Corpsmembers build personal and professional resiliency by giving them a chance to explore their talents and take the next step towards a meaningful career.