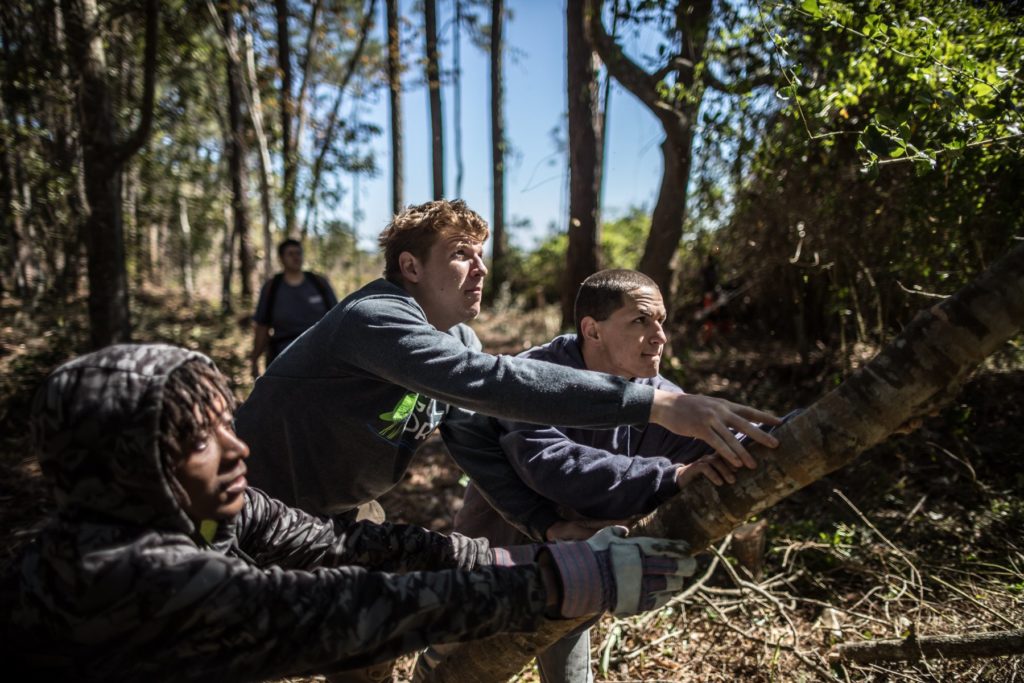 At The Corps Network's annual National Conference in Washington, DC, we celebrate the important service Corps provide to communities and young people across the country by honoring Corps who have taken on especially noteworthy endeavors within the past year. Projects of the Year are innovative and show a Corps' ability to work with partner organizations to give Corpsmembers a positive experience and provide the community with meaningful improvements. 
---
On April 20, 2010, a massive explosion destroyed the Deepwater Horizon oil rig, killing 11 people and sending 4.9 million barrels of oil into the Gulf of Mexico. By the time the well was sealed in September, Deepwater Horizon had become the largest accidental oil spill in history, causing severe damage to coastal ecosystems and, in turn, the fishing and tourism industries on which many coastal communities depend.
To address ecological and economic effects of this disaster, and to help build coastal environments and neighborhoods that are more resilient to future natural and manmade disasters, several Conservation Corps came together. With a grant from the National Oceanic and Atmospheric Administration (NOAA), made possible with funding from the RESTORE Council, GulfCorps was officially established in August 2017. GulfCorps is a collaboration of The Nature Conservancy, the Student Conservation Association (SCA), American Youthworks, Limitless Vistas, Inc., CLIMB Conservation Corps, and Conservation Corps of the Forgotten Coast. Together, these organizations are engaging local young adults in resource management projects across the five-state area of Texas, Louisiana, Mississippi, Alabama and Florida.
The structure of GulfCorps is such that The Nature Conservancy provides overall management, including coordinating the distribution of funds; identifying appropriate projects; helping foster relationships with project partners at such agencies as the U.S. Forest Service and U.S. Fish and Wildlife Service; and helping organize certification trainings for Corpsmembers. The Corps oversee recruitment and Corpsmember development, and handle day-to-day project logistics.
In 2018, GulfCorps launched one crew in each of the five states along the Gulf of the Mexico. The goal is to have three crews in each state by the third year of the grant. During the first program year, which ran from January – October 2018, the GulfCorps partner organizations collectively recruited and trained 50 Corpsmembers. These young adults completed over 37,600 hours of service, performing a range of conservation and restoration projects on local, state and federal lands and waters. These projects included mapping and treating invasive species, planting native species, constructing living shorelines, removing fire fuels, and constructing and maintaining trails. Corpsmembers in Mississippi and Florida also participated in the Hurricane Michael recovery process, helping remove trees from buildings, distributing donated supplies, and checking on vulnerable residents.
In addition to gaining practical field experience through their service, GulfCorps participants received over 8,700 hours of training in year-one. Among other topics, Corpsmembers learned about reforestation, coastal ecosystems, disaster readiness, and endangered species protection. They earned marketable credentials for the growing restoration and resiliency economy, including herbicide applicator licenses; the S-212 wildland fire chainsaw certification; NCCER Construction Safety certification; OSHA 10 Construction Safety certification; and the FEMA Community Emergency Response Team certification. Corpsmembers also completed trainings in prescribed fire, wilderness first aid, CPR, and various shoreline conservation techniques. At the beginning of each cohort, Corpsmembers from across all five partner Corps came together for training and orientation, giving them and Corps staff the opportunity to meet peers from different states.
All GulfCorps projects are designed to not just repair damaged habitats, but directly improve the environmental resilience of the five Gulf states. These projects help strengthen coastlines, reduce combustible materials on public lands, manage surface water flow, and maintain the natural food chain.
Beyond environmental benefits, GulfCorps assists coastal communities by providing local young adults transferable job skills, work experience, a living stipend, and the opportunity to network with conservation professionals. Many GulfCorps participants are also AmeriCorps members, earning an Education Award at the end of their service term. Additionally, GulfCorps has helped build resiliency by fostering relationships and partnerships across organizations and agencies that had never worked together before. For example, GulfCorps has created opportunities for participating Corps to collaborate on additional projects, including the development of a multi-state Disaster Corps Program.
Among other year-one accomplishments, GulfCorps projects directly impacted 580 acres of land and state water-bottoms, exceeding targets by 866%. With plans to field additional Corpsmembers in 2019 and 2020, the impact of this program will continue to grow. GulfCorps is an excellent example of cross-Corps collaboration and pooling knowledge towards the common goal of building more resilient habitats and communities.