Every year, at The Corps Network's National Conference in Washington, DC, we honor a select group of exceptional Corpsmembers from our member Service and Conservation Corps. These young men and women have exceeded the expectations of their Corps by exhibiting outstanding leadership skills and demonstrating an earnest commitment to service and civic engagement. The Corpsmembers of the Year are role models; their personal stories and accomplishments are an inspiration to Corpsmembers nationwide.
---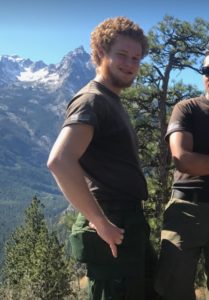 "Levi is an amazing individual with an infectious attitude and an even bigger heart. As a member of the fire crew, at times, he literally gave fellow crew members the shirt off his back."
Levi White is a hard worker, known for always putting the needs of others before his own. Throughout high school, he was the primary provider for himself and his mother. He worked two jobs, earning enough for a comfortable apartment. He also could afford a car, driving to work despite not having a license. When his car broke down, Levi walked 24 miles every day to get between home and both positions. Though he tried to make it work, this cycle was not sustainable; Levi lost one job and quit the other position for fear of letting down the man who gave him the opportunity. He and his mother ended up finding a place to live in a friend's garage. It was at this point that Levi made the decision to enroll at Trapper Creek Job Corps.
Job Corps offered the opportunity for a fresh start and Levi was motivated to leverage every resource the program offered. He enrolled in the Natural Resources Training Program, earning his Red Card as a wildland Firefighter Type 2 (FFT2). He became a member of the Trapper Creek Fire Crew and a member of the Trapper Creek Trails Crew.
Levi also quickly found his footing as a student leader. On campus, he served as a student guide and helped ensure newly enrolled students had a support system to navigate the program. In addition to leading by example among his peers, Levi served as a role model to a younger generation by teaching conflict management and communication skills to middle school students through the Center's Advanced Leadership program, or SUMMIT.
Recognized for his professionalism and enthusiasm, Levi was also frequently selected to give campus tours, including to several notable guests, such as U.S. Senators Jon Tester and Steve Daines. Levi has also shared his story in front of regional Forest Service leadership and the Ravalli County Commissioners.
During his time at Trapper Creek, Levi was name-requested to serve on every crew or project he ever worked on. Whether it was a local fire district or a local rancher needing help, Levi was the person they wanted. As a member of the fire crew, at times he literally gave fellow crewmembers the shirt off his back; he wanted to make sure his peers felt as if they were part of a family.
At one point during his term at Trapper Creek, a motivational speaker came to campus and asked students to describe what they wanted for their futures. While most students spoke of opening a business or landing an apprenticeship, Levi said he wanted "to inspire others to greatness." Roughly halfway through his training at Trapper Creek, he decided the best avenue to become that person was to graduate and enter advanced training at Grafton Job Corps Center in Massachusetts, where he could be certified as Human Services Worker
Ultimately, Levi hopes to earn degrees in sociology and political science. He wants to one day make big chances on the macro-level, but first he wants to learn more about the issues in our country and make a direct impact on people by spending time working at rehab centers, corrections facilities, or homeless shelters. As Levi says, "Sometimes all people need is a chance to shine, and I want to make sure everybody gets a chance like I have."
"I believe that the heart of resilience lies in adaptability. A resilient person will adjust their approach and methodology to fit the situation," said Levi, "Against all odds, one who is resilient will take the resources they have and make the most of them."