Every year, at The Corps Network's National Conference in Washington, DC, we honor a select group of exceptional Corpsmembers from our member Service and Conservation Corps. These young men and women have exceeded the expectations of their Corps by exhibiting outstanding leadership skills and demonstrating an earnest commitment to service and civic engagement. The Corpsmembers of the Year are role models; their personal stories and accomplishments are an inspiration to Corpsmembers nationwide.
---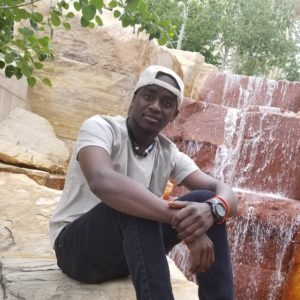 "Job Corps is sometimes called a 'program of opportunity' and Abdusalam is an exemplar of this motto. Job Corps merely allowed him to shine and hone the intelligence and determination that he already possessed… Abdusalam continues to be the first to serve, the most eager to learn, and the most committed to putting his talents and training to work for the greater good."
At age 24, Abdusalam's Ibrahim's life experiences have made him mature beyond his years.  After his village in Sudan was invaded, Abdusalam and his family made their way to a refugee camp in Chad. When Chad was no longer safe, they moved to Ghana. While his family chose to remain in Africa, Abdusalam then decided to immigrate to the United States. In his words, "America is the land of opportunity. There I will no longer have to worry about war and killing, and theft."
Abdusalam went to live with his uncle in Salt Lake City, UT. He enrolled in the Clearfield Job Corps Center where he earned his high school diploma and a vocational certificate in auto mechanics. Unable to purchase tools to work as an auto mechanic, however, he took a job as a security guard and later found a higher paying position at a factory. At this time, a friend told Abdusalam about the firefighting program at Weber Basin Job Corps Civilian Conservation Center.
Abdusalam entered Weber Basin Job Corps with a basic command of English, but he completed English as a Second Language (ESL), which allowed him to excel in the Office Administration trade, which has a required "Business English" component. Recognizing Abdusalam's skills, his fellow students sought his guidance when their teacher was not available. Abdusalam honed his skills so much that he was selected as President of the Office Administration trade.
In his role as President, Abdusalam was responsible for delegating clean-up assignments, always doing his part to pitch in and help. He also modeled this behavior in his dormitory, demonstrating the superb interpersonal skills it takes to be a leader and mitigate problems within his peer group.
Abdusalam gravitated to and excelled at wildland firefighting. He was dispatched on three 14-day wildland fire assignments, digging lines on fires, running hose, and swamping saw-downed trees. He was repeatedly dispatched because the crews he served on appreciated his motivation, tireless enthusiasm, willingness to learn, and strong work ethic.
Abdusalam graduated this September from Weber Basin Job Corps with a career technical training certificate in Office Administration, as well as certification as a wildland Firefighter Type 2 (FFT2). Based on his academic and career training success at Weber Basin Job Corps, he was accepted into the rigorous Schenck Job Corps Advanced Wildland Fire Management Program. Following his dream for a career in wildland firefighting, he is currently completing a suite of National Wildfire Coordinating Group (NWCG) classes, in addition to numerous formal and informal training sessions. Next January, he will begin completing the field operational period with the Davidson River Initial Attack Crew. Already, his advanced fire management instructors have noticed Abdusalam's positive outlook and how he does not allow minor setbacks to derail him from his goals.
After graduating from Schenck, Abdusalam hopes to work as a hotshot firefighter and eventually work on a fire engine. His goal is to one day bring his family to the United States. In the future, he also hopes to volunteer at an immigration center to help other newcomers to America.
"A resilient person is someone who finds the strength to move on with their life, face challenges, and not get stuck in the past. You remember where you came from and help people who need your help as you move forward in life," said Abdusalam. "If you stand on your own two feet and work hard you can accomplish a lot. It all depends upon YOU! If you follow the right way and do the right thing, you will be more successful."