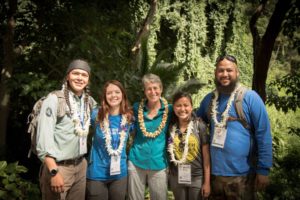 Secretary of the Interior Sally Jewell (Center) with, from left to right, Corpsmembers from Arizona Conservation Corps, the Student Conservation Association, Earthcorps and Kupu
The International Union for the Conservation of Nature (IUCN) is recognized as the oldest and largest environmental organization. The IUCN World Conservation Congress is held every four years with the goal of bringing together conservation professionals from across the world to discuss how we engage all parts of society in managing our natural environment.
The 2016 IUCN World Conservation Congress – themed "Planet at the Crossroads" – was the first ever to be hosted in the United States. Over the course of the 10-day event (September 1st – 10th), over 9,000 delegates from 192 countries came to Hawaii to specifically examine the threat of climate change. As leader of Hawaii's Host Committee K-12 Working Group, Kupu played a significant role in planning and implementing the Congress.
The 2016 Congress was significant in that, spearheaded by Kupu, it was the first to include programming specifically for youth. Under Kupu's leadership, the K-12 Working Group developed meaningful programs and experiences to engage youth attendees from across the world. Nearly 30 local, national and international partners collaborated to create opportunities that would help youth 1) learn about conservation issues, 2) develop a conservation mindset, and 3) feel involved in decision-making and discussions around climate change issues.
Ten youth-specific events were held throughout the ten days of the conference. With Kupu's guidance, Corpsmembers from Hawaii, New York, Arizona and the Philippines took leadership roles at these events, gaining experience in public speaking and networking. In total, over 1,500 diverse youth from more than 20 countries were influenced by statewide initiatives connected with the Congress.
Some of the youth-specific events included: He Puko'a Kani 'Aina – Biocultural Conservation Stories from Pacific Island Youth (200 participants); a youth-led Films and Media session; and a Youth Symposium (165 participants). There was also a Students' Day, which brought over 1,000 middle and high school students to the Hawaii Convention Center to learn from conservation professionals and develop plans for how to encourage their classmates and communities to connect with nature and live sustainably.   
Service was also a major aspect of the Congress. At six different sites on Oahu and Hawaii Island, youth and adult attendees of the Congress engaged in pulling invasive species, planting native species and restoring traditional fishponds and lo'i (taro patches).
Engaging youth at the Congress aligns with Kupu's mission "to empower youth to serve their communities through character-building, service-learning, and environmental stewardship opportunities." Kupu's prominent involvement in the Congress was an opportunity to showcase the Corps model and hear from international communities eager to launch similar programs in their own countries. The success of the conservation movement depends on building these cross-sector, international relationships.  
The youth programming developed for the 2016 IUCN World Conservation Congress can be used as a template for youth engagement efforts at future IUCN Congresses. In Hawaii, Kupu has ensured the educational efforts of the Congress will continue through the Hawaii Youth Sustainability Challenge. Building on the momentum of the Congress, Kupu will engage Hawaii schools (pre-12th grade) through The Pacific Resiliency Leaders Fellowship Program and The Sustainability Initiatives VISTA program, encouraging students to put into action conservation solutions for their schools and communities.