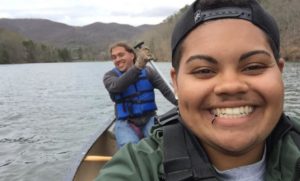 Shay Wilson was a recent college graduate working seven days a week at a French restaurant in Louisiana. Her student loan payments were starting soon and she already struggled to pay her rent and bills. Needing to get out of her current financial situation and wanting a break from the monotony of daily restaurant work, Shay took the advice of her mother and applied to Virginia Service and Conservation Corps (VSCC).
"I actually didn't know what AmeriCorps was back then, but my mom had sent me an email one day with the application and information," said Shay. "…I wanted to experience different things or maybe find a new career path, but all I knew was AmeriCorps could do that for me."
Shay joined VSCC's inaugural term in the fall of 2014. Although she started with little experience in outdoor work, she did not let this slow her down. During her first year, Shay completed Virginia State Parks interpretive training, as well as basic training in wildland firefighting, trail construction and chainsaw operation.
Unfortunately, an injury sidelined Shay from participating in some of the Corps' projects, but she didn't just sit back and watch her fellow Corpsmembers work. She actively sought out other ways she could contribute to the program, taking on an unofficial role as her crew's "Public Relations Officer." Shay contributed numerous blog posts, videos and photos to Virginia State Parks' collections. Even after she got back to field work, Shay continued these efforts, producing a particularly impressive three-part blog series on the American Chestnut tree.
Shay signed on for a second AmeriCorps term with VSCC, taking an individual placement position at the Breaks Interstate Park in Southwest Virginia. During this term, she took on a role monitoring the park's social media accounts. In just one month, Shay increased the park's Facebook reach by over 1,000 percent; several of her posts have reached over 30,000 people. Within four months, she had helped the page gain 4,000 new likes.
During this second year, Shay served as a mentor to two younger AmeriCorps members placed at the park. Her work ethic inspired them; even when she wasn't scheduled for regular service hours, Shay often volunteered to help with chores and care for the park's horeses. She also encouraged volunteerism among local college students by organizing trail clean-up days and other service projects.
Over the course of her service with VSCC, Shay has earned a reputation for being willing to try any task with a smile. It doesn't take her long to make wherever she is home and to make others feel at home. She is extremely personable and has a very even temperament, making her a natural confidant for her fellow Corpsmembers. People naturally listen to what she has to say.
Shay quickly became a go-to Corpsmember for public speaking opportunities. She was so successful leading an orientation session for new Corpsmembers that she was asked to lead subsequent trainings. As her supervisors say, "Shay has a way of clearly explaining projects and expectations while putting people at ease and encouraging them to find their way to make a difference."
Shay won the confidence of her supervisors at the Breaks to the point where she was asked to represent the park alongside many community members to promote Southwest Virginia tourism. She attended meetings and led hikes and programs, becoming a spokesperson not only for the park, but for the entire area.
Realizing what an asset they had found in Shay, the Breaks worked with the Southern Appalachia Tourism Authority to create a Social Media Coordinator position just for her. Shay now spends her days promoting the entire area of Southwest Virginia at tourism meetings in communities, through social media, and at marketing shows across the region. Shay is a wonderful example of someone who honed her innate skills and interests during her time as a Corpsmember, and then immediately put those skills to work professionally.
Shay used both of her AmeriCorps Education Awards to help pay off her student loans. In the future, she plans to continue in her current field and improve her photography and videography skills. She also plans to continue to spread the word about AmeriCorps.
"Being in AmeriCorps has changed every single aspect of my life," said Shay. "It's taught me about the importance of conservation. I've gotten more of a taste of the real world by understanding the difference between personal and professional relationships, and the importance of being outgoing and willing to get to know people…I joined AmeriCorps for mostly selfish reasons, but my experience with my program made me realize that we're affecting lives. We're put in a place of opportunity that is bigger than us."