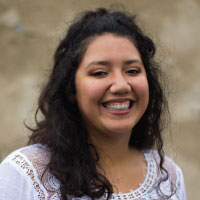 During her five years with SEEDS, Leticia Rocha has gained skills in historic restoration, lead abatement, construction and trail-building. She has earned AmeriCorps Education Awards and several industry-recognized credentials. Leticia carries herself with a quiet confidence and strength that her peers naturally gravitate towards. One might never sense the incredible hardships she has overcome.
Leticia was raised in a single-parent household and does not know her biological father. Her mother was often not around, leaving Leticia to care for her younger brother. When her mother met a new man, her family moved away from their home and all their family and friends. They spent a while living in other people's basements until they found a place of their own.
During this time, Leticia and her brother were isolated from their relatives and, to avoid their mother's anger, had to sneak around in order to see them. Their mother was physically and emotionally abusive, sometimes keeping Leticia and her brother from playing outside or going to school so nobody would see them.
Leticia and her brother were eventually put in foster care with relatives and moved to Traverse City, MI. In the fall of 2009, they were officially adopted by their aunt and uncle. The following year, Leticia's counselor through Child and Family Services connected her with SEEDS. Her first project involved building a boardwalk at Pictured Rocks National Lakeshore in Michigan's Upper Peninsula.
"I was a little lost being outside," said Leticia. "I wasn't sure how to canoe and camp, and I sure wasn't seeing the change in the boardwalk we were building. I felt like I was in the way and didn't know what I was doing…However, when the week came to an end, my eyes were opened and I could suddenly see the difference. I loved being outside and I wanted to feel the wind. I felt growth and involvement – feelings I had never felt before."
Over the course of her service, Leticia has had the opportunity to work on a wide range of projects. As one of her supervisors says, "Leticia exemplifies the qualities of dedication, adaptability and resilience. She is valued because of her dedication to the work in a variety of roles – including manual labor, detail-oriented historic preservation, and clerical work. Leticia adapted to these different work experiences almost seamlessly, maintaining a positive attitude and asking the right questions."
During her five years with SEEDS, Leticia has maintained an incredible attendance record, which is especially impressive considering she commutes from rural, transitory living to get to work each day in Northern Michigan, where rough weather is a daily obstacle. Every morning, she rides her bike to catch the bus to carpool to the job location. Leticia uses this experience to share lessons-learned with new Corpsmembers facing similar transportation issues. As her supervisors say, Leticia approaches fellow Corpsmembers with acceptance and warmth. She has a unique understanding of the human condition.
"After my first season as a SEEDS Corpsmember, I learned that I loved working outside," said Leticia. "I continued to stick around each season just to be able to work outside, and, along the way, I had opportunities that I never imagined. I worked during spring, summer and a winter season – I enjoyed it so much! It helped me get away from my own problems and I learned there was so much more out there in the world."
Leticia currently serves as an AmeriCorps VISTA with SEEDS, assisting with administrative duties. She is building a virtual alumni network and working on a project using photos and text to catalog the historic preservation projects on which she worked.
When she first enrolled in SEEDS, Leticia planned to eventually attend cosmetology school. However, her service experience has inspired her to pursue a career in environmental stewardship. She hopes to explore opportunities with other Corps and the National Park Service, and one day use her AmeriCorps Education Awards to attend college or take classes to further her skills in carpentry and math.
"There are so many youth that feel alone because of their family situations," said Leticia. "In Northern Michigan, you see them wandering in search of meaning and connection in their lives…SEEDS has given me a solid foundation and opened my eyes to my own possibilities, and I want to continue what I love to do."