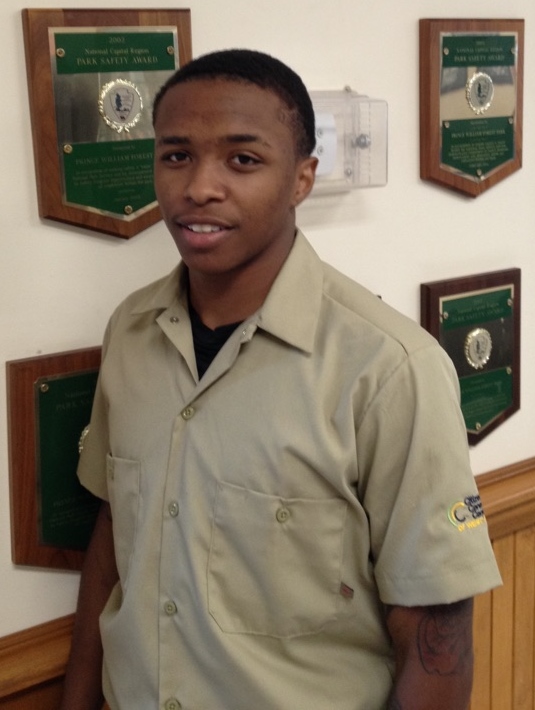 *Dorell Boyd is being recognized as the first ever 21st Century Conservation Service Corps (21CSC) Corpsmember of the Year. The 21CSC is a national initiative to increase the number of youth and recent veterans serving on public lands. The 21CSC Corpsmember of the Year is a young adult who has served in a member Corps of the 21CSC and is a champion of the initiative's vision of increasing the engagement of youth and young adults in conservation and preservation. 
Dorell Boyd believes in giving back. He started seeking out opportunities to serve when he was in middle school. He began regularly volunteering through his religious organization, often participating in projects to help the homeless. As he got a little older, Dorell also helped local churches with basic maintenance and carpentry projects.   
"I wanted to help as many people as I could and make them feel better about themselves," said Dorell. "Feeding the homeless, building things and, most importantly, putting a smile on people's faces – knowing I helped them better their day. It's the little things that count."
Not long after graduating high school in 2014, Dorell heard about Citizens Conservation Corps from a friend. Intrigued by the hands-on work experience the Corps offered, Dorell decided to apply. His first project was that fall in his hometown of Manassas, VA. He served on a crew that removed overgrown vegetation at Manassas Battlefield Park, clearing a recreational path for park visitors.
For the following two summers with the Corps, Dorell participated in Hands On Preservation Experience (HOPE) Crew projects at Prince William Forest Park in Triangle, VA. HOPE Crew projects are a partnership in which a site-operator (in this case, the National Park Service) provides a historic property in need of preservation; a Corps provides a crew to complete the preservation work; and the National Trust for Historic Preservation provides preservation expertise and oversite.
Dorell helped restore various historic buildings throughout the park, including cabins constructed by the Civilian Conservation Corps in the 1930s. He learned how to repair and glaze windows, and how to disassemble, repair and reassemble original chimneys and other historic stone structures. The skill Dorell demonstrated on these projects allowed him to participate in a third HOPE Crew project in which he repaired and re-glazed windows from Shenandoah National Park's Big Meadows cabins. 
During his time with the Corps, Dorell was promoted to Crew Leader (supervisor in training). Due to his positive attitude and ability to master new skills, he was a huge asset to the Corps and to partner organizations. As a result of his diligent work on HOPE Crew projects, Dorell was hired by the National Park Service in June 2016 to be a maintenance employee at Prince William Forest Park.
Dorell's success is a great example of how hard work in a Corps can pay off. The evolution of his craftsmanship has gained him the respect of his peers and supervisors alike. Now, as an employee of Prince William Forest Park, Dorell has the opportunity to mentor and train Corpsmembers.
"Being part of Citizens Conservation Corps HOPE Crew projects affected me in a positive way," said Dorell. "It opened my eyes to team-building and learning new things. It also made me respect nature and historical artifacts…Just knowing I helped fix or rebuild a historical site is a great feeling; I can come back in the future and look how much hard work the crew and I put into it."
For the future, Dorell plans to continue his employment with the National Park Service and pass down his skills to upcoming Corpsmembers. He hopes to one day put his carpentry and preservation skills to use restoring a historic home of his own.