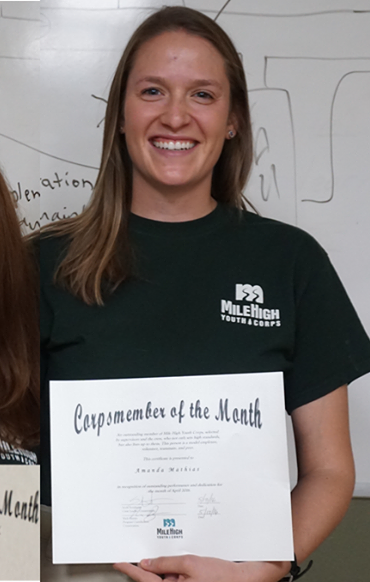 Mandy Mathias had a scholarship to attend business school upon graduating from college. She had her future laid out before her, but she felt out of touch with her priorities and locked into a path she hadn't necessarily chosen.   
"Growing up in Memphis, TN I thought I had a good understanding of diversity and inequality," said Mandy. "I attended a good high school and went on to a good college. My liberal arts education provided me with a textbook understanding of prejudice, discrimination, and biases. However, I was extremely out of touch with the level of privilege I had experienced in my life. I lost focus of what was important to me. It didn't matter how much I knew about the issues if I wasn't going to do anything about them."
Mandy turned down her invitation to business school and started a 2,200-mile journey on the Appalachian Trail. Walking by herself through fourteen states, from Maine to Georgia, Mandy had time to play hearts online kostenlos on her smartphone and think about the person she wanted to be. Upon completing the trek, she returned home with a new sense of self-awareness.
Mandy began volunteering in the classroom of a friend serving in Teach for America. Seeing the direct impact her friend had on the students, Mandy knew she wanted to find a position where she could do something good and make a tangible difference. She applied to AmeriCorps programs across the country, eventually finding herself on the Energy and Water crew at Mile High Youth Corps (MHYC) in Denver.
It was evident from Mandy's first interview with MHYC that service was a top priority for her. On the Energy and Water crew, she learned how to perform utility-use assessments and install energy and water-saving retrofits in low-income homes. She quickly stood out among her peers and was elected to the Leadership Council. Mandy was part of the most active Council the Corps has seen in years, working hard to plan several service opportunities as well as a seminar series that brought in speakers on the topics of health and exercise, conservation and social justice.
As part of the Leadership Council, Mandy instituted an "encouragement project" in which, once a week, her crew randomly selected one person from a stack of Corpsmember photos. All that week, Corpsmembers wrote encouraging notes to that person and placed them in an envelope. At the end of the week, the chosen Corpsmember would receive an envelope full of positivity.
Four months into the program, Mandy was promoted to an Assistant Crew Leader position in the client intake department. She used her statistical training from college to analyze client satisfaction data and prepare reports for funders. She also created improved calling scripts and worked with the marketing department to create flyers that helped expand MHYC's energy and water conservation services to nonprofits and schools. She is currently working on MHYC's pilot project with Denver Public Schools to provide services to the families of students receiving free and reduced-price meals.
"Client interaction is the highlight of my work," said Mandy. "I have had the honor of listening to our clients' life stories, their struggles and their successes that brought them to where they are today. It has been an extremely humbling experience…I have learned that some of the greatest qualities humans possess are often overlooked. I now place higher value on attributes such as kindness, grace and tenderheartedness."
One of Mandy's biggest achievements with MHYC was a project she initiated with the Littleton Housing Authority (LHA). She pursued a lead and independently contacted the management of the LHA to inform them about the services the Corps provides. Her persistence resulted in a two-week, $10,000 project in which Corpsmembers installed retrofits in over 80 homes. Mandy organized the project from start to finish, managing the paperwork and ensuring crews had the materials they needed.
Mandy's experience at MHYC has had a profound impact on her future. She hopes to continue at MHYC to finish some of the larger projects she started. Then, in the fall of 2017, she plans to use her Education Award to pursue a degree in non-profit management with a focus on sustainability.
"One of my favorite quotes is from Wes Jackson, the founder of The Land Institute: 'If your life's work can be accomplished in your lifetime, you are not thinking big enough'," said Mandy. "After my term of service with AmeriCorps and Mile High Youth Corps, I better understand the desire to help with solving a problem bigger than could be accomplished alone."