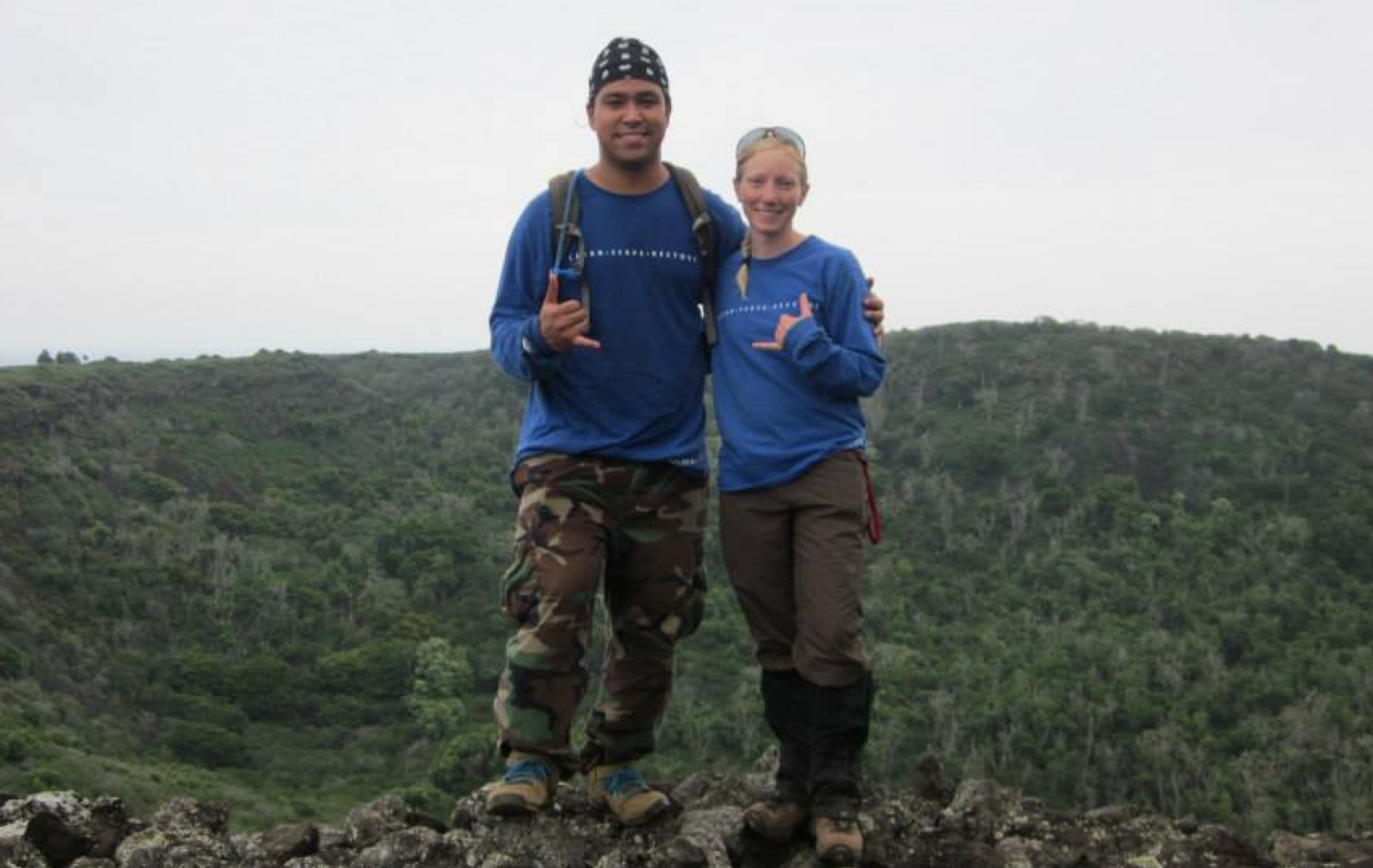 (Keoni pictured on the left)
Upon graduating from Kailua High School on Oahu in 2006, Ronnie "Keoni" Kikala had no intention to go to college and was uncertain about his next step. He found a construction job doing roofing and small carpentry projects, but the company foreclosed. Keoni had developed useful skills during his three years with the company, but he found it difficult to find another steady construction job.
Around this time, Keoni received a call from his aunt, who had recently started working as an administrator for Kupu's AmeriCorps program. She asked Keoni if he would be interested in conservation-related work.
Keoni started his term with Kupu three months behind his peers and with no experience, less time to complete his hours, and less pay. However, for Keoni it was never about the time or the money; it was more about his ability to make an impact. It was clear to his supervisors that he was willing to learn and go the extra mile for a job that gave him meaning and purpose.
Keoni was exposed to harsh life circumstances at a young age. His father was abusive and struggled with drug addiction, creating a turbulent father-son relationship. During Keoni's term of service with Kupu, his father's health steadily declined. Keoni was caught in an emotional struggle of having to support the man that had brought years of abuse to his family. Following the passing of his father, Keoni found himself in the role of making decisions for the family, learning to forgive, and letting go of the trauma from his past in order to support his mother and siblings.
Despite all of the personal adversity Keoni endured during his term of service, he still made an immediate impact at his worksite, the Pahole Rare Plant Facility. He was quickly given the chance to work in the seed and micropropagation labs at Lyon Arboretum, another work site in Manoa, Oahu. Keoni was invited to go on hikes to plant rare species, collect seeds, and, on a few occasions when the seed lab technician was out of town, he was asked to receive and clean seeds from outside collectors.
On two occasions, Keoni worked with Kanaloa Kahoolaweensis, which is an extremely rare legume plant that grows on Kahoolawe – a deserted Hawaiian island currently undergoing cultural and environmental restoration after having been used as a bombing range and military training ground up until 1990. On another occasion, Keoni worked with Holio, known as the Hawaiian Avocado, which also only has one tree growing in the wild in the Waianae Mountains. This time Keoni succeeded in propagating many of specimens and outplanting the Cryptocarya oahuensis in the mountains. Keoni has made many efforts to try and save the rare Holio tree so that it may live on for future generations.
By the end of Keoni's two years of service as Kupu intern at the Pahole Rare Plant Facility and Lyon Arboretum, he had found his life's passion and Lyon Arboretum had found their newest staff member. Hired to work in the greenhouse at Lyon Arboretum, Keoni now spends half his week there and the remainder at Windward Community College taking math and Hawaiian Studies classes.
Keoni credits Kupu's AmeriCorps program with not only changing his life, but also helping him develop a new passion and environmentally friendly perspective. Keoni strives to have a legacy of perpetuating Hawaiian culture through conservation and the practice of saving rare native plant species from extinction. He hopes to discover a new plant species one day and have the opportunity to name it. Keoni's efforts each day contribute to Kupu's legacy of service as well and his personal legacy within the conservation world.