Where are they now? – Catching up with 2006 Corpsmember of the Year,
James Zmudzinski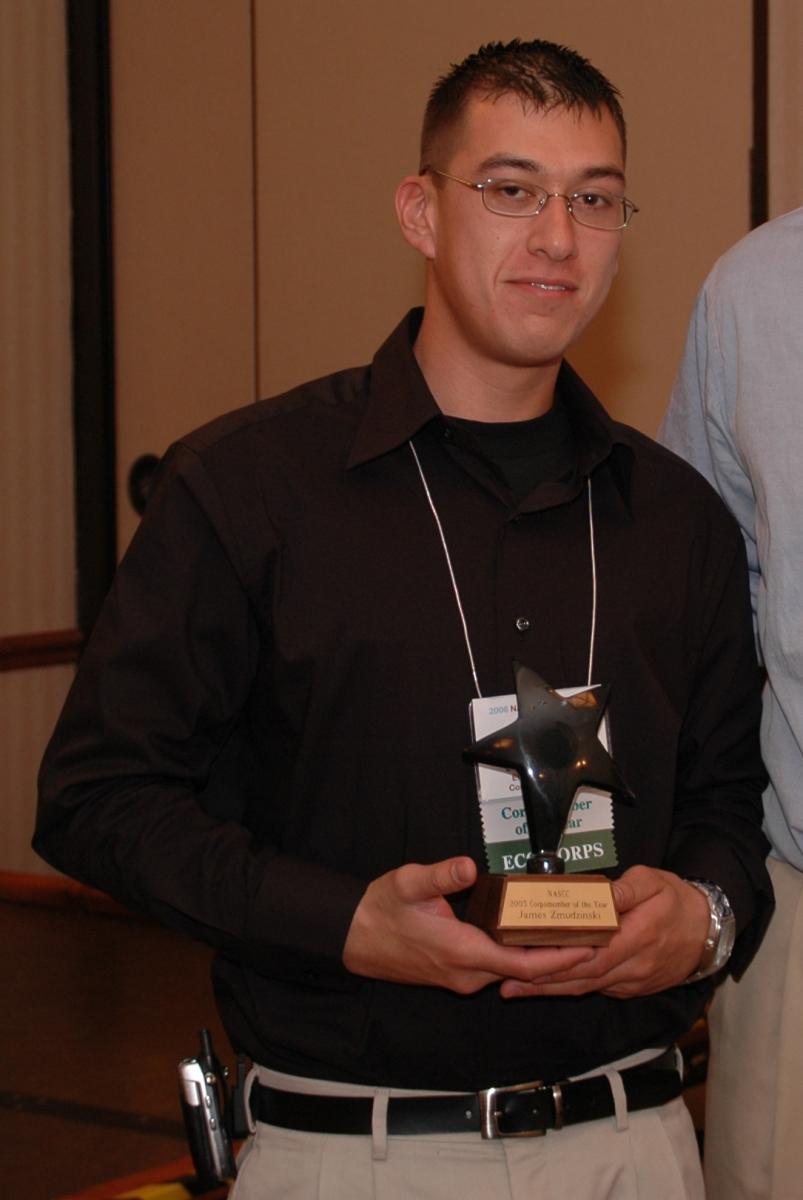 James at The Corps Network 2006 National Conference in Washington, DC

James Zmudzinski, formerly a Corpsmember with the EOC/Fresno Local Conservation Corps, won Corpsmember of the Year in 2006 for his commitment to service and self-improvement. Read below to find out what he's been up to since accepting his award, or find out more about James and his Corps experience by reading his bio from our 2006 National Conference.
James Zmudzinski started working at a young age. His dream was to build up his savings and eventually own an auto mechanic shop. However, there was a time when this goal seemed impossibly out of reach. James had never finished high school and barely earned enough money to support himself. As James says, he started making bad decisions and often got into trouble. When he realized it was time to get serious, James joined the EOC/Fresno Local Conservation Corps (LCC).
James quickly became a vital member of LCC's Flood Control Basin Maintenance Program. His supervisors saw that he was a self-starter and appreciated his positive attitude. When he wasn't working with the crew, James proved his dedication to self-improvement by taking full advantage of the life-skills courses offered at LCC. He also applied himself in the classroom and eventually earned his high school diploma through the Corps' charter school. He then took a few college classes with the AmeriCorps Education Awards he earned as a Corpsmember. James says his overall experience as a Corpsmember and student with LCC was significantly better than his previous high school experience.
"The part of this program that worked for me was…well, basically all of it," said James. "The people that work here, the case managers…if you need help with anything or if you think you're going in the wrong direction, they're always there. It was like everybody had open arms, so it was an easy place to be."
James worked his way through the ranks at LCC. He was hired to be a Crew Leader and eventually earned his current staff position as a Supervisor. James has now spent over seven years with the Corps.
"I like the environment here. I started from the bottom and made my way up. Working with the youth in the area – that also made me stick around," said James.
As a Supervisor, James leads LCC crews that assist with grounds maintenance projects for housing authority properties. His crews mow the grass, trim trees, prune bushes, and generally make sure the grounds are in good condition. James is now considering opening his own landscaping business.
Though he sees landscaping as a good way to make money, James still has his heart set on becoming a certified mechanic. He says he is practically a partner in the mechanic shop where he currently helps with auto repair work. His passion is restoring old cars.
"I've got to have cars in my life," said James.
Between working at LCC and working on cars, James participates in a car club in his free time. Many of the club's members are people James grew up with. They get together to attend car shows and host barbeques and family functions. Around the holidays, they participate in Toys for Tots and distribute food to families in need. James wants to be a positive role model and set a good example for his two children.
"My actual father was never around, so I've been serious about being there for my kids," said James.
James isn't sure where he would be today if he had never found EOC/Fresno Local Conservation Corps. As he says, "I hope I would be in a good place, but it's hard to say. If I didn't get the job here, the way I was going I would've been nowhere good."
To you people thinking about joining a Corps, James says:
"It's an experience. It can change you and hopefully it will. There are people here who can get you the help you need. It's worth the time. Just give it a try. It's not for everybody, but at least you get some experience out of it."