Where are they now? – Catching up with 2005 Corpsmember of the Year,
Patricia Bohnwagner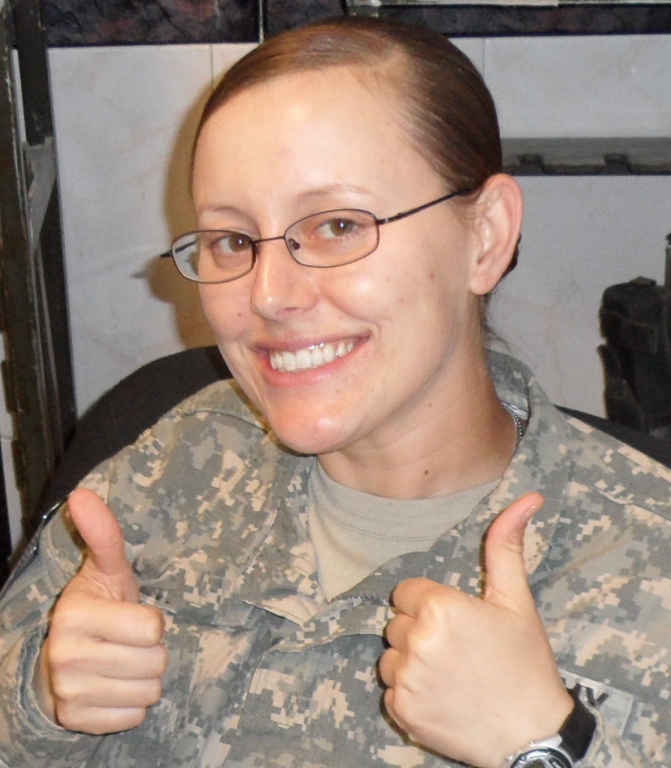 Patricia Bohnwagner, formerly of Urban Corps of San Diego, won Corpsmember of the Year in 2005 for her commitment to service. Read below to find out what she's been up to since accepting her award, or find out more about Patricia and her Corps experience by reading her bio from our 2005 National Conference.
Patricia Bohnwagner learned about Urban Corps of San Diego from an advertisement she found in the PennySaver. The ad included a long list of skills that a young person could gain by becoming a Corpsmember. Patricia had her high school diploma, but she was unsure what she wanted to do with her future. Maybe working for Urban Corps would give her some direction. Patricia started at Urban Corps in November 2002…and she ended up staying there for the next seven years.
Patricia was a Corpsmember when she first joined Urban Corps, but she was eventually promoted to Supervisor. She ended up working in nearly every department at the Corps. She led a crew in repainting walls and buildings for the Graffiti
Department. She helped find new clients for the Corps' Recycling Department. Patricia also planted trees in the Urban Forestry Department, and she helped find employment for Corpsmembers as a Supervisor for the Corps' internship program. At one point, as Supervisor for the Corps' educational program, Patricia taught elementary school children about power line safety and the benefits of trees. This experience helped her overcome a fear of public speaking. Looking back at her years with the Corps, she was hard-pressed to come up with a favorite project or assignment. "Really, everything I did there seemed to make a positive difference in some way," said Patricia. "…I still drive by areas where I have helped plant trees, worked during a community clean up event, or removed graffiti and I feel proud of what I've done."
It was Patricia's positive experience with Urban Corps that helped her make the decision to stay in San Diego for as long as she has. She is originally from Massachusetts, but she moved to California to live with her sister and help take care of her nephew. Both her sister and brother-in-law were in the Navy; Patricia first came to California when her brother-in-law was deployed and her sister was left to care for her nephew alone.
As Patricia says, she and her sister "had a rollercoaster of a relationship" when they were younger. Patricia was at one point kicked out of the house for six months. It was only with the help of friends that she was able to avoid homelessness. When her sister decided to leave the Navy and move back east, Patricia stayed in California to see where her job with the Corps could take her. She had to sleep on friends' couches after her sister moved, but she saved enough money to eventually get a shared apartment and buy her first car.
"Thank goodness I've always had a great support system of friends," said Patricia.
Now that it's been over three years since she worked for the Corps, Patricia can look back at the experience and say that it helped change her outlook. It helped her decide what she wanted to do with her life.
"One thing that has stuck with me through the years is a desire to do things that benefit more than just me. A sense of serving and doing what I can to make the community better, or doing what I can to help other people," she said. "I also gained so much knowledge about the environment and basic work skills that have helped me immeasurably through the years. It was hard work, but the skills, knowledge and experience I gained during my time at Urban Corps have undoubtedly had a major, positive influence on where I am in life today."
That sense of wanting to give back helped inspire Patricia to become an EMT. She currently serves as a medic in the California Army National Guard (CAARNG). Her primary job is as a United States Postal Carrier. As part of the Guard, Patricia teaches a Combat Lifesaver course for troops preparing to deploy. She herself served as a medic in Iraq for a year.
Patricia is in the process of switching over to the Army Reserves. She will soon have the opportunity to be sent to a Licensed Vocational Nurse (LVN) program in Texas. After completing the program, she hopes to return to California and get her associate's degree as a Registered Nurse. She currently has over 30 college credits, but it's been difficult for her to maintain a regular school schedule with her long work hours and the deployment to Iraq. After earning her associate's degree, Patricia should only be three or four semesters away from a bachelor's degree. Patricia's goal is to complete her bachelor's degree and find employment as a nurse within the next six years.
Patricia saved enough money during her deployment to move her mom out to California and furnish a new apartment for the two of them. She is currently living comfortably with her mom and a recently adopted shelter dog. She is fairly confident that her time in the Corps played a big part in getting her where she is today.
"[If I hadn't joined the Corps] I can't say I'd be on a horrible path or anything, but I'm pretty sure I wouldn't have had as many successes as I have. I would probably be working at a meaningless job and perhaps wouldn't have joined the military," said Patricia. "I would for sure be a lot further from my goals than I am now, and wouldn't have realized all this potential in myself, since that was due to my time in the Corps and the great staff that worked there."
To young people thinking about joining a Corps, Patricia says:
"With anything in life, you get out of it what you put into it. Only you can make the choice to either better yourself and your situation, or just accept what comes your way. BE PROACTIVE! Do your best at everything you do and do the right thing, and you won't have as many regrets or disappointments. And don't be too hard on yourself if things don't go the way you want or as quickly as you want. Life happens and it's hard to move up, but it can be done. Stick to it and never give up. Stay positive and don't let anyone bring you down or tell you that you can't do something."