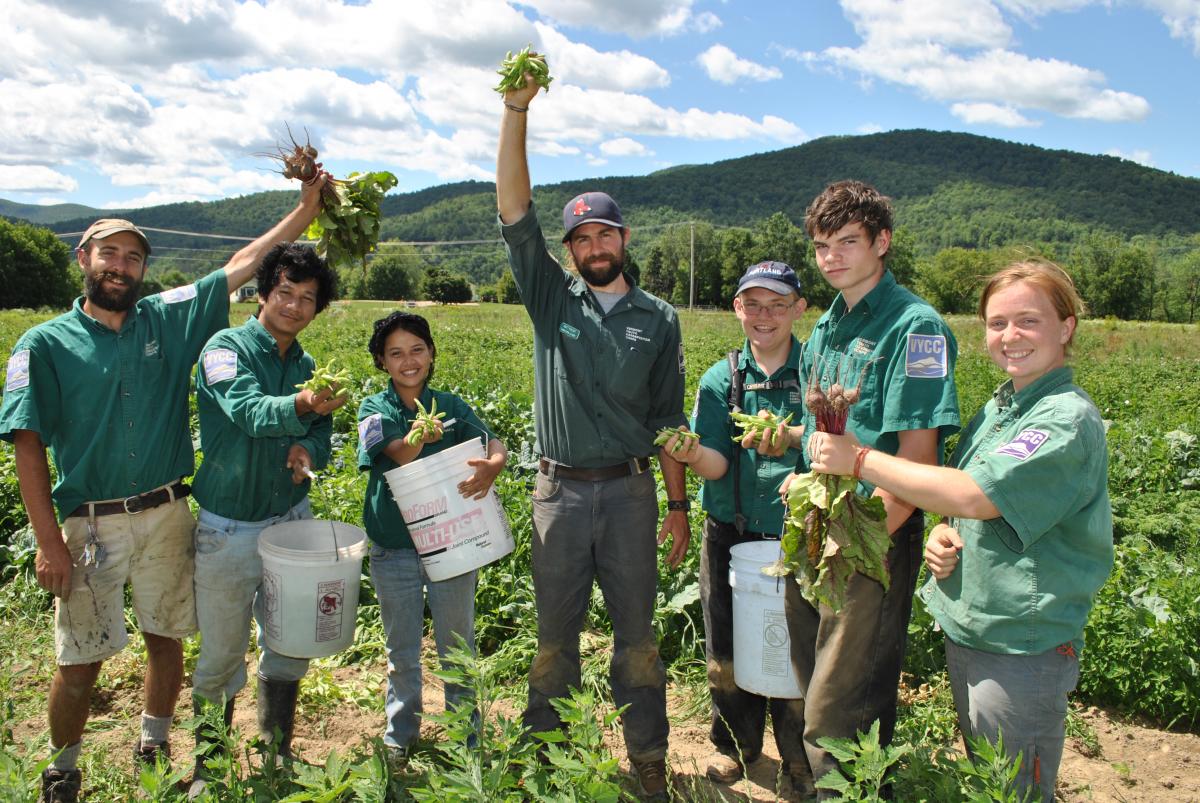 At The Corps Network's annual National Conference in Washington, DC, we celebrate the important service Corps provide to communities and young people across the country by honoring Corps who have taken on especially noteworthy endeavors within the past year. Projects of the Year are innovative and show a Corps' ability to work with partner organizations to give Corpsmembers a positive experience and provide the community with meaningful improvements. Learn more. 
---
The Health Care Share program of the Vermont Youth Conservation Corps (VYCC) recruits young adults to serve outdoors, in small teams, on tangible projects that benefit Vermont communities. Through service and meaningful employment, young adults gain a profound sense of agency and an understanding of what it means to serve neighbors in need.
With partial support from AmeriCorps, VYCC Farm Crews grow fresh, local, organic food from March through November. This food is then packaged in weekly and/or monthly shares (much like CSA – Community Supported Agriculture) and delivered to hospitals, medical centers, and community clinics. Medical centers, in turn, identify patients and employees who have distinct needs (food insecurity, diabetes, heart conditions, etc.) and would thus benefit from the program. Health Care Share recipients receive shares for six months of the year, as do VYCC Corpsmembers. Additionally, Corpsmembers receive extensive nutrition education and undergo VYCC's Food and Finance course. 
In 2017, the Health Care Shares initiative engaged 88 Corpsmembers and Crew Leaders. Seventy-two Corpsmembers benefited from the Food and Finance curriculum, and 72 Corpsmembers and their families received a Health Care Share. This is of particular importance as most Corpsmembers come from low-income households.
Throughout the year, Health Care Share Corpsmembers completed an anticipated 50 weeks of service, totaling approximately 10,800 service hours. Additionally, 700 volunteers contributed 2,800 service hours for an estimated financial value of $16,900. By year's end, roughly 140,000 pounds of food will have been distributed to 500 families, benefitting approximately 1,700 individuals. In addition to the Farm at VYCC, 13 partner farms benefitted greatly from labor provided by VYCC's Farm Crews. VYCC Farm Crews are, increasingly seen as a valued, nimble, and affordable labor source for farmers during critical moments of the growing and harvesting season.
While the Farm at VYCC has enrolled Corpsmembers to work on the Health Care Share for five summers, 2017 was marked by innovation in several ways:
Expansion – Historically, all farm production happened on VYCC's nine-acre diversified vegetable and poultry farm. This past growing season, the Farm program fielded crews in three additional Vermont communities: Richmond, Newport, and Bristol. Expansion allowed VYCC to enroll more young 

adults and add new partners.

New Partners – At each Health Care Share distribution site, VYCC facilitates the formation and operation of "FOOD" teams – Fundraising, Operations, Organization, and Decision-making. These groups are comprised of community and municipal representatives with a stake in public health, nutrition, food security, and local agriculture, as well as youth advocacy, education, and workforce development. Each community that benefits from the Health Care Share brings new partners to this collaboration. This year saw five partner farms join in Rutland. The Newport Crew worked on a community farm managed by the Vermont Land Trust. Farm crews also gleaned produce on seven additional farms to secure additional produce. Partnering medical centers and communities include UVM, Central Vermont, Rutland Regional, and, new this year, North Country Medical Center in Newport. Lastly, VYCC was thrilled that the Farm now receives AmeriCorps funding directly from the Corporation for National Community Service through the SerVermont state commission.

New Education Outcomes – Piloting the Food and Finance curriculum was a great success. This course teaches Corpsmembers how to stretch a budget and, in doing so, establish healthy dietary habits.
​Because the Health Care Share directly benefits community members, there is a real marketing opportunity. VYCC has raised its public profile in towns hosting Farm Crews and seen an uptick in applications, particularly from women. Farming has become a recruitment strategy as it appears to be quite popular among young adults. Additionally, VYCC's work in food security has attracted the attention of philanthropists who otherwise would likely not be interested in the Corps.
With pluck and determination, Health Care Shares is replicable. For other Corps interested in this type of program, they offer the following insights:
Virtually all hospitals have Community Benefit Funds. In VYCC's experience, the leaders of many medical institutions have been open to innovation.

Because VYCC provides food to hospital patients, they consider this fee-for-service revenue, much like traditional revenues used to build and maintain trails.

Farms have significant labor demands for roughly nine months out of the year. As such, there are opportunities for Corps to extend the length of service beyond the summer. For example, modest investments in greenhouses not only extend the growing season, but extend the learning, work and service season.

Hiring is key. One needs to find a farmer and educator to help operate the program.
Of primary importance, the Farm at VYCC has increased VYCC's capacity to offer the Corps experience to youth and young adults. Their ability to enhance learning outcomes is equally strengthened, as are their connections to the community.