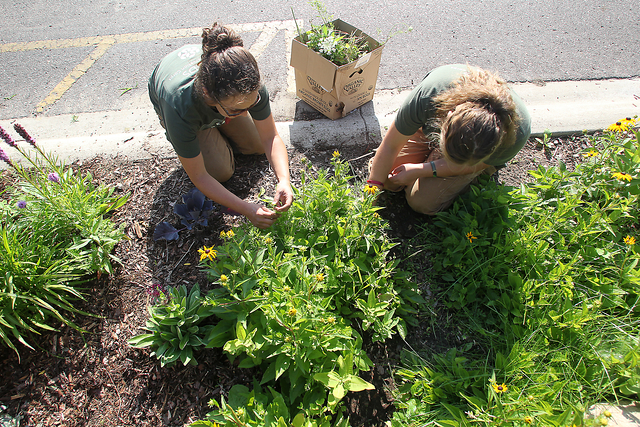 GURLS Corps!
(Girls United in Resilience, Leadership and Service)
SEEDS
SEEDS, host to a Youth Conservation Corps based in Traverse City, Michigan, has for several seasons partnered with Child and Family Services of Northwestern Michigan (CFS) – a 76-year-old organization that provides foster care, adoption services, counseling and advocacy programs to over 3,000 people annually. Coinciding with the 2014 season, the Biederman Foundation – a local family-support organization, stepped in to support the expansion of this partnership. At the time, seven of CFS's eleven teens aging out of foster care were young women. Five of these young women formed GURLS Corps!; an all-girl program SEEDS created to offer job training, mentoring and education to young women who are aging out of the foster care system, struggling to complete high school, and who may have additional risk factors that could hinder a successful transition into adulthood.
Teens aging out of foster care face a variety of challenges as they learn how to support themselves and live independently. Approximately one in four will be incarcerated within the first two years after they leave the system and more than 20 percent will become homeless at some point after age 18. Additionally, only about 58 percent have a high school diploma by the age of 19, compared to 87 percent of non-foster youth. Young women exiting the foster care system arguably have it the hardest, as teenage girls are twice as likely as teen boys to develop adolescent depression and are much more likely to experience self-image issues.
GURLS Corps! – which stands for Girls United in Resilience, Leadership and Service – recruits young women from Elements; a CFS program that teaches independent living skills (like healthy eating, and driver's ed) to foster youth ages 14 – 21. SEEDS has hosted all-girl crews in the past, but traditionally only 10 – 15 percent of their Corpsmembers are young women. However, having a girls-only program was important in order to address sensitive issues the young women face and avoid the sometimes complicated social pressures of a co-ed crew. As a result of more actively recruiting women, SEEDS increased their female enrollment to 41 percent.
GURLS Corps! members spent eight weeks developing green job skills through participating in a range of service projects, including taking lead responsibility of the SEEDS farm, constructing a boardwalk, building and maintaining trails and campgrounds, removing invasive species, and improving beaches. They also provided a service to the community by helping set up the 10th annual Traverse City Film Festival; a popular and highly acclaimed documentary festival founded by Michael Moore. These projects not only provided hands-on work experience, but also helped the girls develop a sense of civic pride. Additionally, the girls had the opportunity to work side-by-side with female mentors who have chosen careers in fields like agriculture, architecture, construction, biology, and land management. In exchange for their service, the teens received academic credit, a minimum wage income, and, for those 17 or older, AmeriCorps Education Award scholarships.
"We are delighted by this recognition of our young women in foster care, who worked so hard and learned so much with SEEDS this summer," said Jim Sherrer, CEO of CFS. "We know how special our youth are, and now many more around the nation will know, too. Our partnership with SEEDS is one of which we are very proud, and we congratulate them on this award."
All five of the young women in GURLS Corps! successfully completed the program, earning resume-building credentials and vital soft skills. One of the girls enrolled in community college, two are set to graduate high school in May 2015, and the remaining two will start their senior year in September 2015. This is especially inspiring considering the instability and, in some cases, abuse and addiction the girls faced throughout their adolescence.
"The impact of the program on our young women participants was striking," said Bill Watson, SEEDS Director of Youth Programs, "They learned about their own strengths and that they were not alone…They supported one another and shared the stories that led to their placement in foster care. They worked hard at the job of being a Corpsmember, but at the same time they worked hard at overcoming their individual challenges and at being survivors."